Page 4 - Testing & Conclusion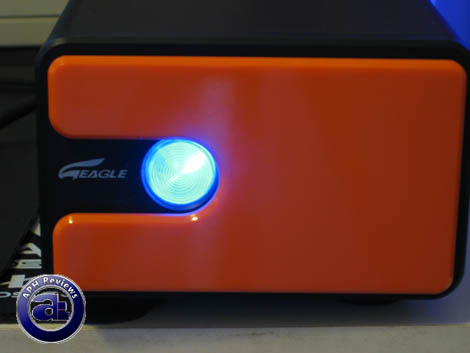 Below are the specifications of the system used for benchmarking the Eagle Consus I-Series ET-CSIU2J-BK:
CPU: Intel Core 2 Duo E7200 @ 3.00GHz (333MHz*9)
CPU Cooling: Asus Silent Knight II
Motherboard: Asus P5K-Deluxe
Graphics: Asus EN8800GT TOP 512MB
Memory: OCZ Reaper HPC PC2-8500 2x1GB (5-5-5-15)
Chassis: Antec P182
Power: PC Power & Cooling Silencer 610W
Sound: Asus Xonar D2
Optical Drive: Pioneer DVR-108 16X DVD
Hard Drive: Seagate 7200.7 160GB 8MB PATA
Operating System: Microsoft Windows XP Professional SP3
The hard drive used in the enclosure for benchmarking is a Seagate 7200.10 500GB SATA2 hard drive.
The following benchmark results were obtained using HDTach, an industry leading hard drive benchmarking software. The USB 2.0 controller on the Asus P5K-Deluxe motherboard is Intel's excellent ICH9R Southbridge. In our tests today, I won't get into performance analysis of multiple file writes and multiple file reads as we've done previously in our storage reviews. The reason behind this is the influence of USB is not quite relevant to drive I/O performance -- it is quite limited to the hard drive itself, and we are not reviewing the hard drive itself today -- we want to measure the USB controller performance of the Eagle enclosure, therefore not relevant.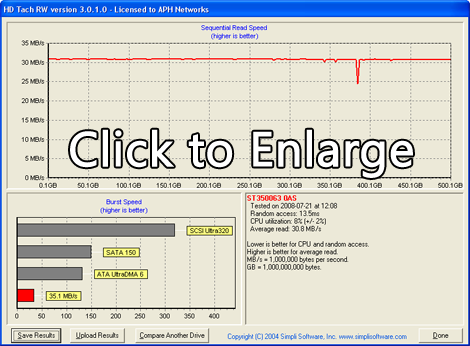 We used HDTach's Long Bench at 32MB zones. As you can see in the benchmark results above, the sequential read speed for the Eagle Consus I-Series is about 30.8 MB/s, which is a bit low for comparable USB 2.0 enclosures. Usually, the burst speed and the read speed should be quite close to one another since it is not a hard drive limitation, but interface limitation. The burst speed and the read speed is about 4MB/s apartl it is overall pretty average in terms of performance. The random access latency is recorded at 13.5ms according to HDTach.
The measured 3.5cm fan on the back of the Eagle Consus I-Series was audible but can be considered to be relatively quiet. The noise is quite acceptable in terms of a standard hard drive enclosure, especially considering the fact that the Eagle Consus I-Series can accommodate two hard drives.
Tested power consumption is 11W idling with one hard drive and 14W under load, which is acceptable.
---
Overall, the Eagle Consus I-Series ET-CSIU2J-BK did not perform outstandingly in our benchmarks. In fact, it was quite average in terms of sustained read speed. Other complaints include the problem with its power cable being too loose; so loose that it actually was disconnected accidentally during one test. Another missing feature is the lack of eSATA support, which is becoming quite common for SATA hard drive enclosures. The power LED is well lit to indicate when the device is on, unfortunately the hard drive activity LED is not very prominent when used to transfer small files (Big files are OK, since it's constant). On the positive side, while it has only average performance, it is, in fact, a two bay enclosure and comes at a price tag of only $40 -- no RAID though, but we don't expect that at this price point. It supports JBOD only, which allows for two hard drives to be combined as one storage volume. That's about the price you pay for a single-bay USB 2.0 hard drive enclosure; and you'll lose only about 5-6MB/s. The build quality is also very good, with the solid aluminum well welded together with no visible manufacturing faults. The changeable faceplates not only makes the Eagle customizable by the user to an extent, but it also adds to the overall look with it's glossy finish.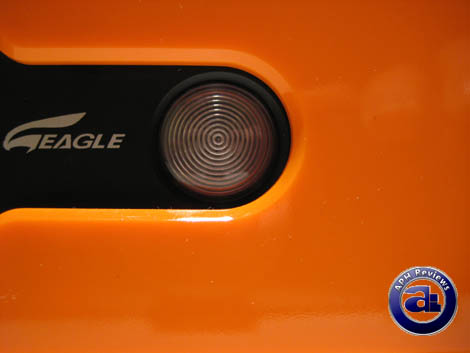 Special thanks to Chris over at Eagle Tech for making this review possible.

APH equal.balance Award | APH Review Focus Summary:
7/10 means Great product with many advantages and certain insignificant drawbacks; but should be considered before purchasing
-- Final APH Numeric Rating is 7.0/10
Please note that the APH Numeric Rating system is based off our proprietary guidelines in the Review Focus, and should not be compared to other sites.
Enclosure with solid build quality, good design and great value. Although it boasts only average performance, it can accommodate up to two hard drives. The lack of eSATA and loose power cable issue can be easily fixed in newer releases.
---
Page Index
Page 1 - Introduction, Packaging, Specifications
Page 2 - A Closer Look - Outside
Page 3 - A Closer Look - Inside, Installation
Page 4 - Testing & Conclusion