By: Jonathan Kwan
October 25, 2013
When I was younger, I have always thought their current leader of Kuomintang and president of Taiwan, Ma Ying-jeou, has an awesome name. For those who don't know how Chinese names work, the family name precedes a person's given name; where each part of the name is its own character, and each character is roughly the English equivalent of an individual word. Ma Ying-jeou's family name, 'Ma', literally means 'horse'. Mandarin speakers will probably not understand what I am about to say. But if you are like me, and have a Cantonese background, then you will understand what I kind of logic I am carrying through with this. When I first heard his name on television, because of the wonderful world of homonyms in my native tongue, I thought Ma Ying-jeou's given name was 'eagle' and 'dog', respectively. Combined with his family name, we have three animals -- horse, eagle, dog, in that order -- all in one person! Is that an epic name or what? It was not until years later, much to my disappointment, that it was nothing like what I have imagined it to be. The words in his given name, 'Ying', by itself, means 'brave'; while 'Jeou' is simply 'nine'. It sure was an anti climatic moment, but regardless of which, I think Ma Ying-jeou still has an awesome name. But Ma Ying-jeou is not the only awesome name from Taiwan. In the past, we have always raved about G.Skill's excellent Ripjaws series RAM, followed by its successor, the Ripjaws-X. Today, we have yet another Ripjaws kit for review. But it is not your classic desktop RAM kit. Instead, it is a SODIMM kit for your laptop that operates on the latest 1.35V DDR3L specification. Is this awesome or what? Let's see what the G.Skill Ripjaws F3-1600C9D-16GRSL 2x8GB brings to the table today.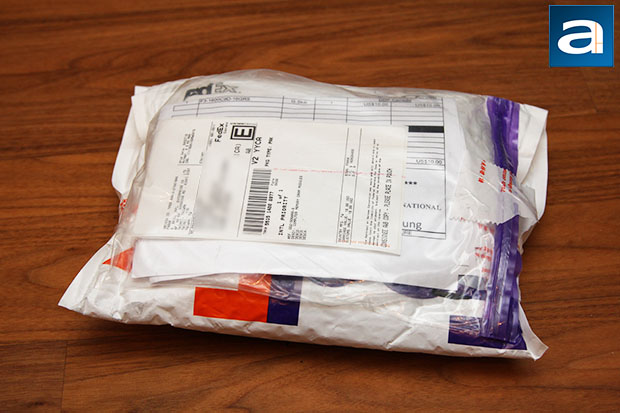 Our review unit of the G.Skill Ripjaws DDR3L-1600 2x8GB SODIMM kit arrived to us here in Calgary, Alberta, Canada from G.Skill's headquarters in Taiwan, the place of awesome names. Using FedEx International Economy, the set of dual channel laptop memory arrived quickly and safely half way across the world without much incident. The FedEx bubble envelope did a fine job of absorbing the bumps along the way; this is not to mention the guy who packaged the RAM for shipping had the envelope folded in half in order to effectively double its padding thickness. Without further adieu, let's see what G.Skill has in store for our review today.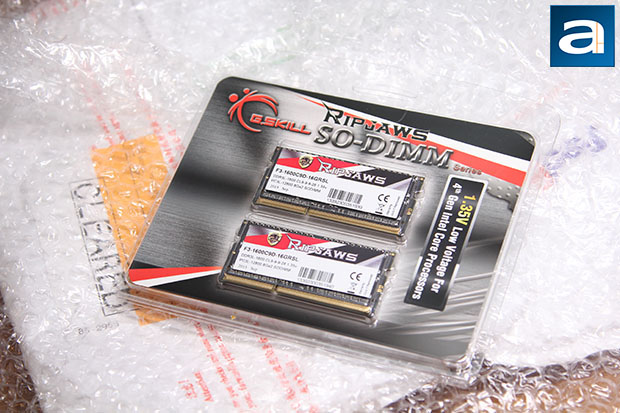 G.Skill has gone ahead and changed their retail packaging for the G.Skill Ripjaws DDR3L-1600 2x8GB SODIMM dual channel kit. In the past, what they have done is put two sticks of RAM, each in their own clear plastic shell, into a container cardboard box. We have seen this with products like the G.Skill F3-10666CL9D-8GBSQ 2x4GB, in which I have reviewed in July 2011. The latest packaging is reminiscent of more typical memory packaging; where both modules are placed into one large plastic clamshell. This type of packaging is perfect for memory in my personal opinion. For one thing, it is not a blister pack, so you won't cut yourself. Secondly, it easily shows off its contents, while being fairly environmentally friendly in terms of waste produced. As you can see in our photo above. each stick in the G.Skill Ripjaws F3-1600C9D-16GRSL 2x8GB set is placed horizontally and parallel on top of each other behind Ripjaws branded a red, white, black, and metal insert. It's a little more exciting than anything from Kingston, and it certainly exhibits a stronger sense of G.Skill's enthusiast roots.
The specifications of G.Skill's Ripjaws DDR3-1600 2x8GB SODIMM kit can be seen on the stickers applied on each module. Speaking of which, before we move on, let's take a look at it, as obtained from the manufacturer's website:
Series: Ripjaws SO-DIMM
Memory Type: DDR3
Form Factor: SO-DIMM
Channel Config: Dual-channel
Capacity: 16GB (8GBx2)
Tested Speed: 1600MHz
CAS Latency: 9-9-9-28
Voltage: 1.35v
Heat Spreader: No
Warranty: Lifetime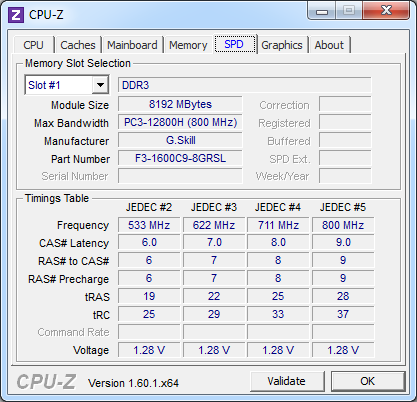 A screenshot of the memory tab in CPU-Z with G.Skill's Ripjaws F3-1600C9D-16GRSL 2x8GB installed. The SPD timings table in CPU-Z reads standard JEDEC specifications programmed into the memory. Using the BIOS revision 1.22, our Lenovo ThinkPad T420 laptop equipped with an Intel Core i5-2520M dual core processor used for testing had no issues detecting and working with the Ripjaws kit and its intended speed. There were some arguments on various websites on whether or not dual core Sandy Bridge mobile processors will work with DDR3-1600 RAM; G.Skill Ripjaws kit shows us it can do so flawlessly, as we have proven in the past with other DDR3-1600 kits. As you can see in our screenshot provided above, this dual channel kit runs at a frequency of 1600MHz (800MHz actual clock) in conjunction with standard 9-9-9-28 latencies. The G.Skill Ripjaws F3-1600C9D-16GRSL 2x8GB SODIMM kit retails for approximately $160 at press time.
---
Page Index
1. Introduction, Packaging, Specifications
2.
A Closer Look, Installation, Test System
3.
Benchmark: AIDA64 CPU
4.
Benchmark: AIDA64 FPU
5.
Benchmark: AIDA64 Memory
6.
Benchmark: PCMark 7
7.
Benchmark: 3DMark 11
8.
Benchmark: PassMark PerformanceTest 7.0
9.
Benchmark: SuperPI 1M, Cinebench R11.5
10.
Conclusion