By: Jeremy To
December 23, 2011
If you are still relatively young -- and by young, I mean in your late teens to early 20s -- then you should still be somewhat steamed out from "finals" week that just occurred recently (Some of us not even a day ago from when I wrote this). Personally, I can attest to disliking the December finals week quite a bit more than the April finals week, because it seems to take a lot out of the Christmas holiday anticipation. Instead of earnestly awaiting the arrival of Santa, we find ourselves cramped up in our study halls up until the 21st without even eying the awaited presents that sit snugly under our tree. Snowfall becomes a nuisance, as city transit becomes delayed much more often than it should. Before we know it, it's Thursday, December 22, 2011, 2:21AM, and I am still awake writing the Gigabyte GA-Z68XP-UD3P motherboard review introduction. Wait a second, did I just explain my situation? Well, unfortunately, yes. I am quite sure many of us have found ourselves in this position as well. And now that I think about it, Christmas Day is no more than 54 hours away, and I have yet to begin my shopping. Oh, but of course, the Gigabyte motherboard review comes first! If I had a moment's time to breathe, I would simply go through all the amazing technological developments of 2011. However, since I do not have the luxury of such a physiological need, I will sum up the entire year with a few words, letters, and numbers. Sandy Bridge, H67, P67, and lastly, Z68. So without further adieu, let us plow through the last motherboard review of the year here at APH Networks!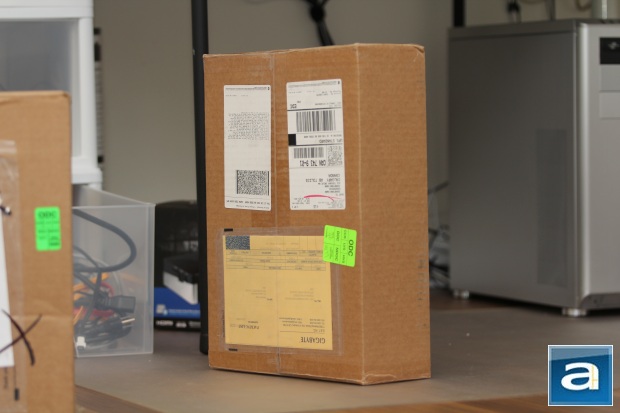 It was more than a month ago, in the midst of No-Shave-November, that the Gigabyte Z68XP-UD3P motherboard arrived at our APH office here in Calgary, Alberta, Canada. The corrugated box the motherboard came in was in its usual fine condition, as it was handled by the well trusted people over at UPS. From across the border, the package was shipped to us from Gigabyte's California office using UPS Standard, as it has always been in the past.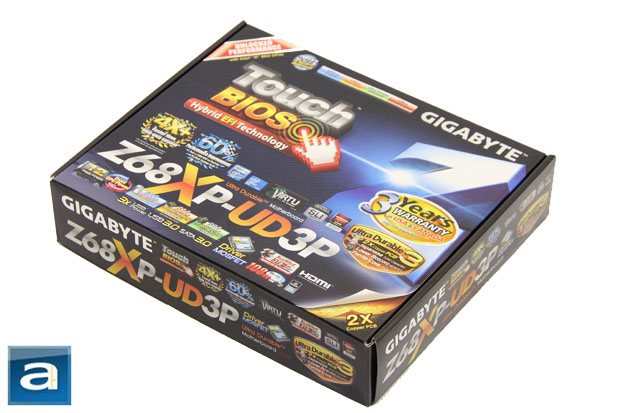 Like most motherboard boxes, the Gigabyte Z68XP-UD3P's retail package is as colorful as ever, because the company placed as many marketable features as possible on it. Keeping a fairly dark theme as seen on the Gigabyte GA-P67A-UD5 motherboard reviewed more than half a year ago, the latest iteration has an added spice to it, with the words "Touch BIOS" -- more on this later. At the back, you will find the majority of the board's features planted in color font for all of us to see. I will let you examine the details in the photo above by yourself. Before we move onto the bundle, let us first take a quick look at the specifications list, as taken from the retail box and from the manufacturer's website:
CPU:
Support for Intel® Core™ i7 processors/Intel® Core™ i5 processors/ Intel® Core™ i3 processors/Intel® Pentium® processors/Intel® Celeron® processors in the LGA1155 package.
L3 cache varies with CPU
(Please refer "CPU Support List" for more information.)
Chipset:
Intel® Z68 Express Chipset
Memory:
4 x 1.5V DDR3 DIMM sockets supporting up to 32 GB of system memory
* Due to Windows 32-bit operating system limitation, when more than 4 GB of physical memory is installed, the actual memory size displayed will be less than 4 GB.
Dual channel memory architecture
Support for DDR3 2133/1866/1600/1333/1066 MHz memory modules
Support for non-ECC memory modules
Support for Extreme Memory Profile (XMP) memory modules
(Please refer "Memory Support List" for more information.)
Audio:
Realtek ALC889 codec
High Definition Audio
2/4/5.1/7.1-channel
Support for Dolby® Home Theater
Support for S/PDIF Out
LAN:
1 x Realtek RTL8111E chip (10/100/1000 Mbit)
Expansion Slots:
1 x PCI Express x16 slot, running at x16 (PCIEX16)
* For optimum performance, if only one PCI Express graphics card is to be installed, be sure to install it in the PCIEX16 slot.
1 x PCI Express x16 slot, running at x8 (PCIEX8)
* The PCIEX8 slot shares bandwidth with the PCIEX16 slot. When the PCIEX8 slot is populated, the PCIEX16 slot will operate at up to x8 mode.
3 x PCI Express x1 slots (All PCI Express slots conform to PCI Express 2.0 standard.)
2 x PCI slots
Multi-Graphics Technology:
Support for ATI CrossFireX™/NVIDIA SLI technology
* The PCIEX16 slot operates at up to x8 mode when ATI CrossFireX™/NVIDIA SLI is enabled.
Storage Interface:
Chipset
- 2 x SATA 6Gb/s connectors (SATA3_0~SATA3_1) supporting up to 2 SATA 6Gb/s devices
- 4 x SATA 3Gb/s connectors (SATA2_2~SATA2_5) supporting up to 4 SATA 3Gb/s devices
Support for SATA RAID 0, RAID 1, RAID 5, and RAID 10
* When a RAID set is built across the SATA 6Gb/s and SATA 3Gb/s channels, the system performance of the RAID set may vary depending on the devices being connected.
Marvell 88SE9172 chip:
- 2 x SATA 6Gb/s connectors (GSATA3_6, GSATA3_7) supporting up to 2 SATA 6Gb/s devices
-Support for SATA RAID 0 and RAID 1
USB:
Chipset
- Up to 14 USB 2.0/1.1 ports (8 on the back panel, 6 via the USB brackets connected to the internal USB headers)
2 x Etron EJ168 chips:
-Up to 4 USB 3.0/2.0 ports (2 on the back panel, 2 via the USB bracket connected to the internal USB header)
IEEE 1394:
VIA VT6308 chip
- Up to 2 IEEE 1394a ports (1 on the back panel, 1 via the IEEE 1394a bracket connected to the internal IEEE 1394a header)
Internal I/O Connectors:
1 x 24-pin ATX main power connector
1 x 8-pin ATX 12V power connector
4 x SATA 6Gb/s connectors
4 x SATA 3Gb/s connectors
1 x CPU fan header
2 x system fan headers
1 x power fan header
1 x front panel header
1 x front panel audio header
1 x S/PDIF Out header
3 x USB 2.0/1.1 headers
1 x USB 3.0/2.0 header
1 x IEEE 1394a header
1 x serial port header
1 x clearing CMOS jumper
1 x Trusted Platform Module (TPM) header
Back Panel Connectors:
1 x PS/2 keyboard/mouse port
1 x optical S/PDIF Out connector
1 x IEEE 1394 port
8 x USB 2.0/1.1 ports
2 x USB 3.0/2.0 ports
1 x RJ-45 port
6 x audio jacks (Center/Subwoofer Speaker Out/Rear Speaker Out/Side Speaker Out/Line In/Line Out/Microphone)
I/O Controller:
iTE IT8728 chip
H/W Monitoring:
System voltage detection
CPU/System temperature detection
CPU/System/Power fan speed detection
CPU overheating warning
CPU/System/Power fan fail warning
CPU/System fan speed control
* Whether the CPU/system fan speed control function is supported will depend on the CPU/system cooler you install.
BIOS:
2 x 32 Mbit flash
Use of licensed AWARD BIOS
Support for DualBIOS™
PnP 1.0a, DMI 2.0, SM BIOS 2.4, ACPI 1.0b
Unique Features:
Support for @BIOS
Support for Q-Flash
Support for Xpress BIOS Rescue
Support for Download Center
Support for Xpress Install
Support for Xpress Recovery2
Support for EasyTune
* Available functions in EasyTune may differ by motherboard model.
Support for Dynamic Energy Saver™ 2
Support for Smart 6™
Support for Auto Green
Support for eXtreme Hard Drive (X.H.D)
Support for ON/OFF Charge
Support for Cloud OC
Support for Q-Share
Bundle Software:
Norton Internet Security (OEM version)
Operating System:
Support for Microsoft® Windows® 7/Vista/XP
Form Factor:
ATX Form Factor; 30.5cm x 24.4cm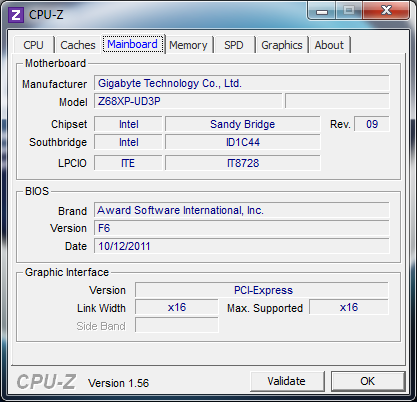 CPU-Z screenshot of the motherboard tab running Gigabyte's GA-Z68XP-UD3P in Windows 7 Professional x64. At press time, we were using Gigabyte's F6 Award BIOS version. This is the latest BIOS revision at the time of writing this review.
---
Page Index
1. Introduction, Features, and Specifications
2.
Bundle, Chipset, BIOS
3.
A Closer Look, Board Layout, Test System
4.
Benchmark: AIDA64 CPU
5.
Benchmark: AIDA64 FPU
6.
Benchmark: AIDA64 Memory
7.
Benchmark: PCMark Vantage
8.
Benchmark: 3DMark 11
9.
Benchmark: PassMark PerformanceTest 7.0
10.
Benchmark: SuperPI 1M, Cinebench R11.5
11.
Onboard Sound (RMAA 6.2.3) Analyzation
12.
Overclocking and Conclusion