Page 3 - Physical Look - Inside
Consistent with its exterior, the interior of the In Win 805 is also well furnished with all surfaces painted matte black, as shown in our photo above. If you are familiar with other mid-towers, the interior is very similar in essence, with the exception of the drive bays normally located on the right mostly deleted for maximum airflow. The conventional layout has the power supply mounted at the bottom, a small two-bay drive rack adjacent to it on the opposite end, and lots of room allocated for the motherboard. Generally speaking, it is mostly traditional as far as ATX computer cases are concerned.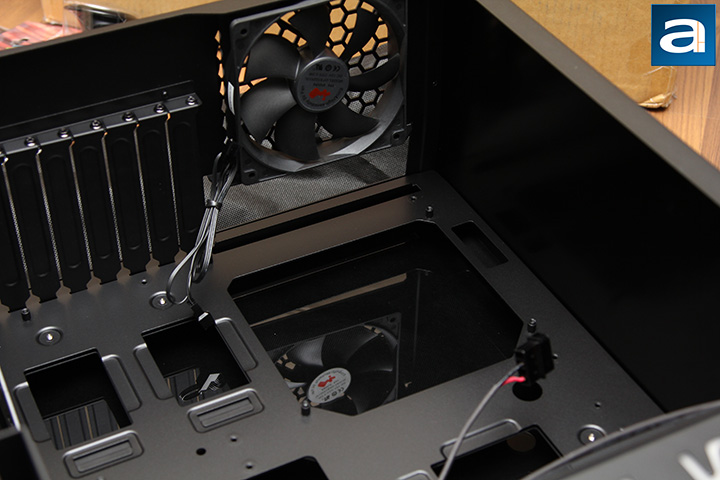 The In Win 805 is able to accommodate mITX, mATX, and ATX motherboards. The riser mounting holes are not labeled, so users who are not familiar with building their own computers may need to spend some time scratching their head. That said, you will not lose too much hair, because six risers, which includes all except for the rightmost column, are already fixed onto the tray. One 120mm pre-installed rear exhaust fan is situated around the CPU socket area of a standard ATX motherboard. The stock fan is a 1600 rpm DFS122512L from Scythe, and features a 3-pin motherboard header. As I have mentioned on the previous page, the ceiling is not designed to accommodate more fans, and is a simple blank aluminum piece with no sound insulation. Also, the In Win 805's motherboard I/O shield area cannot accommodate actual motherboard I/O shields, because it is the wrong size, and it is placed too far away from where your motherboard I/O connectors will be.
As shown in our photo above, we can spot a large rectangular opening on the motherboard tray for easy aftermarket heatsink backplate installation without removing the motherboard itself from the chassis. The opening is actually large enough to accommodate pretty much anything. I mean, with something this big, unless you have some wacko motherboard, it is hard not to get it right. The perimeter of the opening is not lined with anything, but the tray is plastic and is well rounded off, so you do not need to worry about your cables being stripped accidentally.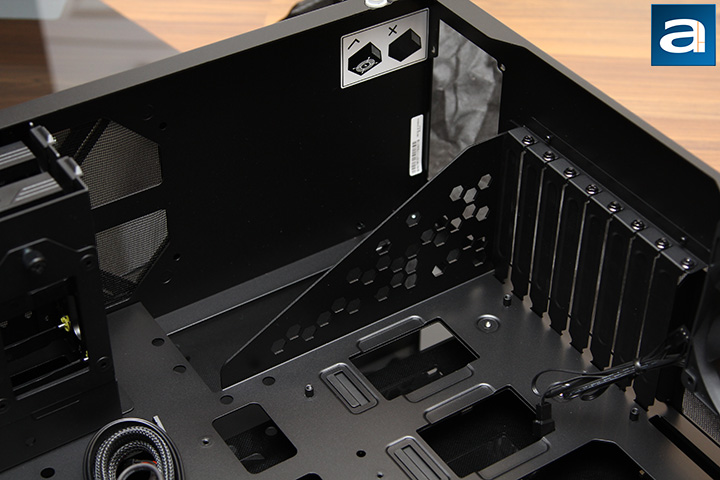 The In Win 805 features a bottom mounted power supply bay, but the chassis platform is not raised anywhere off the floor to accommodate units with fans at the bottom. The reason is because the company expects you to install your power supply upside down, and draw air from inside the chassis into your PSU for rear exhaust. I am not a fan of such a design, and I do not believe making a grille at the bottom is all that hard. Also, a good case usually has thin layer of foam to dampen any vibrations caused by your power supply against your chassis back panel. The 805 has neither, which is unfortunate.
A large opening for routing your PSU cables is appropriately placed adjacent to the expected location of your power supply, but if your power supply is too long, then you will run into some trouble. Fortunately, we have 23cm of room, so I will not be too worried in this regard. Two bottom 120mm fans can be installed into the 805 by removing the bottom drive rack.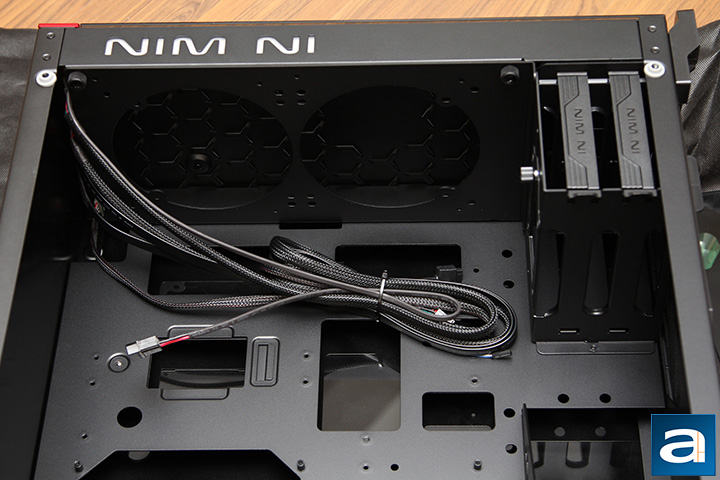 As I have mentioned earlier, other than the bottom dual 2.5"/3.5" drive rack at the bottom, the In Win 805 features nothing else in this area; it is left blank for the most part to maximize airflow. This means if you want to install an optical drive, you are out of luck, but realizing it is 2015, I am not complaining. For the drive rack, both removable drive trays are placed in perpendicular orientation to the chassis, with the connectors facing the back of the system. Each drive tray can accommodate both 2.5" and 3.5" drives (Not simultaneously, obviously) out of the box, and that is excellent. The drive trays are also well designed for good airflow.
Up to two 120mm fans can be installed in this location to draw cool air into the system from the front. The chassis can also accommodate 280, 240, 140, or 120mm radiators of up to 60mm thickness. In Win includes no fans in this area from the factory, which is somewhat of a surprise to me, considering the chassis is $200 at press time. The longest video card you can fit in the 805 is 12.5", with a bit of tolerance room, depending on how thick your fan and/or radiator is in front.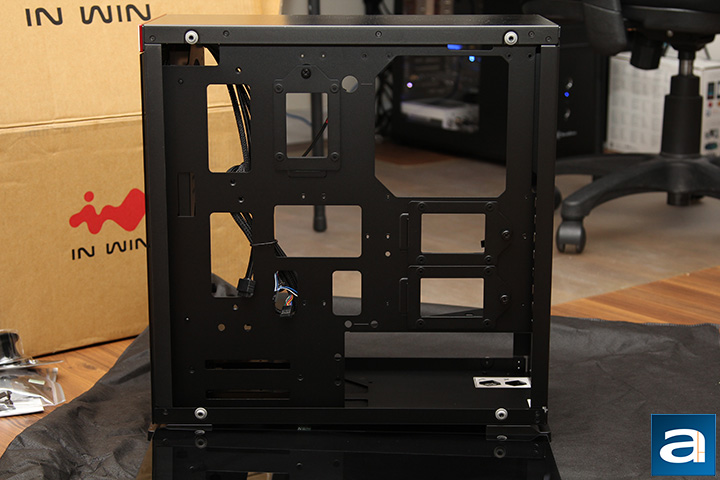 Here is a look at other side, where most people do not usually pay attention to. In the In Win 805, this area is of critical importance, because here is where you can install up to three 2.5" SSDs or HDDs. On the specifications, it says it can only take two drives behind the motherboard tray, but I am pretty sure I spot three brackets, haha. The back of the motherboard tray is usually quite fundamental to good cabling, but I am not sure how much you can do here, considering the panel that covers this side is also glass. However, if we have to choose between the two, you will still need to get them running through this section, since the other side is the main profile side, and for practical reasons, airflow is also a concern. The amount of room between the side panel and motherboard tray is a somewhat stingy 20mm. Users may experience problems if you own a power supply with very thick cables, so a 40mm gap is definitely recommended. There is also no integrated cabling guide, making it more of a challenge. That said, lots of openings can be found so you can fish your cables through, and they are large and wide to carry everything you need. One thing to note, even though the In Win 805's motherboard tray is made out of quality plastic that will not strip your cables, having rubber grommets will make things nicer and neater looking, with the side effect of vibration reduction.
Overall, the In Win 805 is a very good quality case. All internal cables are either braided or sleeved, so nothing looks cheap, but some additional detail and refinement will give this $200 product an even more premium feel.
---
Page Index
1.
Introduction, Packaging, Specifications
2.
Physical Look - Outside
3. Physical Look - Inside
4.
Installation and Conclusion