By: Jonathan Kwan
November 20, 2015
If you have been following our reviews for a while, you will know Fractal Design's Define series of computer cases are some of the highest scoring products here at APH Networks -- and having personally reviewed every model in the lineup, sans the original Define R2, you will have to appreciate the company's unblemished record in creating products that garnered relentless praise from yours truly. In fact, in the conclusion of my Define R5 review earlier this year, I said it was "about as technically perfect as it can get, at a price you simply cannot turn down". Why? From the perspective of an "APH-spec" chassis defined as "clean exterior look, large unobstructed clear side window, mid-tower, refined build quality, and filters on every vent except rear exhaust", the Define R5 is literally an embodiment of such specifications implemented into a real world design. Unfortunately, such technical perfection -- along with even sound dampening material to boot -- lacked emotional appeal. Simply put, the Define R5 is boring to look at. I mean, it is a product you cannot go wrong with, but would not it be better if it stirred your heart and emotions as well? On the other end, we have the In Win 904 Plus, which has exceptional emotional appeal, but not a lot more beyond that. Is there a way to design a chassis that meets the "APH-spec", and to borrow a term from V-MODA, without resorting to ubiquity? In Win thinks so. The latest 805 is a slightly more conservative and practical version of the 904 Plus, but still comes with stunning looks. Tinted tempered glass, larger rear exhaust fan, and front panel USB 3.1 Type-C -- it has it. Read on to find if we have finally found the one!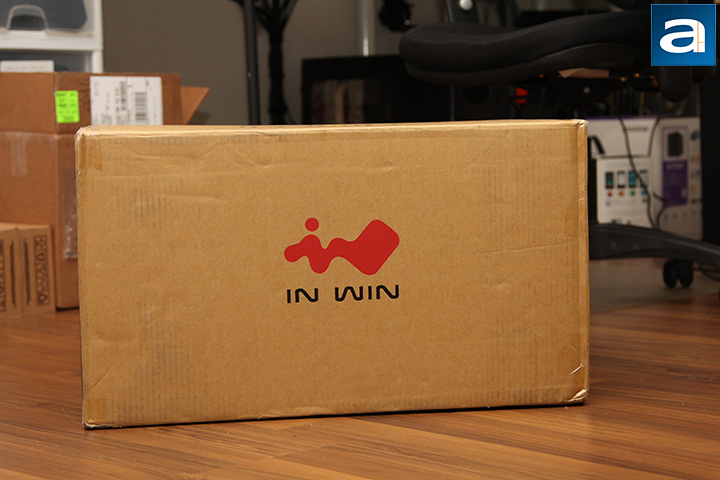 Our review unit of the In Win 805 arrived in a large, brown corrugated cardboard box from the company's American headquarters in City of Industry, California, USA. City of Industry is home to some well-known names in the industry such as Gigabyte. FedEx International Ground carried it a few thousand kilometers north to us here in Calgary, Alberta, Canada. Everything arrived in excellent condition for our review today. I have to confess, I did not open the In Win 805 until three weeks after it arrived, but when my friend visited me last week, I took the opportunity with him to witness the unboxing of one of the most stunning cases... in the world.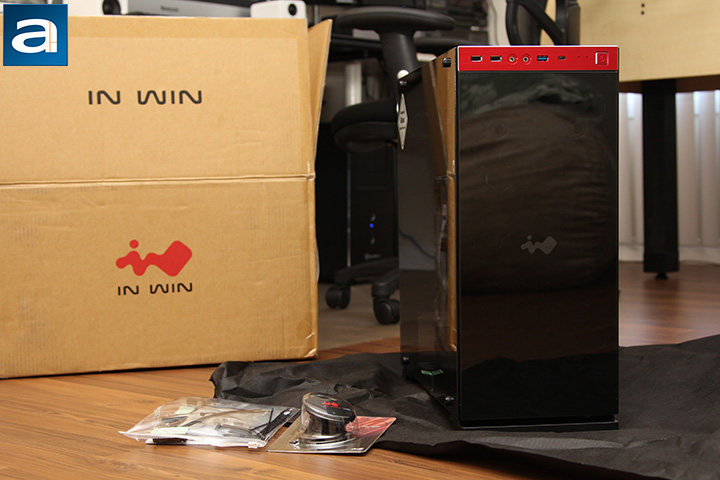 Usually, the shipping box of a computer chassis is its retail packaging, and the In Win 805 is no exception. As you can see in our photo above, the In Win 805's classic brown box is quite environmentally friendly -- or economically friendly -- depending on your perspective. For a $200 chassis at press time, one could reasonably expect a bit more extravagance than black text and a splash of red ink, but it gets the job done. Brand? You got it. Specifications table? On the side. It is certainly not as pretty as full color printing, but no one spends that much time looking at the packaging anyway. At the end of the day, I have no guilty feeling dumping it into the recycle bin afterwards. I am no environmentalist, but I think that in itself has value in my opinion.
Inside the box, a black synthetic bag wraps and protects the In Win 805, and is held in place by eight corner brackets. The retail packaging did a decent enough job at protecting the fragile, tempered glass contents inside, but my rear steel panel was slightly bent on arrival. Besides the case itself, all of its accessories are held inside a resealable plastic bag. A suction cup headphone holder is also included from the factory.
Before we move on, let us take a look at the specifications of the In Win 805, as obtained from the manufacturer's website:
Case Size: Mid Tower
Material: Aluminum; 3mm Tempered Glass
Internal Drive Bay: 3.5" / 2.5" x 2; 2.5" x 4
M/B Form Factor: ATX / Micro-ATX /Mini-ITX (Max: 12" x 10.5")
Power Supply: ATX 12V, PSII Size and EPS up to 220mm
I/O Port: USB 3.1 (TYPE-C) x 1, USB 3.0 x 1, USB 2.0 x 2, HD Audio
Expansion Slot: PCI-E Slot x 8; Supports High-End Graphic Card up to 320mm (Height: 164mm)
Thermal Solution:
Air Cooling
- Front: 120/140mm Fan x 2
- Rear: 120mm Fan x 1 (Included)
- Bottom: 120mm Fan x 2 (Remove HDD Cage)
Water Cooling
- Front: 120/140/240/280mm Radiator (Height up to 60mm)
- Rear: 120mm Radiator (Height up to 35mm)
CPU Heatsink
- Maximum CPU Heatsink up to 156mm (CPU Die Surface to Side Panel)
Dimension (HxWxD): 476 x 205 x 455mm; 18.7"x 8" x 18"
---
Page Index
1. Introduction, Packaging, Specifications
2.
Physical Look - Outside
3.
Physical Look - Inside
4.
Installation and Conclusion