Page 4 - Installation and Conclusion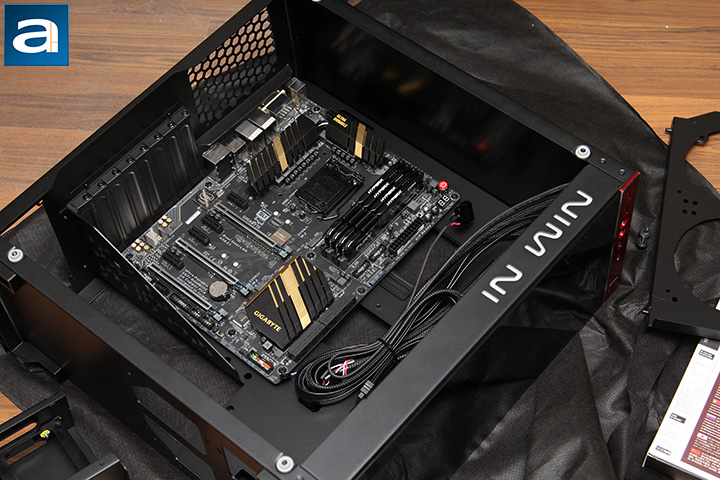 The installation process was reasonably straightforward with the In Win 805. I am using this for my new build, which I have previously used a Fractal Design Define R5. For the most part, it was moderately easy to work with as far as a standard mid-tower is concerned. Out of preference, I installed my Gigabyte GA-Z170X-UD5 motherboard first, followed by the rest of my components. However, it does not matter what you install first, since they will all work out just as well in the end.
Executing a good cabling job was somewhat of a challenge with the In Win 805. It may even catch the most experienced of us off guard, since everything you do -- both the front and back -- will be fully exposed to the public, thanks to the full view glass panels on both sides. Worse yet, the In Win 805 has no integrated cabling guides, making the job even more of a challenge. A few plastic clips are included to hold cables in place, but it is not quite the same as having a built in section. The only saving grace was the abundance of openings on the motherboard tray for you to route cables through, but plan your game well before starting. Also, there is not a lot of gap behind the motherboard tray, so thick cables may pose problems.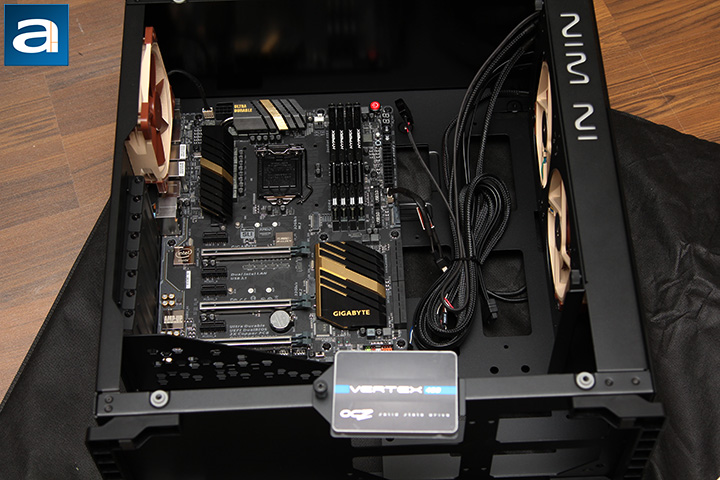 The rest of the installation process came and went with some thinking, as I continued to install the rest of my components like my SSD. The one shown in the photo is the OCZ Vertex 460 240GB, which I am not using in my actual build, but for the sake of demonstration, I will use it. It goes at the back of the motherboard tray. Unless you count thumbscrews as tool-free, installation of most components will require you to keep your screwdriver handy. This includes all add-on cards, as well as your storage drives. I do not have much beef against this though, since it is usually much more secure, and it is not like I will take my computer apart occasionally anyway. As you can see, the 805 can actually accommodate a large water cooling radiator in front. I am personally not huge into water cooling, so I will just take advantage with the unrestricted airflow design in my particular install instead with some Noctua NF-S12A PWM fans all around.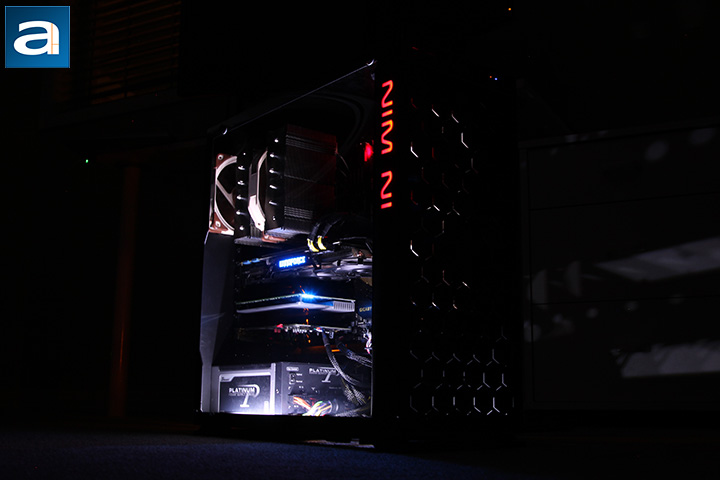 After plugging in everything, our system configured inside the In Win 805 was ready to roll. I hit the square power button in front, and my computer came to life. With some LED lights inside, I was blown away by its looks. In Win's logo on the side also lights up to add to the dramatic effect.
On a scale from 0.0 to 10.0 where 0.0 is silent and 10.0 is the loudest, the stock Scythe DFS122512L fan would come in at 2.5 subjective sound rating at full blast. Slowing it down will keep it at around 1.5 in my personal opinion. I am quite sensitive to perceived sound volume, and as a quiet PC enthusiast, the In Win 805 is not bad, but that is only because it only comes with one sleeve bearing fan. The In Win 805 was never designed to be a silent case, but with some quiet components, anything is possible.
-----------------------------------------
Call me superficial, but I would make the assertion you cannot talk about the In Win 805 without first talking about its look. This chassis is totally a 'ten' in my books in this regard. In Win's implementation of tinted tempered glass and brushed aluminum panels in the 805 resulted in a simply stunning product like no other. Now, I can spend all day talking about why this is the best looking case I have ever laid my eyes on, but let us move on, shall we? If going by the definition of an "APH-spec" chassis, where we defined it as "clean exterior look, large unobstructed clear side window, mid-tower, refined build quality, and filters on every vent except rear exhaust", In Win hit a home run on paper with almost all of them. On top of that, our particular 805 variant has a USB 3.1 Type-C port in front. The interior design is also quite decent, with a quality plastic tray and lots of openings for cable routing. Sleeved or bundled cables are a plus as well. However, there are some design and refinement issues with the In Win 805. For starters, this amazing looking mid-tower has poor cooling options. There is no method to vent hot air through the top, and the bottom power supply bay does not even have a built in air intake. Also, only one rear exhaust fan is included, so if you want to install some in front, you will have to supply your own. Some sound insulation will be nice, and for a case with glass panels on both sides, having an integrated cable routing location with a larger rear gap will make our life so much easier -- especially since everything you do will be revealed to the public. The front I/O ports and riser holes on the motherboard tray are not labeled, which can be quite ambiguous and confusing. I also found it funky how the In Win 805 was not designed to accommodate motherboard I/O shields. In all my years of building PCs, I have never seen this before. For about $200 at press time, the In Win 805 is not cheap, nor is it close to being technically perfect like the Fractal Design Define R5. But it does have one thing the Define R5 does not have.
Emotional appeal.
And lots of it.
In the conclusion of my Define R5 review, I said the "Define R5 is like the girl who is technically perfect in every way -- reasonably attractive looking, good manners, and well educated -- but just not very exciting to go on a date with." On the other end, we have the In Win 904 Plus, where I said "it is like the girl you can never figure out, spends all your money, and graduated university with a useless degree with mediocre grades. But she is extremely pretty, and has quite a personality."
The In Win 805?
The In Win 805 is like the girl who is extremely pretty with quite a personality, but she also has a tame end that you can somewhat figure out. She may not have graduated from university with an epic degree and high grades, but it is still something that will land her a decent job in the real world. You will need to give up something to be with her, but you know you can get along well with her. Maybe she is not perfect, but love is not just about being perfectly rational at all times -- there is the emotional part of it, too.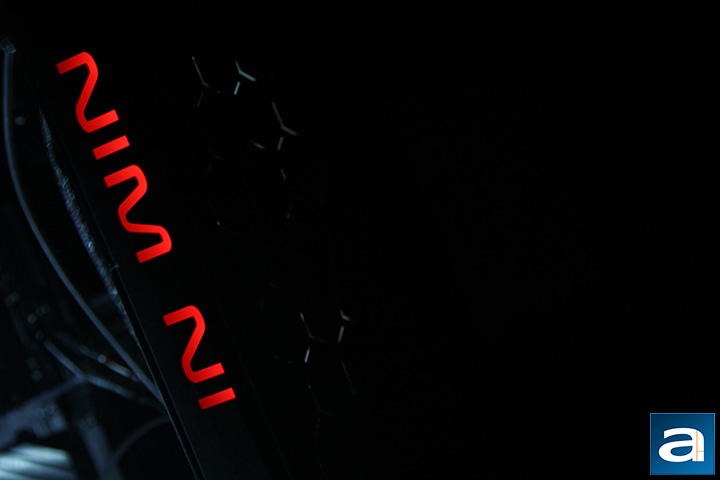 In Win provided this product to APH Networks for the purpose of evaluation.

APH:Renewal Award | APH Review Focus Summary:
8/10 means Definitely a very good product with drawbacks that are not likely going to matter to the end user.
7/10 means Great product with many advantages and certain insignificant drawbacks; but should be considered before purchasing.
-- Final APH Numeric Rating is 7.6/10
Please note that the APH Numeric Rating system is based off our proprietary guidelines in the Review Focus, and should not be compared to other sites.
The In Win 805 is a simply stunning looking case with some imperfect features, but do you really care about the latter?
Do you have any comments or questions about the In Win 805? Drop by our Forums. Registration is free, and it only takes a minute!
---
Page Index
1.
Introduction, Packaging, Specifications
2.
Physical Look - Outside
3.
Physical Look - Inside
4. Installation and Conclusion