Page 2 - Physical Look - Outside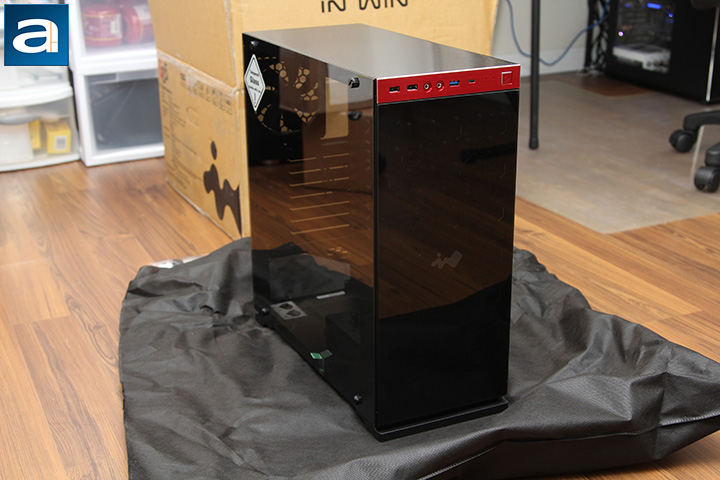 Even more so than the Fractal Design Define R5, the In Win 805 was clearly designed by someone with a ruler. But if you say there are only so many ways you can come up with a computer case if you were limited to using a ruler, place the Define R5 and 805 next to each other, and you will see how two products, both consisting of almost only straight lines, made for the same purpose, can turn out to be so different in the end. This mid-tower caught my attention the first time I saw its photos on the internet, and it totally blew me away the first time I saw it in real life... and the second time... and the third. Simply put, the In Win 805 is a stunning piece of modern art. Its rectangular shape is a lot more conservative than the 904 Plus with rounded corners and other unconventional design elements, but In Win's implementation of full sized, 3mm tinted tempered glass panels on three profile sides of the 805 is both ambitious and brilliant. There is no room for any external 5.25" drive bays, but behind the glass is a honeycomb mesh with In Win's logo in the middle, which can accommodate up to two 120mm or 140mm fans. On the side, In Win's logo is prominently shown, and will light up when turned on. Complete with a cool brushed aluminum top, and a touch of red accent in front for our particular model, the end result is outstanding. It is minimalist and simple, but without a thread of boring. It is a level of premium that is a whole class above the competition. I like it. A lot.
Measuring in at 205mm width, 476mm height, and 455mm depth, the In Win 805's dimensions are about right for a mid-tower chassis. The weight is not specified, but my bathroom scale tells me it is around ten pounds.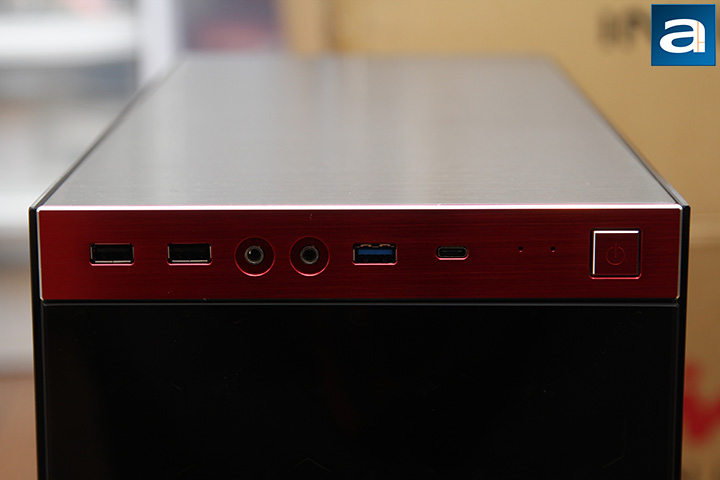 The In Win 805's front panel connectors are literally on the front panel, rather than on top like many new chassis. It is highlighted by a sharp red strip in our particular model variant, but you can also buy it in yellow or black -- kind of a little too out there and too mainstream, respectively, in my opinion, haha. The layout configuration is pretty standard; starting from the left, we have two horizontally oriented USB 2.0 ports, two 3.5mm audio jacks for microphone in and headphone out (But neither of them are labeled -- a curious omission), USB 3.0, USB 3.1 Type-C, orange HDD activity LED, blue power LED, as well as a square power button. Like the audio jacks, the LEDs are not labeled either, but at least it is not hard to figure out which one is which.
The top panel is a solid piece of aluminum with no accommodation for fans or radiators. Traditionally, case designers install top mounted fans to efficiently draw heat away from the processor. This makes a lot of sense, since heat rises, so we are only adhering to the natural laws of physics. Unfortunately, this is a two way street, as it is also very easy to get a lot of dust in the system that way when it is turned off. Some users really like it, but personally, I never install fans in this area, so I am not complaining. However, an option like Fractal Design's ModuVent would have been better to accommodate users of different preferences.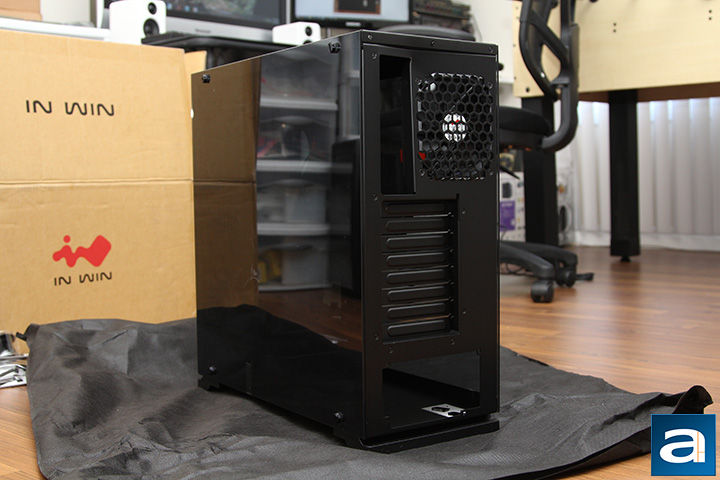 Painted black to match the rest of the chassis, the back of In Win's 805 is pretty much standard for a case with a bottom mounted power supply bay. We can expectantly spot an included black colored 120mm fan placed adjacent to the motherboard I/O backplate. Actually, the In Win 805's motherboard I/O backplate area cannot accommodate motherboard I/O shields, because it is the wrong size, and its distance offset is too high. Much to my surprise, there are no radiator pipe openings either, but I think external water cooling systems are practically non-existent nowadays. Both side panels are held closed by four thumbscrews each. There are no quick release mechanisms, but this is totally understandable, considering these are pure tempered glass panels. Meanwhile, the solid plates enclosing the eight expansion card slots are also painted black, as shown in our photo above. The area adjacent to the expansion card slots are not ventilated either, which I think is a good thing, since it allows less dust in.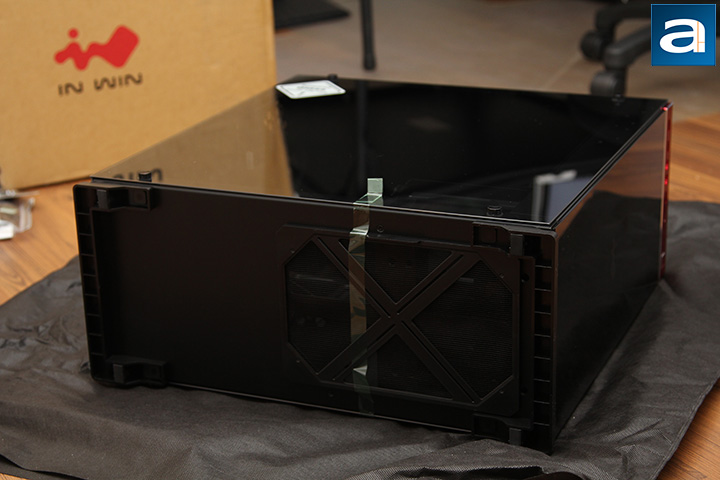 Large plastic brackets with small rubber feet can be seen at the bottom of the In Win 805. The legs provide the chassis about 2 cm rise over the surface it resides on. For those who want more fans in their systems, the bottom panel has room for two additional 120mm fans, given you remove the internal hard drive cage. The magnetic washable fan filter takes out the nasty stuff for all intake fans, and can be seen in our photo above, which can be pulled out for easy cleaning.
Overall, the In Win 805 ATX case is very good with regards build quality. All the panels fit together extremely well with minimal panel gaps. With that out of the way, nothing feels flimsy or cheap, mainly due to the choices of materials used. There is no plastic anywhere -- it is all glass or metal. Sharp edges are out of the question. The amount of attention to detail is noticeable, but there were some areas where they missed out on, such as labeling the front panel components properly and the funky lack of support for motherboard I/O shields.
---
Page Index
1.
Introduction, Packaging, Specifications
2. Physical Look - Outside
3.
Physical Look - Inside
4.
Installation and Conclusion