By: Kenneth Kwok
Edited by Jonathan Kwan
October 15, 2008
Whatever that came first, Thermaltake's BlacX is the HDD docking station that popularized this product in the industry, thanks to Thermaltake's brand itself as well as excellent marketing that brought it to the table. A few months later, we've seen a steady amount of such products saturate the market -- if which most of them now communicate with your computer with standard eSATA and USB 2.0 interfaces. Not only are they compatible with standard 3.5 inch desktop hard drives, but also 2.5" units typically associated with laptops and the such. You'll never know how useful such a product is when you have a bunch of hard drives needed to be swapped on the fly. Anyways, derivatives of the products in the same category go as far as adding a card reader or even a dual bay reader. In a market economy system, it's safe to say that having more brands to choose from isn't necessarily a bad thing, since more competition will inevitably cause better and cheaper products. Today, we'll be looking at a hard drive docking station from iStarUSA -- you may remember them from our iStarUSA T5F-SS review a few weeks back. This time, however we will be taking a look at the iStarUSA xAGE-N99-SAU. Our only complaint is that... can't they come up with a more creative, or at least easy to remember name? That said, let's crack the box open and see how it goes.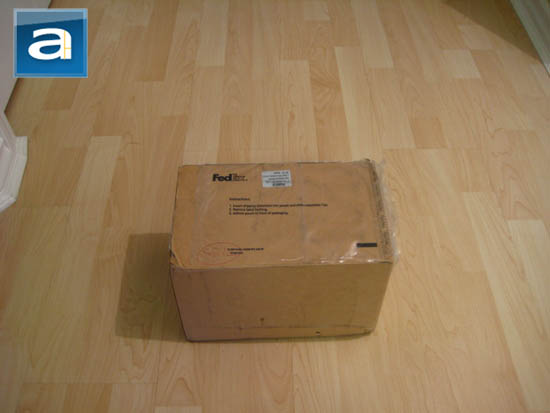 Our iStarUSA xAGE-N99-SAU review unit was shipped using UPS Standard. The difference, however, is that this time it was actually shipped in a classic brown corrugated cardboard box and not a beat-up-and-reused cardboard box. Another good thing is that the shipping box shows no physical damage, and it was packaged quite well. When it comes to the interior, it was protected with thick sheets of foam to protect the unit from damage during shipping. In the center of all these thick foam material is a retail box containing the xAGE-N99-SAU.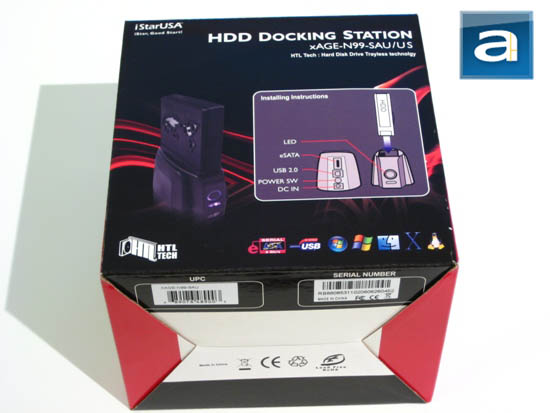 Our iStarUSA xAGE-N99-SAU came in a retail box. The retail box features a dark color scheme that covers pretty much the entire box. The front of the box has a small iStarUSA logo in the top left corner, while the name and model number of the product is placed on the right. It's surprising that the logo isn't as dominant as the product listing, with a possibility that they are trying to promote the product more and not so much the brand. Near the middle-left of the front contains a picture of the product itself, and a diagram of its features and installation instructions to the right of it. The background has a couple red streaks on the predominant black used as the backdrop to complete the design of the box. Across the bottom of the front are icons and texts to represent the supported technologies such as eSATA, USB; as well as its Windows, Mac, and Linux compatibility. The sides of the box contain the usual information such as features, applications, and included accessories. My overall impression of the packaging is positive; but it does resemble somewhat of some of its competitor's box design. (But then, there's just so many ways of designing the box, haha.)
Let's take a look at the specifications of the xAGE-N99-SAU, before we move on. The following specifications were taken from the iStarUSA website:
Model Number: xAGE-N99-SAU
Reseller Order Number: Synnex: 2225310
RoHS Compliance Version: Yes
Dimensions (W x H x D): 85 x 150 x 80 mm
HDD Interface: 2.5"/3.5" SATA I/II
Host Interface: USB2.0/eSATA
LED Display: Power On/HDD Access
Material: Plastic (ABS)
Color: Black
Power Adapter: 100-240V/AC to DC 12V 2.0A
Packaging Information: Docking Station, eSATA Cable, USB Cable, HDD Cover (optional), and Power Adapter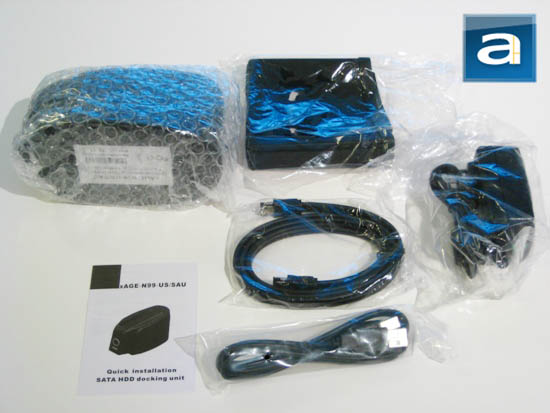 The internal packaging for the product is very simplistic; there are no cardboard dividers of any kind inside. The individually wrapped clear plastic bag packages are just stacked on top of one another. The dock itself is wrapped in a plastic bubble wrap bag, which reduces and prevents damage to the unit caused by potential bumps or any external forces/shocks. Out of the box, you will find the iStarUSA xAGE-N99-SAU dock itself, USB cable, eSATA cable, AC adapter, instructional booklet, and surprisingly, 2.5 inch and 3.5 inch silicone hard drive protectors.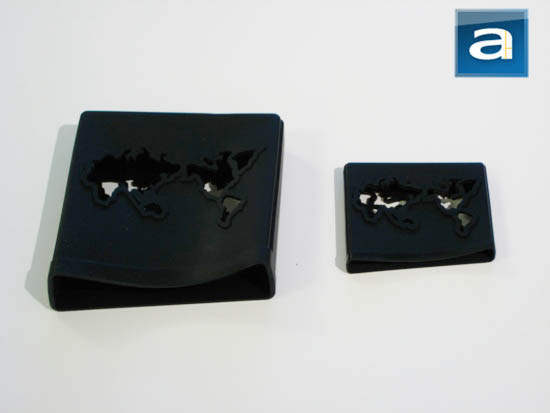 There are two silicone protectors included; one for each hard drive size, as mentioned earlier. both have an open cutout of a picture of the world on both sides of it. I don't can't see what the included sleeves are actually used for, other than to put on the hard drive for aesthetic purposes. It is most likely just for visual appeal in regards to not having a hard drive sticking out in your field of view or whatever. It's interesting to have, but if it's for a product designed for switching hard drives on the fly, I don't think you'll need it. Not to mention that with the heat generated by the hard drive, it's better to keep it off, especially for usage during extended periods of time.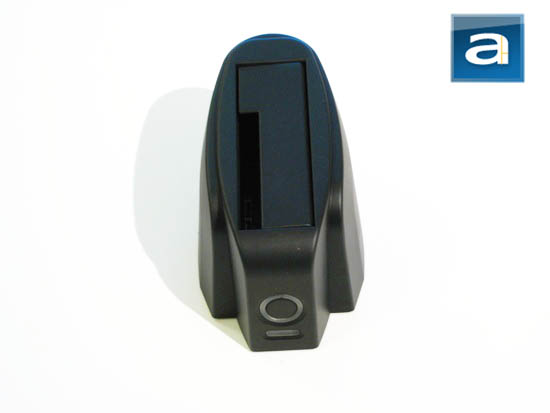 The front of the dock has two separate blue LEDs; one of it is in done in a circular fashion as a ring with translucent plastic finish. It's used to indicate whether the HDD docking station is powered on or not. Below that is another LED, but this time it is rectangular. This LED is used to indicate hard drive activity. Meanwhile, the top of the iStarUSA xAGE includes the spring loaded push-down cover for the insertion of either a 2.5 inch or a 3.5 inch hard drive. The cover pops down when a 3.5 inch hard drive is inserted and pops up when it is removed. There is also a small cutout in the plastic, where the 2.5 inch hard drive fits in in the same fashion.
Again, there's one issue that remains unsolved in all of these hard drive docks -- and that is the inability to actively cool the hard drive. I understand that this is a physical design limitation, but any innovation is always welcome -- as this will impede the user from using the hard drive in the dock for extended periods of time.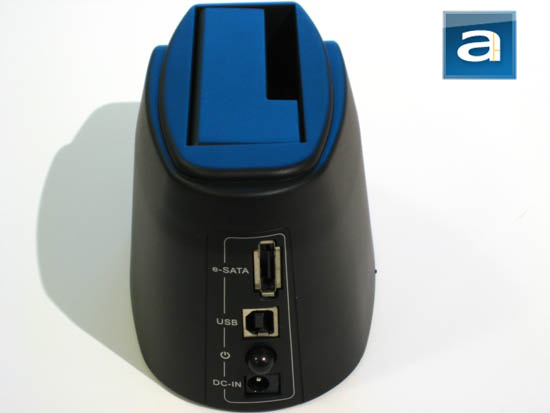 The iStarUSA xAGE's exterior is completely constructed out of black plastic, unlike the photo above where the blue sketch on top are reflections off my monitor (Yeah, I know, haha). Although the xAGE-N99-SAU is made of plastic, it is still solid and well built to feel. The edges on the side are well smoothed and overall quality is evident. There is no indication of an iStarUSA logo anywhere on the docking station itself, making it an easy to rebrand OEM product.
The back of the iStarUSA xAGE is actually quite simple; the array of connectors are lined up vertically from top to bottom in the following order: eSATA port, USB port, power button, and power input jack. Like in most other docks, I often wonder why they would place the power button at the back. For pure convenience, it would be much better to have it on the front.
To be honest with you, the design of the iStarUSA xAGE-N99-SAU is good -- but there's nothing so special about it; it looks kind of bland even for a HDD docking station. The Thermaltake BlacX is more stylish in this regard in my opinion. (Note: iStarUSA is an OEM for Thermaltake, where the BlackX is reminiscent of the xAGE902-SAUF)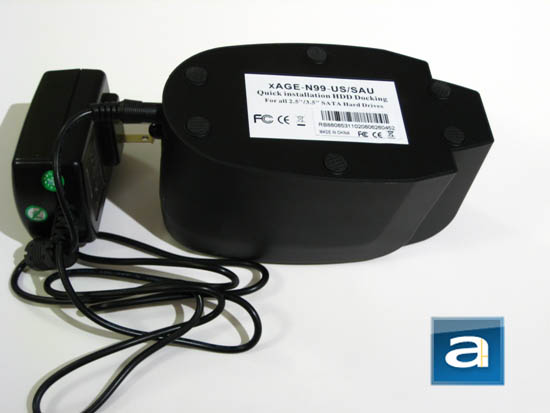 The bottom of the iStarUSA xAGE reveals six plastic standoffs that allows the dock to exert better grip on the user's desk, and provides some vibration dampening effect. One of the problems I found while using this product was that the power cord was quite short. It's not horrendously short, but it has a strong potential for causing cabling problems for users that want to keep it on a big desk with a power outlet far away.
Under four particular standoffs (The two that don't include the one in the bottom right left corner and one in the top right corner in the photo above) are four screws that hold the iStarUSA xAGE-N99-SAU's base and the plastic cover together. The standoffs are attached to the main unit by a type of light adhesive, so it's quite easy to remove it and take a look at the internal components of the iStarUSA dock.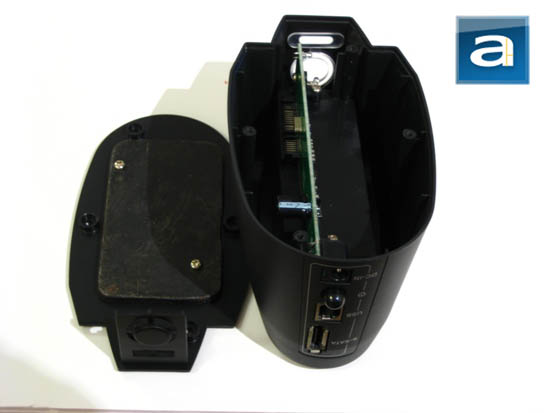 There are two main components of the iStarUSA xAGE: the plastic casing, and the base plate. The green PCB/controller board is attached to the plastic enclosure and is placed vertically to the normal. The 2 LEDS in the front are actually soldered directly to the PCB. The base plate is composed main of a big black iron weight that is used to add weight to the overall dock. It is held on by two screws to the base cover; which can be easily removed -- if you ever need to. The purpose of the weight is to make sure there is a lower center of gravity, thus making the dock itself much more stable against counteracting forces.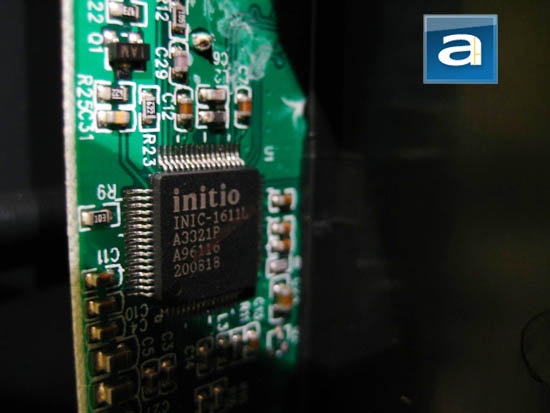 On the green PCB, the main piece is the Initio INIC-1611L SATA USB 2.0 bridge. Specifications as follows:
- Integrates USB2.0 PHY IP core.
- Data transfer rate of up to 60 MB/sec on USB side, 150 MB/sec on SATA side.
- Integrated internal Turbo 8051 uP with 16KB embedded SRAM.
- Program Flash In-Line (Firmware download mechanism, USB direct for MFG Test, write .bta file.
- Local Bus Interface to Serial Peripheral Interface (SPI) Flash Only.
- Support HID.
- Up to 9 GPIO pins.
- The option of using only one external crystal.
- Provide software utilities for downloading the upgraded firmware code under USB.
- Supports SATA (bridged SATA) Hard Disk drives, CD-RW devices, DVDs, Removable media devices
- USB 1.1 and USB 2.0 compliant.
- USB Mass Storage Class Bulk-Only Transport Specification Compliant.
- SATA specification 1.0 (1.5 Gbps), SATA II and eSATA Compliant (Hot Plug is supported).
- Support SATA to SATA pass through.
- Supports SATA NCQ.
- Supports 3Gbps SATA host and 3Gbps SATA HDD connection to internal 1.5Gbps SATA Phy.
- Support ATA/ATAPI device DMA and PIO mode.
- 4k bytes of data buffer for data transfer.
- One SATA channel support.
- On-Chip 3.3V to 1.8V regulator.
- 64 pin LQFP
---
The Tests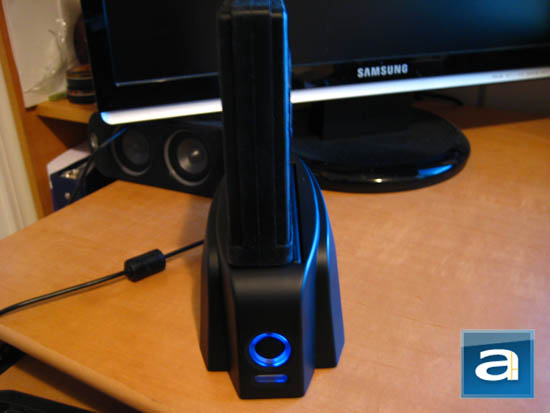 Our iStarUSA xAGE-N99-SAU in action, with a docked hard drive for our performance tests.
CPU: Intel Core 2 Duo Q9550 @ 2.83GHz
Motherboard: Asus P5E3-Deluxe/WiFi/AP@n
RAM: OCZ Gold OCZ3G13332GK 2GB DDR3
Chassis: Antec Sonata II
Power: Seasonic M12 500W
Video: Palit 4850 Sonic 685MHZ
Optical Drive: Liteon 16X DVD-ROM
Hard Drive:Seagate Barracuda 7200.11 7200RPM 640GB 32MB Cache
Operating System: Microsoft Windows XP Home SP3
In our tests today, I won't get into performance analysis of multiple file writes and multiple file reads as we've done previously in our storage reviews. The reason behind this is the influence of eSATA versus USB is not quite relevant to drive I/O performance -- it is quite limited to the hard drive itself, and we are not reviewing the hard drive itself today. Unless, of course, it has been recorded that the performance of the drive controllers on iStarUSA xAGE-N99-SAU were THAT bad, then we will investigate and take such into account.
The hard drive we used to test the iStarUSA xAGE is a Seagate Barracuda 7200.7 7200RPM 120GB SATA2 hard drive with 8MB cache. Although it is an older model, performance will only limited to the USB interface -- and eSATA performance is irrelevant to the specific docking station model and serves only as a reference -- because the eSATA controller is on the motherboard, and that is usually limited by the performance of the drive; but still in excess of USB interface limitations.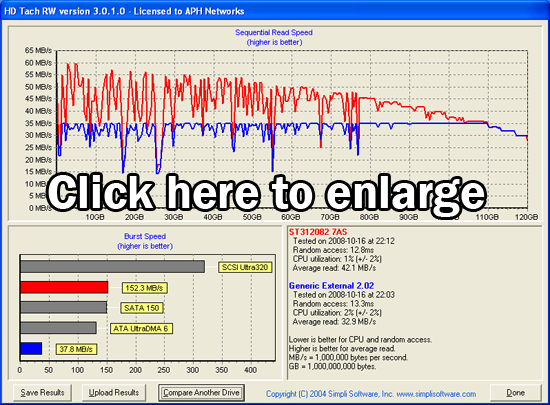 As you can see in our benchmark results above from HDTach RW 3.0.1.0, USB2.0 (Blue line) resulted in a constant sequential read speed, while eSATA (Red line) had faster read speed at the beginning of the drive and much drops as it approaches the other edges. This is very common for hard drives, and a comparison graph as shown above is a clear demonstration of USB bottlenecking the drive as the read speed is consistently slower than the slowest read speed obtained using eSATA at the end of the drive. The consistent spikes seems somewhat odd as observed in the graph above, but the test has been ran multiple times with the same result.
The rest remains virtually identical the same as far as latency/random access goes. However, in terms of burst, the test conducted using eSATA connection had 152.3MB/s score. USB's result is just roughly 2MB/s over its consistent read speed.
Overall, we can conclude two things. iStarUSA's xAGE-N99-SAU reached a speed of 32.9MB/s consistent read using USB -- which is decent, but we've seen better. However, when you have a chance -- use eSATA, it's considerably faster and you will get characteristics of an internal SATA drive.
-----------------------------------------
The iStarUSA xAGE-N99-SAU isn't exactly a unique product, but as I've previously mentioned, it is a great thing to have competition in practically any computer markets. This is especially when competition benefits the consumer for better pricing and encourages innovation. Just like the iStarUSA T5F-SS that I've previously reviewed, this product is convenient and well built. The difference this time is having hard drive hot swaps from your desk instead of from an internal 5.25" bay. Performance is acceptable via the USB 2.0 interface thanks to the Initio SATA to USB controller, but we've certainly seen better -- where the Thermaltake BlacX uses an Initio INIC-1606L chip and got 35.4MB/s average read. The inclusion of the 2.5 inch and 3.5 inch silicone hard drive 'protectors' is a nice bonus, but I'm still not too sure what's a practical use for it. Being at that, I got a few suggestions for improvement: the power button should be relocated to the front, make the power cable longer, and we could always use some creative approaches and innovative ideas from iStarUSA for some active hard drive cooling. Generally speaking, the iStarUSA xAGE-N99-SAU is a decent product, and it offers a good degree of convenience for user actively hot swapping SATA hard drives. The problem is that, while the xAGE does everything it's expected, there's nothing that really sets it apart from the rest -- and that's definitely something we are looking for.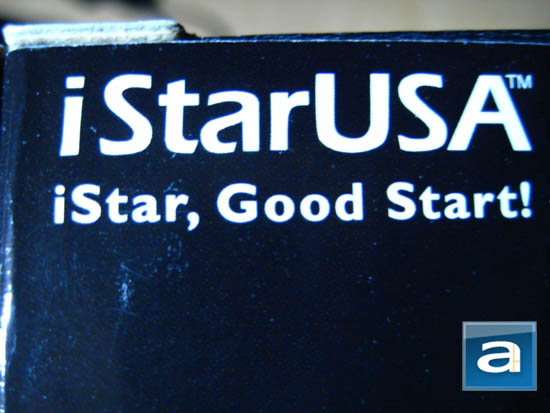 Special thanks to Jacky over at iStarUSA for making this review possible.
APH Review Focus Summary:
7/10 means Great product with many advantages and certain insignificant drawbacks; but should be considered before purchasing.
8/10 means Definitely a very good product with drawbacks that aren't likely going to matter to the end user.
-- Final APH Numeric Rating is 7.2/10
Please note that the APH Numeric Rating system is based off our proprietary guidelines in the Review Focus, and should not be compared to other sites.
The iStarUSA xAGE-N99-SAU does everything as expected, but we would definitely appreciate it if this product was, a bit more, different.
Do you have any comments or questions about the iStarUSA xAGE-N99-SAU? Drop by our Forums. Registration is free, and it only takes a minute!