Page 8 - Benchmark: 3DMark06 Professional
About 3DMark06 Professional
3DMark®06 is the worldwide standard in advanced 3D game performance benchmarking. A fundamental tool for every company in the PC industry as well as PC users and gamers, 3DMark06 uses advanced real-time 3D game workloads to measure PC performance using a suite of DirectX 9 3D graphics tests, CPU tests, and 3D feature tests. 3DMark06 tests include all new HDR/SM3.0 graphics tests, SM2.0 graphics tests, AI and physics driven single and multiple cores or processor CPU tests and a collection of comprehensive feature tests to reliably measure next generation gaming performance today. Futuremark's exclusive Online ResultBrowser web service tracks and compares 3DMark06 scores.
Key 3DMark06 Advanced and Professional Features
- DirectX® 9 3D game performance benchmark
- Includes separate graphics card and CPU tests
- Produces workloads that simulate next generation 3D gaming requirements
- Advanced 3D game engine supports HDR Rendering with SM3.0 Shaders, in addition to SM2.0 Shaders
- Includes two HDR/SM3.0 game tests and two SM2.0 game tests
- CPU performance testing via AI and physics workloads for both single core systems and multi-threaded, multi-core and multiple processor environments
- 3D graphics feature tests include Fill Rate, Pixel Shader, Vertex Shader, SM3.0 tests, and Batch Size tests
From: Developer's Page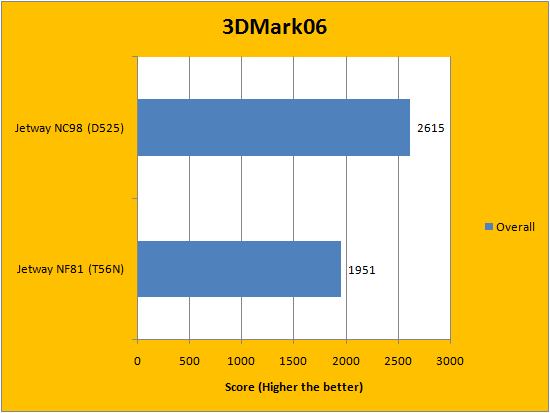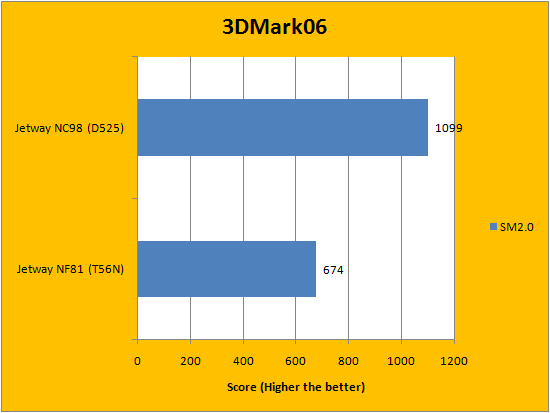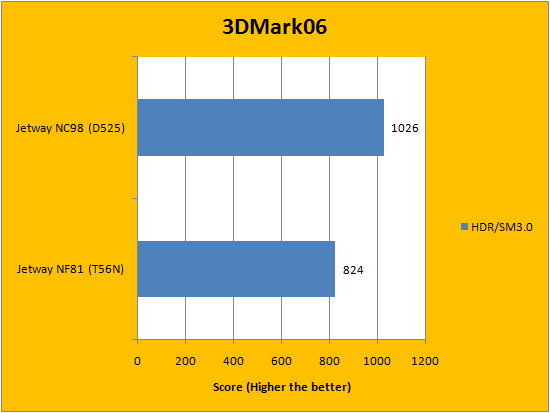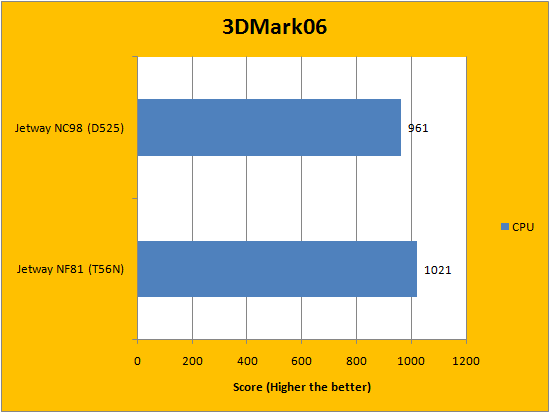 Surprisingly, the Jetway NF81-T56N-LF lagged behind the Jetway NC98-525-LF, although on paper, the combination of the AMD eOntario T56N and AMD Radeon HD 6310 should be more powerful than the Intel Atom D525 and NVIDIA ION 2. However, the results clearly show that the latter is more powerful. This is probably due to the fact that the AMD build does not have dedicated graphics memory, since it has to use the main memory in order to run the tests. This is significantly slower and much less efficient. It may be a good idea to add on some dedicated graphics memory in the future. Not surprisingly, the CPU test favored the T56N, since it runs better than the D525 in non-multithreaded applications.
---
Page Index
1.
Introduction, Features, and Specifications
2.
Bundle, Chipset, BIOS
3.
A Closer Look, Board Layout, Test System
4.
Benchmark: AIDA64 CPU
5.
Benchmark: AIDA64 FPU
6.
Benchmark: AIDA64 Memory
7.
Benchmark: PCMark Vantage
8. Benchmark: 3DMark06 Professional
9.
Benchmark: PassMark PerformanceTest 7.0
10.
Benchmark: SuperPI 1M, Cinebench R11.5
11.
Onboard Sound (RMAA 6.2.3) Analyzation
12.
Power Consumption and Conclusion