By: Aaron Lai
May 13, 2016
As I am preparing for interviews to enter in the working world, I have been looking at typical interview questions to get myself ready. One of the questions I ran into was, "What makes a good leader?" It may seem a bit odd to expect this question, especially for a junior level position, but from a human resources perspective, it makes a lot of sense. Companies are not just hiring for the present, but also for the future. Thus when I think of a good leader, I often think of a responsible and fair person. However, one aspect I think is just as important is the ability to delegate tasks effectively to the appropriate person. This also involves the capability to know when to jump in to help or possibly take over the task. It definitely is a balancing act between ensuring your resources, including people, are managed well. At CES 2016, we were introduced to the Kingston HyperX Cloud Revolver, the first pair of headphones designed and developed in the HyperX division. I spoke with one of the representatives, and they believed they built up enough know-how to release their own gaming headset. To give some history, their first pair of audio cans was produced in cooperation with SteelSeries, called the HyperX Siberia v2. The next sets were made with QPad, under the Cloud and Cloud II monikers, with several other variations. Now today with the HyperX Cloud Revolver, I think it is only natural to wonder if Kingston was actually right in their decision. Will the Cloud Revolver blow us away like its predecessor, or will it be proof the HyperX was just not ready? Read on to find out!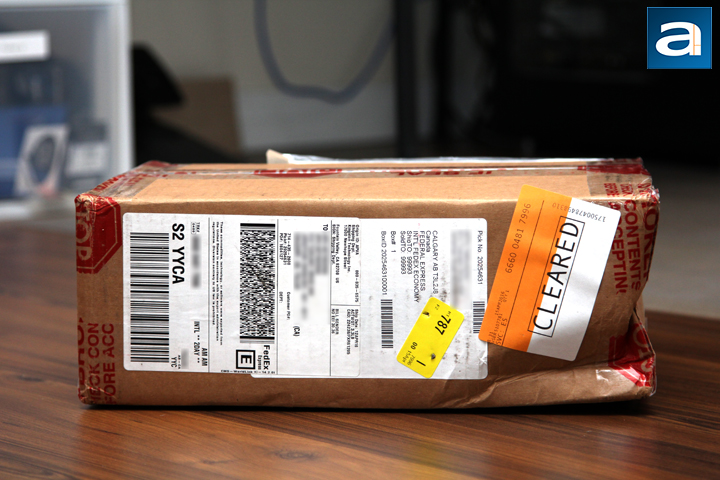 Today's shipment of the Kingston HyperX Cloud Revolver gaming headset arrived from the company's offices in Fountain Valley, California. Traveling with FedEx, the shipment arrived in a relatively poor condition to our Calgary, Alberta location. You can already see from above there is a huge crush mark on the right side of the box, indicating some object or person fell on the box in transit. This is bad marks for FedEx, who used to be my favorite shipping company. Thankfully, this has not affected the inner contents, as you will see shortly.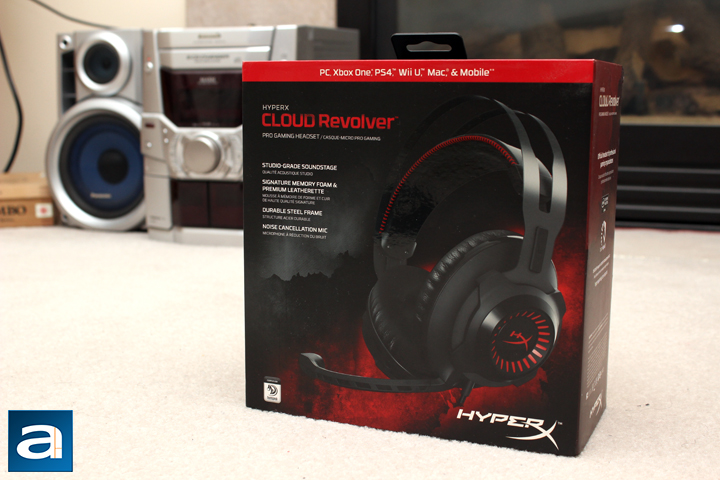 Inside the box is the retail container of the Kingston HyperX Cloud Revolver. The layout of the front panel is similar to the previous two HyperX Clouds. We have the standard black and red color scheme on all panels of the box. On the surface is an image of the headset, with some words on the front. The product's name is listed at the top left corner, with the HyperX branding on the bottom right. If you did not already know, HyperX refers to Kingston's gaming lineup, and the mention of "Kingston" is absent from the front of the box. The back and sides of the box show more features and specifications, but otherwise it is a lot of wording. To get to the headset itself, you can slip off the front panel, which comes off like a sleeve. Then you have another box holding the product itself. The HyperX Cloud Revolver can be found inside, nestled snug like a bug between several foam cutouts. There is some plastic wrapping around it, to ensure the surface does not get scratched before it is opened by the user. As well, while previous Clouds can be found in a multitude of colors, the Cloud Revolver is only available in the black and red you see today.
Before we continue on, let us take a look at the features and specifications of the HyperX Cloud Revolver:
Features
- Studio-grade sound stage
- Signature HyperX memory foam with premium leatherette
- Durable steel frame
- Detachable noise-cancellation microphone
- Next-generation directional 50mm drivers
- Multi-platform compatibility
Specifications
Headphone:
- Driver: Dynamic, 50mm with neodymium magnets
- Type: Circumaural, Closed back
- Frequency response: 12Hz–28,000 Hz
- Impedance: 30 Ω
- Sound pressure level: 104.5dBSPL/mW at 1kHz
- T.H.D.: < 2%
- Input power: Rated 30mW, Maximum 500mW
- Weight: 360g
- Weight w/ mic and cable: 376g
- Cable length and type: Headset (1m) + Audio Control Box (2m)
- Connection: Headset - 3.5mm plug (4 pole) + Audio Control Box - 3.5mm stereo and mic plugs
Microphone:
- Element: Electret condenser microphone
- Polar pattern: Uni-directional, Noise-canceling
- Frequency response: 50Hz–18,000 Hz
- Sensitivity: -40dBV (0dB=1V/Pa, 1kHz)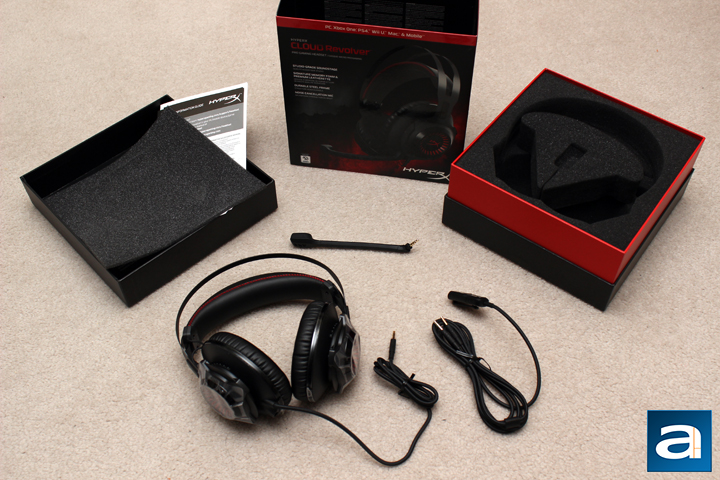 It seems Kingston has followed their trend in reducing the number of accessories included with their gaming headsets. Nothing is really an "extra" now, and all of the included are needed for daily use. Aside from the Cloud Revolver itself, we have a detachable microphone and an extension cable. HyperX refers to this as the "Audio Control Box", as it has more functionality than just increasing the physical operating range, but I will explain later. Otherwise, we have a small user manual for how to use the product, plus some extra documentation. For your information, Kingston offers a standard two-year warranty for the HyperX Cloud Revolver.
---
Page Index
1. Introduction, Packaging, Specifications
2.
Physical Look - Hardware
3.
Subjective Audio Analysis
4.
Conclusion