By: Aaron Lai
July 31, 2015
Ask me what my favorite color is, and I would probably say something like blue. I am not entirely sure why, but the color blue is calming and ferocious at the same time. In my wardrobe, my clothing reflects a similar trend, as most of my clothing is white, black, or blue. On the other hand, one of the few colors I have in my wardrobe is pink. I have a single tie which is black and pink, and that is about it. I actually really like that tie, so no complaints here. However, you will rarely ever see me wearing this color. It is not like I dislike the color per sé, but I prefer other colors over pink for clothing in general. As for today's product, the HyperX Cloud II is Kingston's successor to the original HyperX Cloud, which I reviewed back in September 2014. It originally came out in a black and red color scheme, but they released a white and black special edition, which I was able to review. Fast forward to today, and I have the special edition of the Cloud II, except this time in a white and pink. Pink has been a common trend here at APH Networks, as it seems almost everyone on this website has tested a pink product. Most recently it was Jonathan Kwan's hipster Inateck MacBook Pro Sleeve, but we have also seen a USB drive, a USB fan, and a laptop power supply from my fellow editors. Now it is my turn to foray into this shade of red, with the product we have today. However, it is also important to see what Kingston has changed from the original Cloud. Hopefully, this pinkness will not get me distracted from the review at hand. Let us dig in to see what we have today!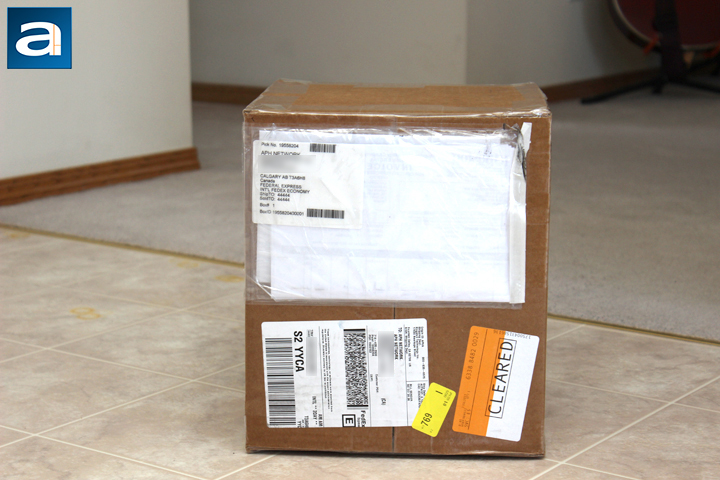 Today's package of the Kingston HyperX Cloud II gaming headset arrived from Kingston's offices in Fountain Valley, California. Traveling with Kingston's usual partner of FedEx, the shipment arrived in good condition to our Calgary, Alberta location. Kingston has delivered majority of their products with FedEx, and they are definitely my carrier of choice. This was one of the first packages I received directly from the company too, as most of the products usually get shipped to the Editor-in-Chief first. When the FedEx person came to my house, she asked if this was for "Aff" Networks, to which I laughed and corrected her with APH. Once again FedEx has ensured there are no dents or holes on the corrugated brown cardboard box, so I can safely assume the inner contents are in pristine condition as well.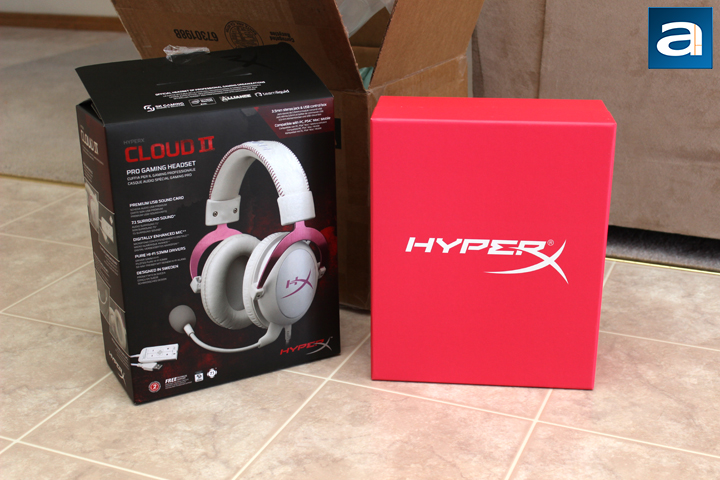 If you recall the HyperX Cloud review, you will probably remember how much I enjoyed the original packaging. The headset was placed inside a nice black box inside the retail container. Open up today's shipping cardboard box, and the HyperX Cloud II looks practically the same. The retail box is once again large, and has lots of small words on the front panel. The front also includes a photo of the headset, which takes up majority of the space. From here you will know right away the color you are receiving, so you will not worry about picking a color that you do not like. On an aside, for those who want a non-pink headset, the HyperX Cloud II is also available in black/red and black/black. The sides and back of the box are plastered with more features and photos. I should also note the HyperX Cloud II is again a rebranded QPad QH-90, which we found out to be a rebranded Takstar PRO 80 with a microphone input from the last HyperX Cloud review. Upon opening this box, I was instantly blinded by the hotness and brightness of the pink container. Just like the original Cloud, inside the outer box is a secondary box with the word "HyperX" on the front. The difference, of course, is the color. The headset is found nestled in large foam cutouts to cushion the HyperX Cloud quite well. Inside, there are not too many words, except for a blurb to welcome the users to the HyperX team. Most of the items inside are also plastic wrapped or bagged, so you can have the satisfaction of opening every accessory.
Before continuing to the actual contents of the product, let's take a look at the specifications and features of the Kingston HyperX Cloud II:
Features
- Advanced USB audio control box with built-in DSP sound card
- Hi-Fi capable with 53mm drivers for supreme audio quality
- Hardware-driven virtual 7.1 surround sound
- Comfortable, 100% memory foam on headband and leatherette cushions
- Pro-Gaming optimized with closed cup design for passive noise cancellation
- Compatible – USB connectivity for PC & Mac. Stereo compatible with PS4, Xbox One
Specifications
Headset:
- Transducer type: dynamic Ø 53mm with neodymium magnets
- Operating principle: closed
- Frequency response: 15Hz–25,000 Hz
- Nominal impedance: 60 Ω per system
- Nominal SPL: 98±3dB
- T.H.D.: < 2%
- Power handling capacity: 150mW
- Sound coupling to the ear: circumaural
- Ambient noise attenuation: approx. 20 dBa
- Headband pressure: 5N
- Weight: 320g
- Weight with microphone and cable: 350g
- Cable length and type: 1m + 2m extension
- Connection: single mini stereo jack plug (3.5 mm)
Microphone:
- Transducer type: condenser (back electret)
- Operating principle: pressure gradient
- Polar pattern: cardioid
- Power supply: AB powering
- Supply voltage: 2V
- Current consumption: max 0.5 mA
- Nominal impedance: ≤2.2 kΩ
- Open circuit voltage: at f = 1 kHz: 20 mV / Pa
- Frequency response: 50–18,000 Hz
- THD: 2% at f = 1 kHz
- Max. SPL: 105dB SPL (THD≤1.0% at 1 KHz)
- Microphone output: -39±3dB
- Length mic boom: 150mm (include gooseneck)
- Capsule diameter: Ø6
- Connection: single mini stereo jack plug (3.5mm)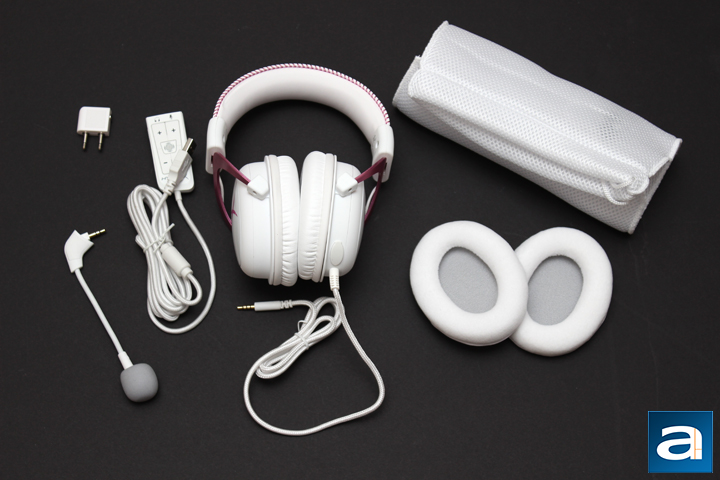 Taking the wrapping off of everything, you can see all the accessories thrown in with the Kingston HyperX Cloud II, which is slightly changed from the original Cloud. Going from left to right, top to bottom, we have an airplane adapter, microphone, 110cm USB 2.0 sound card, HyperX Cloud II headset, large mesh carrying case, and finally, an extra set of velour ear cushions. You may note a few omissions such as the mobile phone adapter or rubber extension cable, but these missing parts are not necessary for the HyperX Cloud II this time around. For example, the audio plug at the end of the Cloud II is now a single four pole 3.5mm audio jack, which means it can directly plug into mobile phones without any hassle. Otherwise, I am still happy with the many extras we do have, as everything they have included is either a feature, or can be useful. Let us continue on by taking a closer look at the main focus, the headset.
---
Page Index
1. Introduction, Packaging, Specifications
2.
Physical Look - Hardware
3.
Subjective Audio Analysis
4.
Conclusion