By: Jonathan Kwan
July 3, 2015
Recently, I took a graduate-level course in Computer Science. Since Computer Science courses are not restricted to Computer Science students only, there was a range of students enrolled in that class, including people from Electrical Engineering and Physics. On the first day of class, it did not take long for me to match some individuals up with their corresponding major. For example, there was a guy that had a relatively large build, had curly hair that did not appear to have been washed for the last little while, wore the same black Megadeth hoodie every day, and rocked a 17" ASUS RoG laptop running World of Warcraft at the back. The only thing he was missing was a can of Mountain Dew, but I quickly guessed he was in Computer Science. I was correct. As you can see here, despite the fact we were taught not to judge a book by its cover, sometimes, stereotypes can be true. It may not tell the entire story, but it frequently provides a decent baseline to understand what is going on around us. About a month ago, we have reviewed the Patriot Ignite 480GB solid state drive based on Phison's S10 controller. The Patriot Ignite showed the Phison S10 is capable of delivering great performance in a mainstream package. Today, we will take a look at yet another Phison S10 based SSD, the Kingston HyperX Savage 240GB. Since we have already tested another device with the same controller, will our stereotype hold true in projecting the performance of the HyperX Savage, or will Kingston bring us surprises? Read on to find out!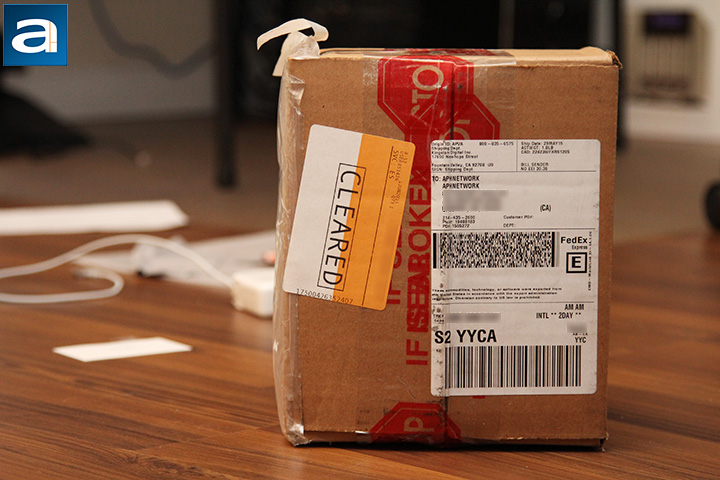 Our review unit of the Kingston HyperX Savage 240GB came in a puffy brown corrugated cardboard box from the company's American headquarters in California, USA. You are going to see the same box again in the near future, because accompanying the SSD in this trip was the Kingston FCR-HS4 card reader I am reviewing next week, as well as the Kingston microSDHC Mobility Kit 32GB to be reviewed by my colleague Preston Yuen in the near future. Using FedEx International Economy, everything arrived safely and quickly to us here in Calgary, Alberta, Canada. Upon closer inspection, it looks like the tamper-proof seal has been broken, and the package was taped back together. Nonetheless, everything inside appears to be present and in good shape.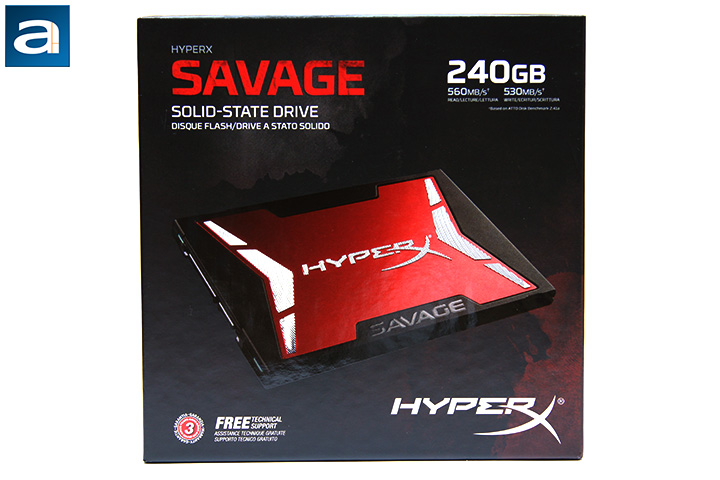 Although it has been almost three years since I have reviewed the Kingston HyperX 3K 240GB, the retail packaging for Kingston's HyperX Savage 240GB retains a lot of thematic elements of stablemate. I think it is a good evolutionary update in design, as it continues to use the same flap top box. Of course, it more closely resembles the Kingston HyperX Predator PCIe 480GB I have reviewed a few months ago. A predominantly black with some almost apocalyptic background pattern is used to contrast with the sharp red HyperX Savage SSD photo at 3/4 view. At the top left corner, you will find the "HyperX Savage Solid State Drive" branding, along with the product category translate into French and... Italian? Shifting our eyes a bit to the right, the drive capacity and rated read/write performance is stated. Missing, of course, is Kingston's logo. They are doing this to establish HyperX as an enthusiast brand itself in order to keep the Kingston name for business applications and whatnot.
Before we move on, let us take a look at the features and specifications of the Kingston HyperX Savage 240GB, as obtained from the manufacturer's website:
Form factor: 2.5"
Interface: SATA Rev. 3.0 (6Gb/s) – with backwards compatibility to SATA Rev. 2.0 (3Gb/s)
Capacities: 120GB, 240GB, 480GB, 960GB
Controller: Phison PS3110-S10
Baseline Performance:
Compressible Data Transfer (ATTO)
120GB — 560MB/s Read and 360MB/s Write
240GB, 480GB, 960GB — 560MB/s Read and 530MB/s Write
Incompressible Data Transfer (AS-SSD and CrystalDiskMark)
120GB — 520MB/s Read and 350MB/s Write
240GB — 520MB/s Read and 510MB/s Write
480GB — 520MB/s Read and 500MB/s Write
960GB — 520MB/s Read and 490MB/s Write
IOMETER Maximum Random 4k Read/Write
120GB — up to 100,000/ up to 84,000 IOPS
240GB — up to 100,000/ up to 89,000 IOPS
480GB — up to 100,000/ up to 88,000 IOPS
960GB — up to 99,000/ up to 89,000 IOPS
Random 4k Read/Write:
120GB — up to 93,000/ up to 83,000 IOPS
240GB — up to 93,000/ up to 89,000 IOPS
480GB — up to 92,000/ up to 89,000 IOPS
960GB — up to 97,000/ up to 89,000 IOPS
PCMARK® Vantage HDD Suite Score:
120GB, 240GB, 480GB, 960GB — 84,000
PCMARK® 8 Storage Bandwidth:
120GB, 240GB, 480GB — 223MB/s, 960GB — 260MB/s
PCMARK® 8 Storage Score:
120GB, 240GB, 480GB — 4,940, 960GB — 4,970
Anvil Total Score (Incompressible Workload):
120GB, 240GB, 480GB — 4,700, 960GB — 5,000
Power Consumption: 0.39W Idle / 0.5W Avg / 1.4W (MAX) Read / 4.35W (MAX) Write
Storage temperature: -40°C~85°C
Operating temperature: 0°C~70°C
Dimensions: 100.0mm x 69.9mm x 7.0mm
Weight: 120GB, 240GB, 480GB — 96g, 960GB — 92g
Vibration operating: 2.17G Peak (7–800Hz)
Vibration non-operating: 20G Peak (10–2000Hz)
Life expectancy: 1 million hours MTBF
Warranty/support: 3-year warranty with free technical support
Total Bytes Written (TBW):
120GB: 113TB 0.89 DWPD
240GB: 306TB 1.19 DWPD
480GB: 416TB 0.81 DWPD
960GB: 681TB 0.66 DWPD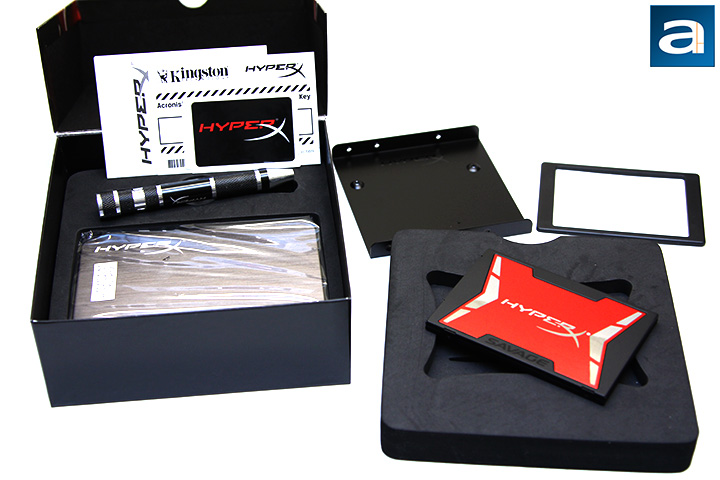 SSDs in the Kingston HyperX line has always been known to come with very generous bundles, and the Savage 240GB is no exception. Right from the start, we are presented with the Kingston HyperX Savage 240GB solid state drive in the middle of a black foam tray. A plastic spacer is included for those who have 9.5mm slots. The black foam tray has a cutout in the middle that resembles the 'X' in the HyperX logo. A 2.5" to 3.5" bracket is slotted on the other side to clip in two bags of screws for installation. On the bottom tray, we are presented with the rest of the bundle standard to HyperX Savage desktop and laptop kits. This includes a 2.5" drive enclosure, USB cable, SATA cable, and a Philips head screwdriver with multiple sized tips. Extra items include a HyperX sticker, Acronis cloning software key, and quick installation guide. The company offers a bare drive kit according to their website. Judging from the typically small price difference in retail we have seen in the past, buying it with all the extra accessories makes a lot of sense.
---
Page Index
1. Introduction, Packaging, Specifications
2.
A Closer Look, Test System
3.
Benchmark: AIDA64 Disk Benchmark
4.
Benchmark: ATTO Disk Benchmark
5.
Benchmark: Crystal Disk Mark 3.0
6.
Benchmark: HD Tach 3.0.1.0
7.
Benchmark: HD Tune Pro 4.60
8.
Benchmark: PassMark PerformanceTest 8.0
9.
Benchmark: PCMark Vantage
10.
Conclusion