By: Jadon Lee
June 2, 2023
When it comes to digital security, I have personally seen several ads containing the letters "VPN" in them. I am sure that many of you have heard the names NordVPN or ExpressVPN at one point in your life and have wondered, is this really necessary? As we progress into a more digital world, it may actually be a bright idea, especially if you are not well-informed in how to protect yourselves. Ads will only really tell you about how you are at risk of getting your personal information stolen, but they do not actually tell you when this might occur. VPNs are catered to an individual's lifestyle and how the user goes about their day. For example, if you are an individual who only browses the internet at home or in a generally private location with private Wi-Fi, you may never need a VPN to keep you protected. On the other hand, if you are someone who is constantly on their laptop or phone no matter when and where, it would be greatly beneficial to have an extra layer of security. As someone who rarely touches grass, I belong to the first party. Keeping this in mind, are there other alternatives to protecting personal data? This week, we have the Kingston IronKey Keypad 200 64GB to try out. While this may not be a way to protect you from online traffic, the IronKey Keypad 200 is a hardware-encrypted flash drive made to protect you and your data. How does this drive protect me from data theft? Keep reading to find out!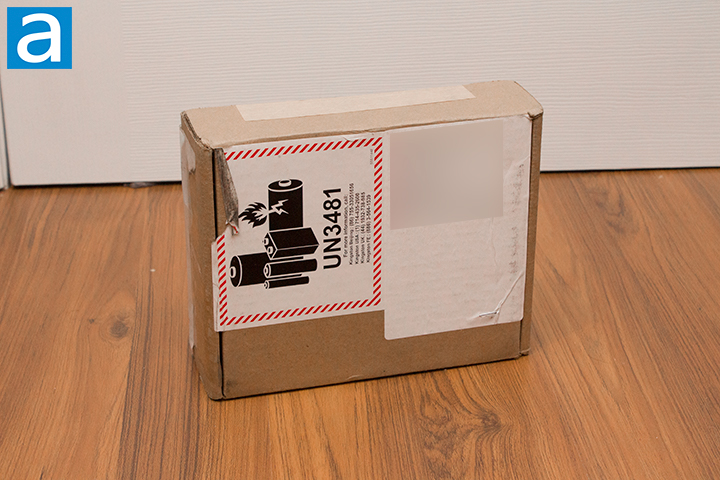 Our review unit of the Kingston IronKey Keypad 200 64GB arrived via FedEx Ground in a brown corrugated cardboard box from the Kingston's headquarters in Fountain Valley, California, United States. The shipping was good as everything arrived safely and in good condition to us here in Calgary, Alberta, Canada.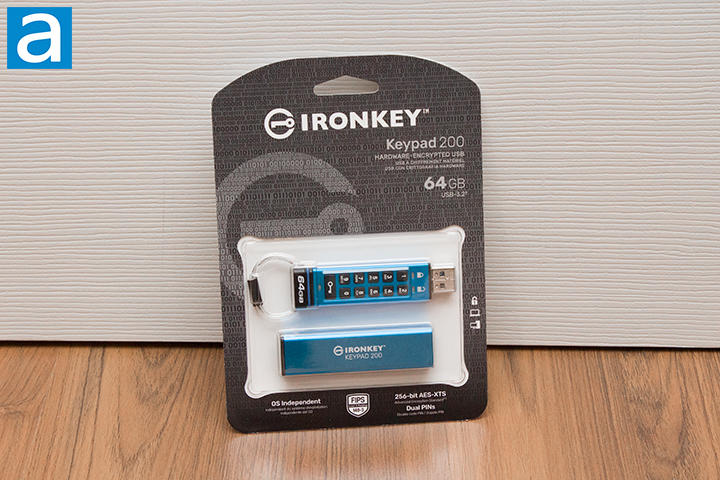 The Kingston IronKey Keypad 200 64GB's retail package was quite fitting and interesting. The front has a nice black and gray background covered in binary code. When translated, the binary spells out "With You Kings". As usual, the name of the product is on the top and the right side of the box, stating the device type, storage space, and the fact it connects over the USB 3.2 Type-A interface. The drive itself alongside its case is displayed underneath a plastic shell directly below. This template is quite standard for many flash drives as it is both simple and effective. At the bottom, we have some additional features highlighted. The back contains some information for the setup of the drive, but I personally found it hard to follow.
Before we continue, here are the specifications for the Kingston IronKey Keypad 200 64GB, as copied from the manufacturer's site:
Specifications
Interface: USB 3.2 Gen 1
Capacities: 64GB
Connector: Type-A
Speed: 145MB/s read, 115MB/s write
Dimensions (Drive With Sleeve): 80mm x 20mm x 10.5mm
Dimensions (Drive Without Sleeve): 78mm x 18mm x 8mm
Waterproof/Dustproof: Certified to IP57 Rating
Operating Temperature: 0°C to 50°C
Storage Temperature: -20°C to 60°C
Compatibility: USB 3.0/USB 3.1/USB 3.2 Gen 1
Minimum System Requirements: USB 3.0 compliant and 2.0 compatible
Warranty/Support: 3-year warranty, free technical support
Compatible With: OS-independent: Microsoft Windows®, macOS®, Linux®, Chrome OS™, Android ™4 or any system that supports a USB mass storage device.
---
Page Index
1. Introduction, Packaging, Specifications
2.
A Closer Look, Test System
3.
Benchmark: AIDA64 Disk Benchmark
4.
Benchmark: ATTO Disk Benchmark
5.
Benchmark: Crystal Disk Mark 8.0
6.
Benchmark: HD Tune Pro 5.70
7.
Conclusion