Page 9 - Benchmark: 3DMark
About 3DMark
3DMark includes everything you need to benchmark your PC and mobile devices in one app. Whether you're gaming on a PC, a tablet or a smartphone, 3DMark includes benchmarks designed specifically for your hardware.
Fast storage means shorter loading times and more time in the game. The 3DMark Storage Benchmark is a dedicated component test for measuring the gaming performance of your storage hardware. Using traces recorded from real games, it tests performance for activities such as loading games, saving progress, installing game files, and recording gameplay video streams.
From: Developer's Page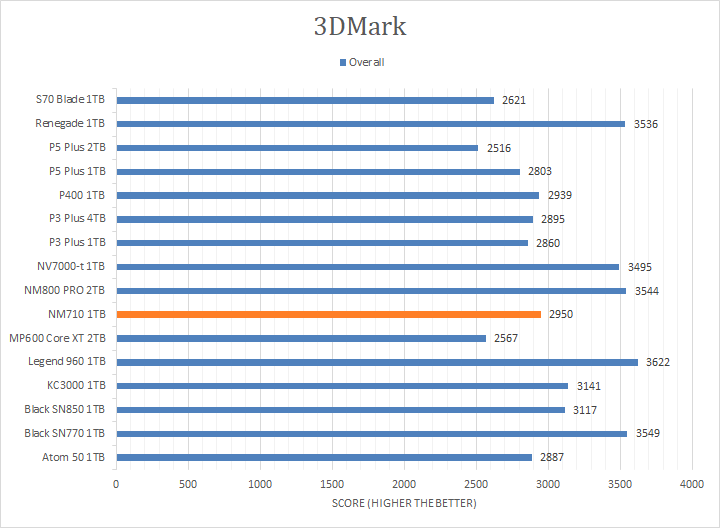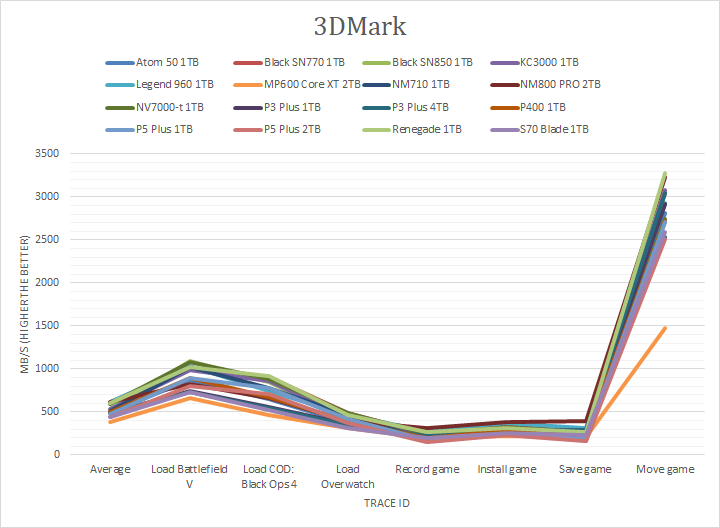 3DMark is the continuously updated version of the popular gaming benchmark from UL. We used 3DMark's Storage Benchmark to test the performance of the Lexar NM710 1TB. According to UL, the Storage Benchmark uses traces recorded from popular games and gaming-related activities to measure real-world gaming performance. The following traces were used and defined as follows:
Battlefield V: Loading Battlefield V from launch to the main menu.
Call of Duty Black Ops 4: Loading Call of Duty: Black Ops 4 from launch to the main menu.
Overwatch: Loading Overwatch from launch to the main menu.
Game Move: Copying the Steam folder for Counter-Strike: Global Offensive from an external SSD to the system drive.
Game Recording: Recording a 1080p gameplay video at 60 FPS with OBS (Open Broadcaster Software) while playing Overwatch.
Installing Game: Installing The Outer Worlds from the Epic Games Launcher.
Game Saving: Saving game progress in The Outer Worlds.
Similar to PCMark 10, the Lexar NM710 1TB scored among the middle of the pack again, scoring better than eight of the sixteen tested drives in the overall results. All the figures have the NM710 1TB coming in around the middle. This shows the effect on performance removing DRAM and other budget-related sacrifices on a drive can have, but even then, these real-life test scores were decent. It was interesting to note the NM710 1TB scored close to the Patriot P400 1TB when it came to the overall score. Like what was seen with PCMark 10, the Lexar NM710 1TB stood out when loading Overwatch. Another stand out with this drive's performance on 3DMark was loading Battlefield V.
---
Page Index
1.
Introduction, Packaging, Specifications
2.
A Closer Look, Test System
3.
Benchmark: AIDA64 Disk Benchmark
4.
Benchmark: ATTO Disk Benchmark
5.
Benchmark: Crystal Disk Mark 8.0
6.
Benchmark: HD Tune Pro 5.70
7.
Benchmark: PassMark PerformanceTest 10
8.
Benchmark: PCMark 10
9. Benchmark: 3DMark
10.
Conclusion