By: Jonah Chow
May 21, 2021
One of the most interesting technological advancements in recent years to me is the development of smartwatches. Every day, I find more people around me are flashing their smartwatch and showing off the impressive capabilities it holds. I also begin to feel more like an alien as I still use a regular digital watch in my day-to-day life. Do not get me wrong, I think smartwatches provide many advantages over traditional digital watches. Being able to track heart rate and average steps per day is a tool I think is very useful for those who want to live an active lifestyle. However, I also think the expensive price associated with most smartwatches does not justify many of the included features I find redundant such as checking and replying to notifications, which is something anyone can do by just pulling out their phone. Personally, a watch should only ever serve one purpose for me, which is to tell the time. Similarly, you could argue a solid state drive only needs to serve one purpose, which is to store data. However, I find most PC enthusiasts prefer a fancy M.2 NVMe drive over their older SATA counterparts due to their higher performance. They also provide an advantage in placement, as most can just slide in any M.2 NVMe drive into the M.2 slot on their motherboard without having to deal with SATA power and data cables. Like a simple digital watch though, I think SATA drives still hold a spot in PC building for users who want to save themselves some cash. This brings us to today's review of the Lexar NQ100 480GB. The last time an SATA SSD was reviewed at APH Networks was the Patriot P200 512GB in 2019, so it is nice to have one pop back up again in the year 2021. With that said, how does this SATA drive prove its worth among other budget SATA drives of the past? Let us read on to find out!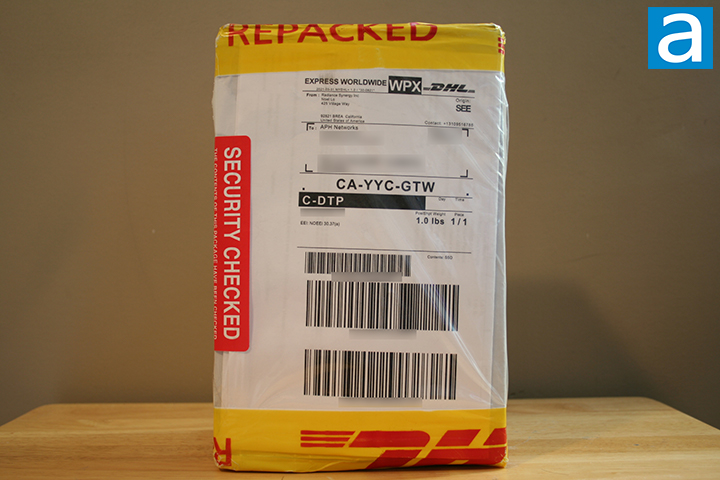 Today's review unit of the Lexar NQ100 480GB arrived from Lexar's offices in Brea, California. This relatively small shipping box arrived at our APH Networks offices in Calgary, Alberta, and traveled with DHL Express. The shipping box arrived in great condition with no scratches or scuff marks. Like the Lexar Professional 1066x SDXC UHS-I Silver 128GB and Lexar Professional SL100 Pro 500GB, the box is taped as "security checked", now making this three-for-three with shipping boxes from Lexar, haha.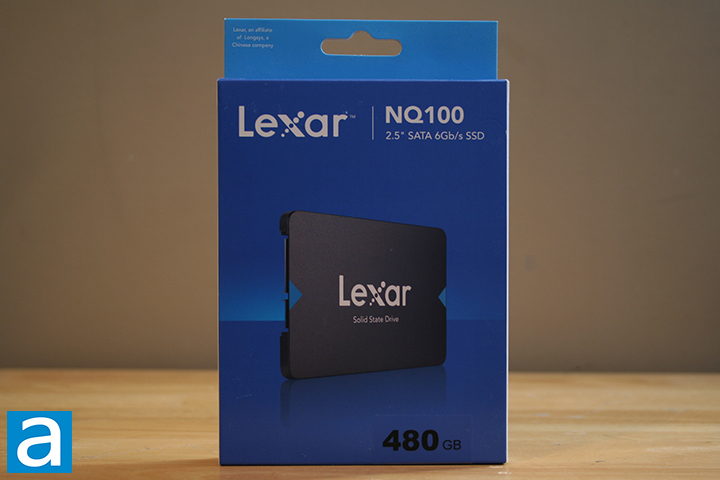 The retail box is conservative in size and look, using a simple blue and white color scheme. The Lexar NQ100 480GB is front and center with the storage capacity labeled on a sticker at the bottom. The Lexar label is on the top left with the NQ100 label towards the right and the "2.5" SATA 6Gb/s SSD" description just below. Additional information is listed on the sides and back of the retail box.
Before we continue on, here are the specifications per the manufacturer's website:
Color: Gray
Capacity: 240GB, 480GB, 960GB
Interface: 2.5" SATA III (6Gb/s)
Speed: 240GB —sequential read up to 550MB/s: 480GB —sequential read up to 550MB/s: 960GB —sequential read up to 550MB/s
Operating Temperature: 0°C to 70°C (32°F to 158°F)
Storage Temperature: -40°C to 85°C (-40°F to 185°F)
Shock Resistant: 1500G, duration 0.5ms, Half Sine Wave
Vibration Resistant: 7~800Hz, 3.08Grm, 20G, 1 Oct/min, 30min/axis(X,Y,Z)
TBW: 240GB: 84TB, 480GB: 168TB, 960GB: 336TB
DWPD: 0.32
Dimension (L x W x H): 69.85mm x 100.2mm x 7mm / 2.75" x 3.94" x 0.28"
Weight: 34g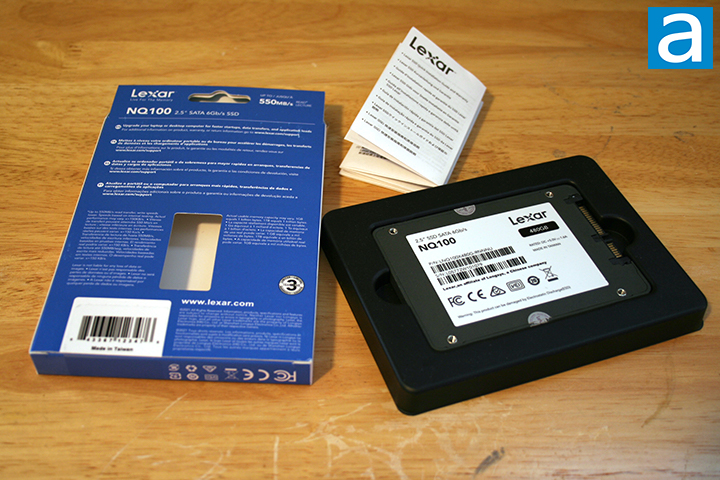 Opening the retail box reveals the Lexar NQ100 480GB placed inside a black plastic shell. I wish the plastic shell had completely covered the drive for more protection, but ultimately, it arrived in perfect condition, so the packaging did its job. The size of the box is quite small, wasting no space. A user manual is also included that contains an installation guide and information on the warranty. Nothing else is included with the retail packaging, but this is to be expected with storage devices.
---
Page Index
1. Introduction, Packaging, Specifications
2.
A Closer Look, Test System
3.
Benchmark: AIDA64 Disk Benchmark
4.
Benchmark: ATTO Disk Benchmark
5.
Benchmark: Crystal Disk Mark 8.0
6.
Benchmark: HD Tach 3.0.1.0
7.
Benchmark: HD Tune Pro 5.70
8.
Benchmark: PassMark PerformanceTest 10
9.
Benchmark: PCMark 10
10.
Conclusion