By: Jonathan Kwan
June 2, 2017
A couple of years ago in my BitFenix Flo review, I wrote about we know how to "optimize the individual rate allocation to every node in a multi-device MIMO wireless network using fancy techniques like SLP-PA", but "might run into a bit of trouble setting up a $20 Wi-Fi router we buy from the local computer store". By "we", of course, I mean my colleagues -- including Technical Editor Hai Wang, who is doing his PhD right now -- in the Wireless Networking Research Laboratory at the University of Calgary, who are supposedly experts in the field of wireless communications. However, the biggest irony that we are faced with today is not necessarily due to any assertions we cannot figure out how to set up a $20 Wi-Fi router we buy from the local computer store, which all of us have no issues with doing, but rather the fact me being the Editor-in-Chief here at APH Networks for over a decade has never covered a Wi-Fi router for review. As someone who does research in the area of wireless networking, how much more fitting can it get for me to spend some time looking at Wi-Fi routers on this website? As we come together for the first time in the history of this online publication, let us take a look at the Linksys WRT3200ACM. The Linksys WRT3200ACM is not only one of the company's upper tier routers, but being the spiritual successor to the famous WRT54G, is also one that is open source ready for you to load in DD-WRT or OpenWRT at your discretion. Read on to find out how it fares!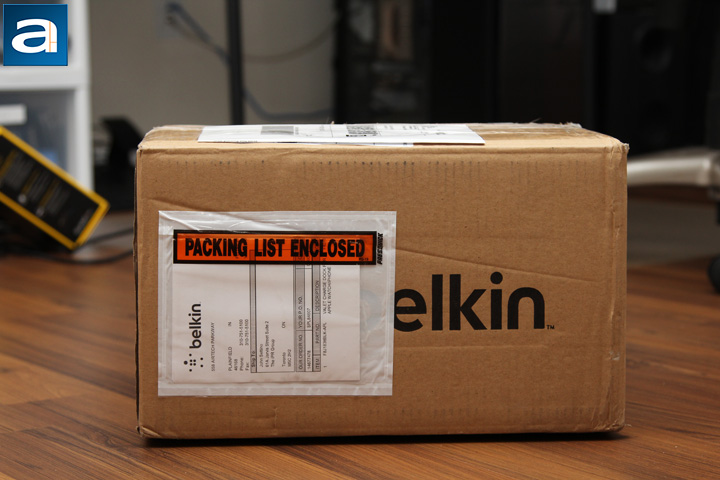 Our review unit of the Linksys WRT3200ACM arrived in a medium sized, brown corrugated cardboard box from the company's public relations firm in Toronto, Ontario, Canada. At first, I was kind of confused what was inside the package, even though I was fully aware Belkin has been the parent company of Linksys since 2013. The reason was because the packing list had a bunch of products that had nothing to do with what we had been expecting; at least this had been a result of environmentally conscious Canadians recycling old cardboard boxes for shipping, haha. Anyway, using FedEx Ground, everything arrived in pristine condition to us here in Calgary, Alberta, Canada for our review today.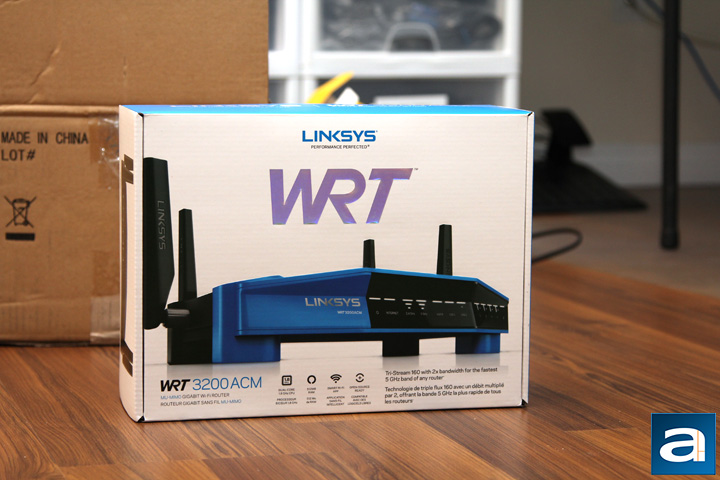 Upon opening the box, we were pleased to see a retail package of the Linksys WRT3200ACM wireless router. The predominantly white and blue color scheme will immediately remind Linksys loyalists of the brand they have grown accustomed to, yet the color coordination and design layout has been significantly modernized to ensure you will not mistake it is still the year 2005. As you can see in our photo above, Linksys' logo and slogan can be found at the top, while the big letters "WRT" can be found printed below in silver text to show off its open-source credentials. A larger than life photo -- literally -- of the WRT3200ACM in three-quarters view proudly occupies a large amount of real estate, showing this networking device is proud to be what it is with no identity crisis; more on this later. At the bottom, the WRT3200ACM model name, array of icons for feature highlights, and product description can be found. Diagrams, further feature highlights, and specifications can be found on the remaining sides of the box.
Before we move on, let us take a look at the specifications of the Linksys WRT3200ACM, as obtained from the manufacturer's website:
Wi-Fi Technology:
- AC3200 MU-MIMO Dual-band Gigabit, 600+2600 Mbps
Key Features:
- 802.11a
- 802.11g
- 802.11n
- 802.11ac
Wi-Fi Speed:
- AC3200 (N600 + AC2600)
Wi-Fi Bands:
- 2.4 and 5 GHz (simultaneous dual-band)
Wi-Fi Range:
- Very Large Household
Number of Ethernet Ports:
- 1x Gigabit WAN port
- 4x Gigabit LAN ports
Other Ports:
- One(1) USB 3.0 port
- One(1) Combo eSATA/USB 2.0 port
- Power
Antennas:
- 4x external, dual-band, detachable antennas
Processor:
- 1.8 GHz dual-core
LEDs:
- Power, Internet, 2.4 GHz, 5 GHz, eSATA, USB1 (USB 2.0), USB2 (USB 3.0), LAN 1–4 (activity/10/100 Mbps), LAN 1–4 (1 Gbps), WPS
Wireless Encryption:
- WPA2 Personal, WPA2 Enterprise
VPN Support:
- PPTP
- IPSec pass‐through
Operation Modes:
- Wireless Router
- Access Point
- Wired Bridge
- Wireless Bridge
- Wireless Repeater
Storage File System Support:
- FAT, NTFS, and HFS+
Easy Setup:
- Browser-based Setup
- Linksys Smart Wi-Fi Setup
Certified Operating Systems:
- MacOS (10.X or higher), Windows 7, Windows 8.1 (Works with Windows 10)
Minimum System Requirements:
- Internet Explorer® 8
- Safari® 5 (for Mac®)
- Firefox® 8
- Google Chrome™
Dimensions (LxWxH):
- 245.87 x 193.80 x 51.82 mm(9.68 x 7.63 x 2.04 in.) without antennas
Weight:
- 798.32g (28.16 oz)
Operating Temperature:
- 32 to 104 F (0 to 40 C)
Storage Temperature:
- -4 to 140 F (-20 to 60 C)
Operating Humidity:
- 10 to 80% Noncondensing
Security Features:
- WPA/WPA2
- 128 bit AES link encryption
Regulatory Compliance:
- FCC class B
Other Certifications:
- FCC DFS Certified
Additional Information:
- Open Source ready for OpenWrt, DD-WRT
Power Supply:
- Input: 100-240V ~ 50-60Hz; Output: 12V, 3.0A
The retail box opens by a flap at the top. The first thing you will see is the Linksys WRT3200ACM router itself sitting on a black foam tray containing four antennas underneath it. The antennas can be attached to the main unit by screwing them in. Taking the foam tray out reveals the rest of the included accessories; this time placed neatly into three partition created by some cardboard pieces. These accessories include an AC adapter, flat network cable, documentation disc, and a quick start guide. I found everything to be very organized out of the box, and the product presentation was done a very classy manner.
---
Page Index
1. Introduction, Packaging, Specifications
2.
Physical Look - Hardware
3.
Configuration and User Interface
4.
Performance Tests
5.
Conclusion