By: Jonathan Kwan
January 16, 2015
"We know how to optimize the individual rate allocation to every node in a multi-device MIMO wireless network using fancy techniques like SLP-PA," I told the guys who work with me in the same lab at the university. "But we might run into a bit of trouble setting up a $20 WiFi router we buy from the local computer store." We all laughed at the irony of that idea. While it is not entirely true (I just bought a pretty awesome 802.11ac router, loaded DD-WRT onto it, and had absolutely no issues getting it to run), the fact is, as a bunch of PhD and MSc students in Electrical Engineering, we really know a lot about nothing; whereas a comparable high school student will know a little about everything. As much as we -- the graduate students -- would like to think we know a lot about everything, this is simply not true. Late last year, we have received the BitFenix Flo gaming headset for review. As the company takes on this challenge of designing a competitive audio product, it promises "high definition sound whether you are fragging the opposition, or listening to your favorite tunes on the go". Is it possible someone has finally made a headset that is, unlike graduate students, really good at everything? If you have been on APH Networks long enough, you will know we take our audio reviews very seriously. The highest scoring product ever recorded in a whole decade of writing reviews is the V-MODA XS, an audio product. The lowest scoring product in the history of this website are the Arctic Sound E352 and Gigabyte Fly, which, coincidentally, are both audio product as well. With yet another audio product in our hands, let us see how the BitFenix Flo stacks up.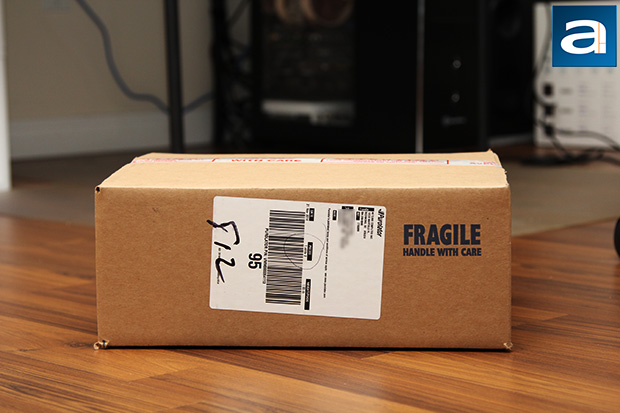 Our review unit of the BitFenix Flo came in a medium sized, brown corrugated cardboard box from a large online retailer in Vancouver, BC, Canada. It tagged along with the BitFenix Pandora Window -- in separate boxes, obviously -- which arrived to us here in Calgary, Alberta just under two months ago. It does not happen too often a review sample arrives from a manufacturer initiated order via a third party; the last time this happened other than from BitFenix was the replacement Fractal Design Define R3 back in September 2011. My guess is it is probably much more economical to do it this way, especially considering we are not in the United States. Anyway, using Purolator Ground, everything arrived quickly and in perfect condition, as we are located just one province over to the east.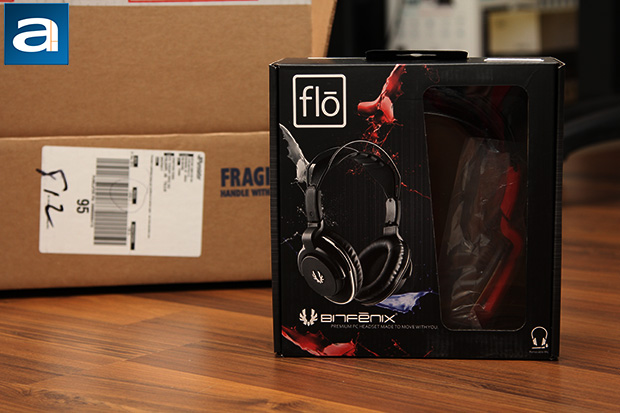 With a quick knife taken to the shipping box, we found the BitFenix Flo headset inside its retail packaging. The box art clearly demonstrates the company's roots in the computer enthusiast market; you are not going to mistake these for products in the consumer electronics segment, like the V-MODA Vibe II and thinksound On1. The predominantly black design comes with a splash of colors in the background -- which conveniently corresponds to all the colors the BitFenix Flo is sold in -- giving it an extra ounce of visual excitement. At the top left corner, you will find a stylized logo of the product name, while the company's logo is located at the bottom left corner. A photo of the Flo in black is printed on the left of a plastic window, showing off a portion of the actual headset inside. On the sides, the BitFenix Flo is shown in four other colors, which include Midnight Black, Arctic White, Fire Red, and Cobalt Blue. Specifications are printed at the back.
Speaking of specifications, before we move on, let us take a look at the specifications of the BitFenix Flo, as obtained from the manufacturer's website:
Materials: Steel, Plastic, SofTouch™ Surface Treatment, SoftFeel™ Earcups
Colors: Midnight Black, Arctic White, Fire Red, Cobalt Blue
Acoustic Design: Dynamic, Closed-back
Driver: 16µ, Neodymium magnet, Φ40mm
Sensitivity: 96db /1mW
Frequency Response: 20hz-20khz
Rated Impedance: 68 Ω
Earpads: SoftFeel™
Headband Pressure: Approximately 5N
Cables: 1m Straight Cable With Remote, 1m Straight Mobile Audio Cable, 2m Straight Cable With Headphone / Microphone Plugs
Connector: Gold-plated Φ3.5mm stereo mini-plug with aluminum sheath
Net Weight: 200g
Contents: Flo Headset, Flexible Microphone, 1m Straight Cable With Remote, 1m Straight Mobile Audio cable, 2m Straight Cable With Headphone / Microphone Plugs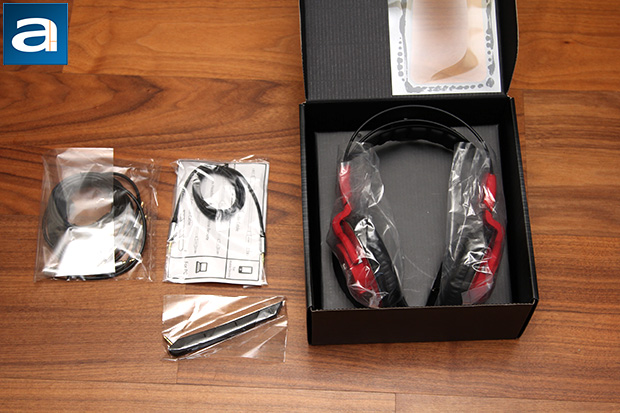 Inside the flap-top box, a piece of cardboard in the middle serves as a platform to partition the interior into two volumes. This keeps the BitFenix Flo headset at the top, which can always be seen through the window, and all the accessories at the bottom, so it does not get messy. The company has done an excellent job in organizing everything into its own packaging, as shown in our photo above. From the factory, you will receive the following items:
- Flo Headset
- Flexible Microphone
- 1m Straight Cable With Remote
- 1m Straight Mobile Audio cable
- 2m Straight Cable With Headphone / Microphone Plugs
- Instruction insert describing the function of each cable
---
Page Index
1. Introduction, Packaging, Specifications
2.
Physical Look - Hardware
3.
Subjective Audio Analysis
4.
Conclusion