By: Aaron Lai
July 24, 2015
I was talking to a friend recently, and I commented on how it was just "stupid hot" in Calgary. He responded by saying, "it cannot be stupid hot... unless you are referring to a person". Joking aside, heat can be harmful to humans. In the summer, it is very important people stay well hydrated, and alternate their times indoors and outdoors. The past few weeks in Calgary have been quite warm. Now I am not here to complain, especially when there are worse places with higher humidity and temperatures to deal with. Nonetheless for a person like myself who can sweat buckets, it can be uncomfortable. With modern conveniences like air conditioning at work and in the car, I can generally bear the day. But without air conditioning at home, my nights are the worst, as my room feels like an oven. Opening the window does not help, as the road nearby is quite noisy even late at night, and the best I can do is turn on the ventilation fan. I really think the main contributing factor to the heat in my room is from both the weather, and the fact there is a desktop computer in my room. Speaking of which, just like a person, computer hardware does not generally like heat. Many hardware manufacturers have tried to keep heat to a minimum, and Noctua is definitely no stranger in this regard. In fact, Noctua only offers air cooling solutions for computers, in CPU coolers and chassis fans. Today we have another processor cooler in the form of the Noctua NH-C14S, an improvement on the previously reviewed Noctua NH-C14. Where has this new cooler improved, and how does it do in terms of actual performance? Hopefully these mysteries will be revealed in today's review, so read on to find out!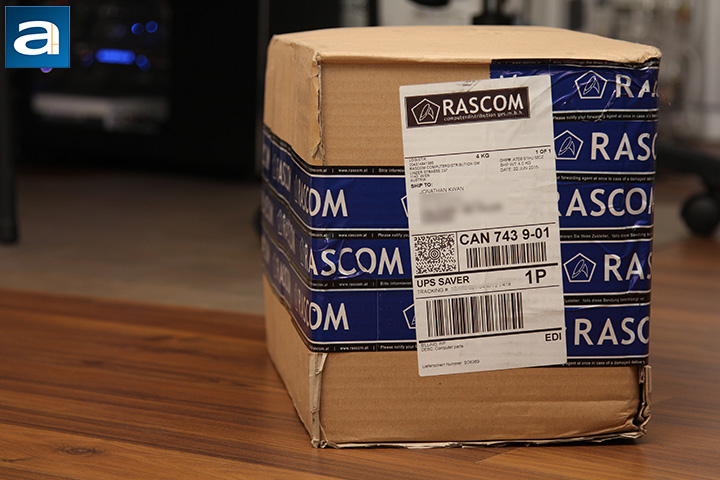 Today's review unit of the Noctua NH-C14S arrived in a standard corrugated cardboard box via United Parcel Service. Flying all the way in from Noctua's headquarters in Austria, this medium sized box was in a condition I could only expect, especially considering the distance it has traveled. While it does look slightly worn, especially near the edges of the box, but thankfully all the packing paper internally has kept all the products like Capital Cities' or T-Swift's song, safe and sound. On an aside, I was reminded of another Taylor Swift song last week when I turned twenty two. Anyway, our shipping container is wrapped in the same blue "RASCOM" tape we have seen in the past. Thankfully, this tells us no one else has been snooping through our products during transit.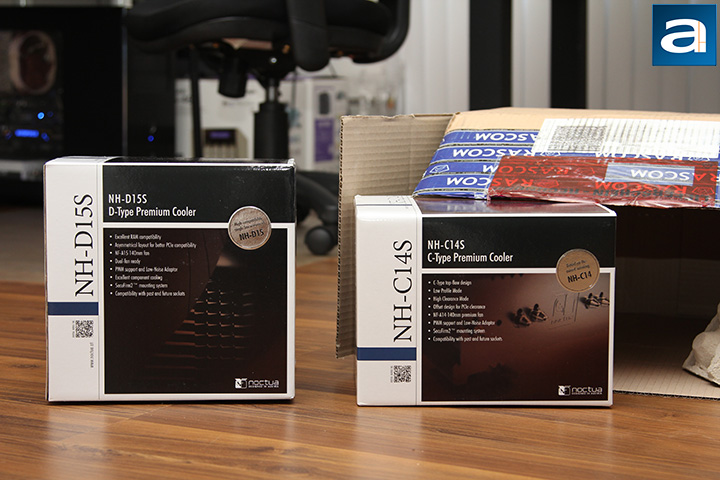 Arriving with the Noctua NH-C14S is the NH-D15S which Editor-in-Chief Jonathan Kwan has reviewed in the past week. As we have seen with recent Noctua products, the NH-C14S retail packaging follows a similar design scheme, with the product name written on the side, and some key specifications listed underneath. This layout was first seen in the NF-P12 PWM in early 2012, and other Noctua coolers I have reviewed, such as the Noctua NH-D9L and Noctua NH-U9S. Even though the container may seem a tad busy with all the words, it is definitely consistent with all of the other Noctua products we have seen, and it stands out from other cooling options, who seem to all go after the gamer-centric user. If you see any Noctua cooling products among other cooling options in a retail store, you will easily pick out the Noctua products on a single glance, which is probably the intention of Noctua.
Before we open up the box, let's peruse through Noctua's specifications of the NH-C14S, as obtained from the manufacturer's website:
Heatsink Specifications
Socket compatibility: Intel LGA2011-0 & LGA2011-3 (Square ILM), LGA1156, LGA1155, LGA1151, LGA1150 & AMD AM2, AM2+, AM3, AM3+, FM1, FM2, FM2+ (backplate required)
Height (without fan): 115 mm
Width (without fan): 140 mm
Depth (without fan): 163 mm
Height (with fan): 115/142 mm
Width (with fan): 140 mm
Depth (with fan): 163 mm
Weight (without fan): 820 g
Weight (with fan): 1015 g
Material: Copper (base and heat-pipes), aluminium (cooling fins), soldered joints & nickel plating
Max. TDP: see TDP guide
Fan compatibility: 140x140x25mm (with square frame)
Scope of Delivery:
- 1x NF-A14 PWM premium fan
- Low-Noise Adaptor (L.N.A.)
- Fan clips for second fan
- NT-H1 high-grade thermal compound
- SecuFirm2™ Mounting Kit
- Noctua Metal Case-Badge
Warranty: 6 Years
Fan specifications:
Model: 1x Noctua NF-A14 PWM
Bearing: SSO2
Max. Rotational Speed (+/- 10%): 1500 RPM
Max. Rotational Speed with L.N.A. (+/- 10%): 1200 RPM
Min. Rotational Speed (PWM, +/-20%): 300 RPM
Max. Airflow: 140,2 m³/h
Max. Airflow with L.N.A.: 115,5 m³/h
Max. Acoustical Noise: 24,6 dB(A)
Max. Acoustical Noise with L.N.A.: 19,2 dB(A)
Input Power: 1,56 W
Voltage Range: 12 V
MTBF: > 150.000 h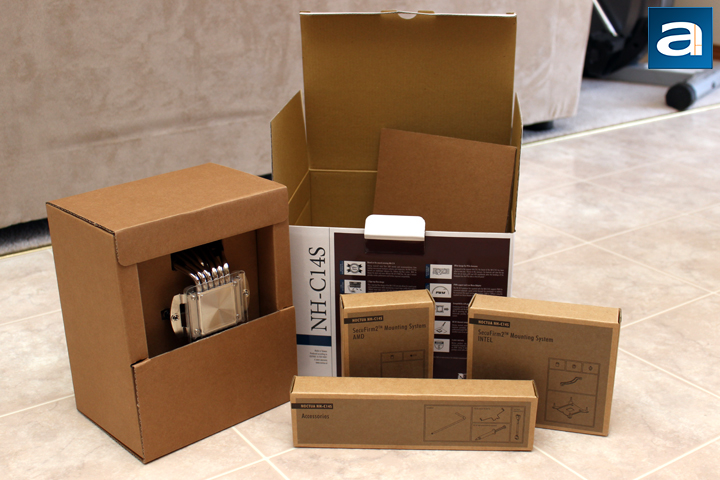 As we have seen with all of Noctua's packaging, Noctua has always packaged their products in a very specific way. For CPU coolers, you will get at least one box containing all of the mounting accessories, and one box enclosing the CPU cooler. With the NH-C14S, I actually get three boxes with accessories in it. The smallest box holds the AMD specific mounting accessories, while the other box holds the counterparts for Intel. The SecuFirm2 mounting kits ensure the Noctua NH-C14S can work with a wide range of sockets, from Intel's LGA2011 and LGA115x sockets, to AMD's AM2, AM2+, AM3, AM3+, FM1, FM2, and FM2+ sockets. A total of three installation manuals are included; two for Intel and one for AMD. As always, they are actually an excellent read and their instructions are precise and clear. The longer and skinnier box contains accessories such as a low noise adapter, long screwdriver, second set of fan clips, and a case badge. Missing in action is a fan Y-splitter cable, but this is fine, as you only get one fan anyway. In addition, Noctua ships a full sized tube of the NT-H1 thermal compound. Noctua's 'stock' thermal paste has proved to be an excellent choice, so I should see no reason to utilize any other paste, especially when this comes with it. Finally, in the large box on the left side of the picture above is the NH-C14S, which we will delve deeper into on the next page. Attached to the NH-C14S is a single NF-A14 PWM fan.
---
Page Index
1. Introduction, Packaging, Specifications
2.
Physical Look - Hardware; Installation
3.
Test Results
4.
Conclusion