By: Aaron Lai
June 3, 2016
"Meet us in the hotel lobby, and make sure you have a valid driver's license and closed toe shoes on." As I read the email during CES earlier this year, a wave of thoughts rushed into my head. "What requires closed toe shoes and a driver's license? A bar? Go-karting?" The morning of the press meet, I rode the public bus to the hotel lobby in anticipation. It took me a while to find where everyone else was, but once I recognized a few faces, I waited with them till we were loaded onto a party bus. Lights flashed, loud music played, and I talked with some of the other people on the bus. Apparently, our destination was a well-kept secret, because we all had no idea as to our destination. About half an hour later, we pulled into a large parking lot. We looked out the tinted windows and saw a Nissan GT-R and a large sign on the building saying "Exotics Racing". From there, we were all thrilled and shocked, especially when we learned we would be driving Ferraris and Lamborghinis later on. However, the first order of business was to look at the new product on display. We were herded into a side room, and there stood the NZXT Manta in its prototype form. It was wrapped in a sort of NZXT car-like wrap. When we asked them why they brought us to the race track, they mentioned it was because many of their cases had been car-inspired. Very few details were given to us, and we were not even allowed to look inside the Manta. Honestly, the day was a huge build up to the moment of not only the prototype reveal, but also the racing. Now the wait is now over, as today we finally have the NZXT Manta on our tabletop. After all the excitement NZXT built this case up to be, I have to ask, does the final product live up to the anticipation? Hopefully today's review will answer my questions, and more. Also, driving a Ferrari was awesome.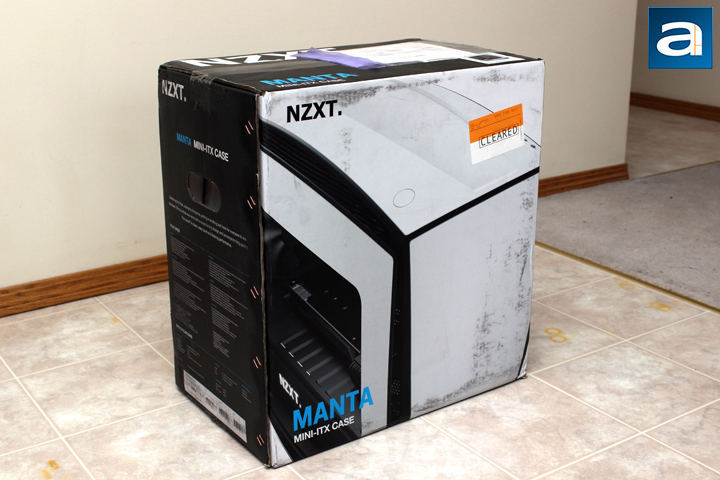 Today's review unit of the NZXT Manta arrived via the good people from FedEx, with their International 2Day service. As this box is big enough to be its own shipping container, there is no extra box, and what you see in front of you is the retail container. Arriving to our APH Networks offices in Calgary, Alberta, this box was sent from NZXT's offices in the City of Industry, California. Otherwise, the shipping container does not seem to be in great condition. There is noticeable discoloration and slight denting in various areas. Hopefully, NZXT has done a good enough job to keep the internal Manta intact.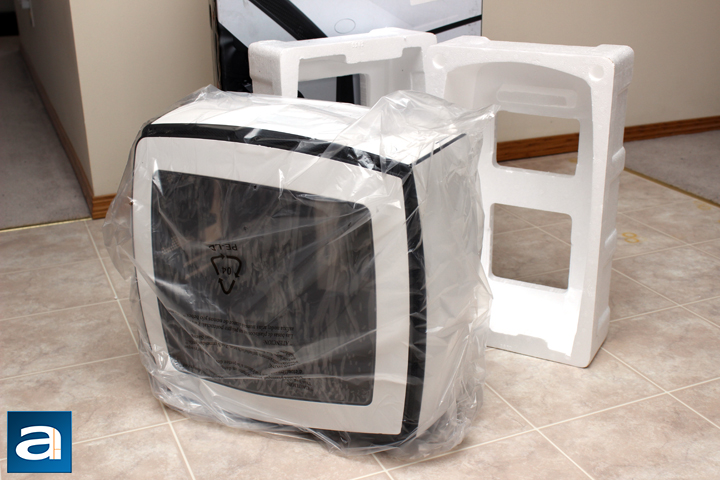 Opening up the box, and I immediately encountered two large foam brackets holding the NZXT Manta in place. The Manta was also wrapped in a large plastic bag to prevent any surface scratches. Furthermore, the large plastic window is covered on both sides in plastic, which is so satisfying to remove. In addition to the Manta, we also have a small user manual held in a separate bag, and an accessory box filled with small baggies of screws and other mounting aids. Otherwise, there was not much else to look at, so onto the Manta we go.
But first, below are the features and specifications of this product, as obtained from the manufacturer's website:
Features
- New manufacturing technology offers unparalleled build quality
- Elegant, curved steel paneling and window
- Double the cable management space
- Dual 280mm liquid cooling support
- Kraken X61-ready with push/pull capabilities
- Integrated PSU shroud for a beautifully clean build
- Fully filtered, easy-to-remove intake
Specifications
- Motherboard Support: mini-ITX
- Dimensions: W: 245 x H: 426 x D: 450mm
- Weight: 7.2kg
- Clearance: CPU Clearance: 160mm, GPU Clearance: 363mm, PSU Length: 363mm
- Cooling System: Front: 2 x 140/120mm (2 x 120mm included), Top: 2 x 140/120mm, Rear: 1 x 120mm (Included)
- Radiator Support: Front: Up to 280mm, Top: Up to 280mm, Rear: 120mm
- Drive Bays: Internal 3.5": 2, Internal 2.5": 3
- External Electronics: I/O Panel LED On/Off, 1 x Audio/Mic, USB 3.0
- Expansion Slots: 2
- Power Supply Support: ATX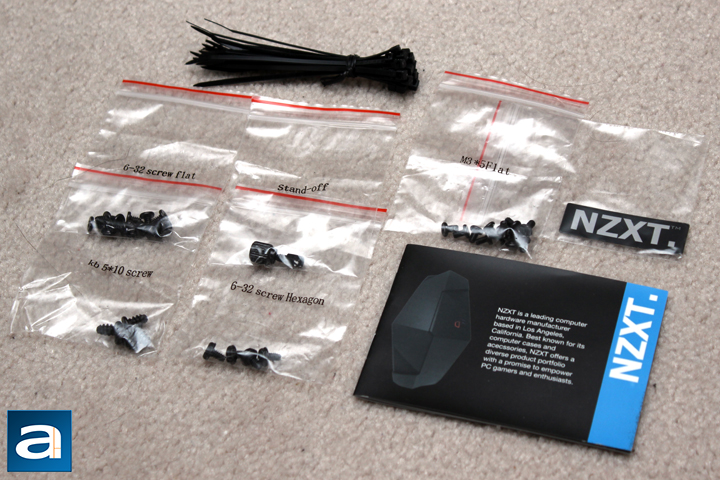 As I have mentioned previously, there is a small box wedged by the feet of the Manta, and this holds all the small screws. As you can see, this includes screws for mounting the motherboard, power supply, an additional fan, and storage drives. I wish there was a better system for NZXT to use to make it easier in identifying the different screws, such as direct labels on the bag, but it is not a huge issue. This being said, it is hard to compete against Phanteks and their small toolbox they provide with their cases. There is also a bundle of black zip ties, an NZXT badge, and a small pamphlet showing off other NZXT products. Of course, this is not what you are actually interested in, so without further ado, we head to the big fish, or the Manta in this case.
---
Page Index
1. Introduction, Packaging, Specifications
2.
Physical Look - Outside
3.
Physical Look - Inside
4.
Installation and Conclusion