By: Jonathan Kwan
February 3, 2017
It has been commonly said in Western culture, there are two topics to always avoid if you want to have any friends: Religion and politics. I have to say it is rather unfortunate -- or fortunate, depending on how you look at it -- that both of these are my favorite topics. I will let you wonder if I have any friends left at all after all these years, but I think the reason why they end up being taboo topics is because both deeply relate to our personal worldviews, and as such, many tend to take things too personally and emotionally. Especially when it comes to the topic of afterlife, some people indeed get a little too excited in telling other people they are going to hell, while others slip the other extreme and avoid it altogether. I think there is a moderate and positive approach to discuss topics like these, so today, we will spend some time talking about hell. From a Christian perspective, the are actually very few places in the Bible that brings this up. But when we do talk about hell, you really cannot shy away from Revelation 20:10, "The devil who had deceived them was thrown into the lake of fire and sulfur where the beast and the false prophet were, and they will be tormented day and night forever and ever." Based on what this verse tells us, hell seems to be described as an eternally fiery place. You know, probably a lot more powerful than a mere Blaze, to Ignite something, or dealing with some Pyro. So when Patriot came up with their flagship Hellfire M.2 NVMe SSD, how aptly named is it in terms of its magnitude of power? We took one in to find out.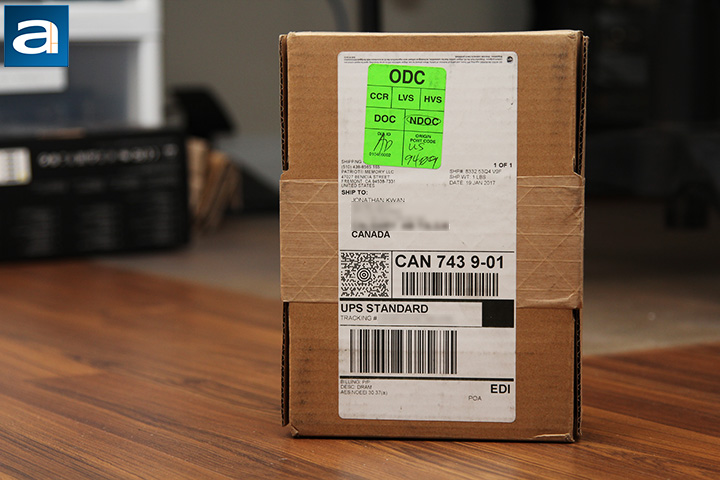 Our Hellfire arrived from Fremont, California, USA, where Patriot's offices are located. The SSD was packaged inside a small, brown corrugated box, and made the trip up north to us here in Calgary, Alberta, Canada using UPS Standard. To ensure everything arrived in perfect condition, extra bubble pockets were placed inside to absorb any bumps and drops during transit. Nothing appears to have been abused during its trip, and this was confirmed after we cracked open the box. With that in mind, let us take a look at the content inside.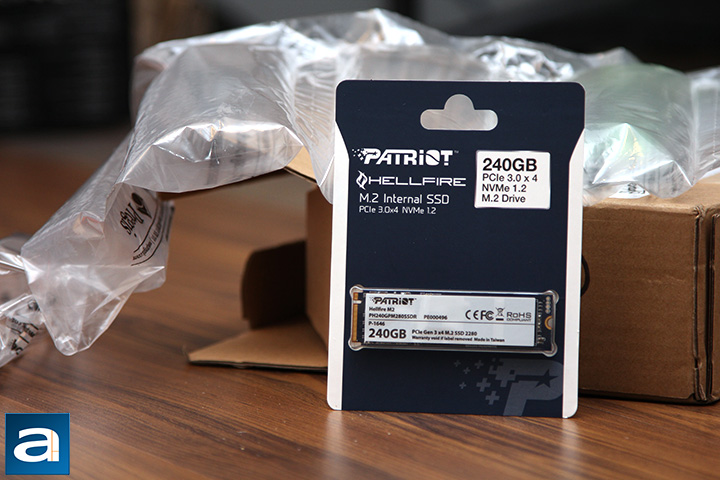 Pulling the Patriot Hellfire M.2 240GB out of the corrugated cardboard box, and we are greeted with the retail packaging of the product. Since the Hellfire is in M.2 2280 form, or bubble gum shape to the laymen, its presentation is very similar to other USB flash drives and SD cards we have reviewed from the company. This entails a two-layered cardboard backing, with a plastic insert to hold the SSD itself. This keeps the packaging minimal in material, while making the product visible for potential buyers. The predominantly blue packaging shows Patriot's star-spangled logo at the top, with the product's name right underneath. On the right side is the capacity listing of 240GB. Just to note, the Hellfire M.2 is also available in 480GB as well. Otherwise, the packaging is simplistic and clean. I find it rather ironic something called "Hellfire" does not have an orange background, but I digress. The back of the container has more information on its specifications and company contact.
Speaking of specifications, before we move on, let us take a quick look at what is provided on the manufacturer's website:
Product Information
- Capacity: 240GB
- Warranty: 3 Years
- Certifications: RoHS, FCC, CE
- Country of Origin: Taiwan
- Packaging Type: Blister Pack
- Units Per Master Carton: 400
- Unit Dimension Width: 8cm
- Unit Dimension Height: 2.2cm
- Unit Dimension Length: 0.31cm
- Units Per Inner Carton: 50
- Unit Weight: 9g
Storage Specifications
- Phison 5007 Series M.2 PCIe Gen 3 x 4
- DRAM Cache: DDR3L 256MB
- TRIM support (O/S dependent)
- Static and Dynami Wear-Leveling
- Bad Block Management
- Advanced Garbage Collection
- Operating Temperature - 0° ~ 70°C
- ECC Recovery: Up to 120bits/2KB
- MTBF: 2,000,000 hours
- 4K Aligned Random Read: 170K
- 4K Aligned Random Write: 185K IOPs
- ATTO: Sequential Read & Write Transfer: Up to 3000MB/s Read | Up to 2300MB/s Write
- CDM: Sequential Read & Write Transfer: Up to 2740MB/s Read | Up to 1090MB/s Write
- O/S Support: Windows® 7 / 8.1 / 10 Natively; Windows® 7 / 8.0 - Requires Driver
---
Page Index
1. Introduction, Packaging, Specifications
2.
A Closer Look, Test System
3.
Benchmark: AIDA64 Disk Benchmark
4.
Benchmark: ATTO Disk Benchmark
5.
Benchmark: Crystal Disk Mark 3.0
6.
Benchmark: HD Tach 3.0.1.0
7.
Benchmark: HD Tune Pro 4.60
8.
Benchmark: PassMark PerformanceTest 8.0
9.
Benchmark: PCMark Vantage
10.
Benchmark: PCMark 8
11.
Conclusion