By: Jonathan Kwan
November 9, 2012
Approximately five years ago, I reviewed my first network media player, the Slim Devices Squeezebox V3. Back in the days, the concept of getting content from your personal computer to your living room is relatively new; not to mention it is limited to music only -- darn. As time progressed, we covered products such as the Patriot Box Office, QNAP NMP-1000, and UEBO M400, which are not only able to stream audio, but also videos stored on your network. Today on APH Networks, we will take a look at yet another network media player, except it is not really what you think it is. The Patriot Gauntlet 320 is basically the Soviet Russia version of all the devices I have listed earlier (In Soviet Russia, media on the network streams you! Okay... that really did not make a whole lot of sense). Anyway, the Patriot Gauntlet 320 is basically a portable media server, and can stream media to up to five devices simultaneously as the host -- whether it is your computer, iPhone, or Android tablet -- over Wi-Fi. The latest iteration in the Gauntlet family designated "320" at the end indicates it comes with a 320GB hard drive out of the box. To enhance its portability, it features a built-in rechargeable battery for your convenience. Cool concept? Let's see if this Soviet Russia concept network media player, manufactured in China, and sold by an American company works out.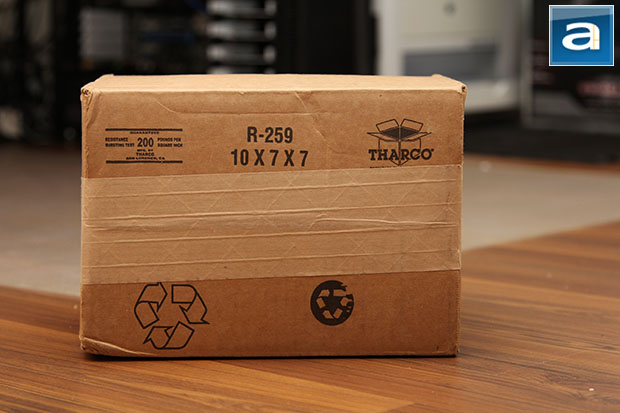 Our review unit of the Patriot Gauntlet 320 came in a rather compact, brown corrugated cardboard box from the company's American headquarters in California, USA. As with last time, Patriot decided to drop by their local post office for shipping. As it made it across the border and transferred into the hands of Canada Post, everything arrived in pristine condition for our review today. I picked it up from the mailbox across the street two weeks after it left its origin, cracked open the package, and got straight to work.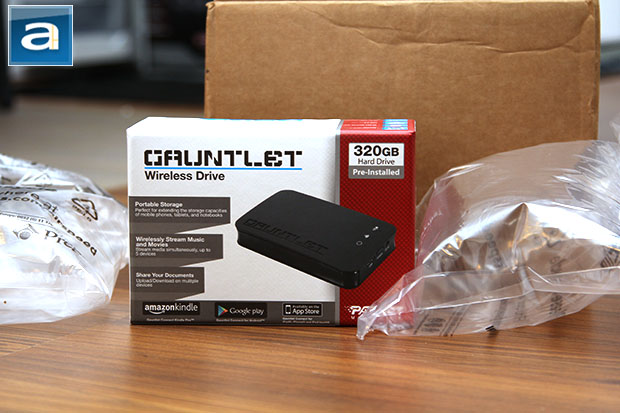 Patriot is a company that appeals to computer geeks like you and me -- no question about that. As you can see in our photo above, they make no effort to hide the Gauntlet 320's nerdy origins with its product packaging. Created with a predominantly white and red color scheme with black and white text, it definitely carries a look that will fit right in at your local computer store. Don't get me wrong, this is not a bad thing. That said, the actual text content is not quite as nerdy as you would imagine; the casual enthusiast will have no problem understanding what the Gauntlet 320 is all about. Actually, one interesting thing to point out is the name 'Gauntlet 320' never really appears on the packaging, although this is the official designation according to Patriot's website. All it says is this is a Gauntlet wireless drive with a 320GB HDD pre-installed.
Before we move on, let's take a look at the specifications of the Patriot Gauntlet 320, as obtained from the manufacturer's website:
CONNECTIVITY:
- Wifi 802.11 b/g/n
- WEP/WPA-PSK/WPA2-PSK security
- USB 3.0 port for high speed wired connection
- Connect up to 8 devices at a time
- Stream HD movies (up to 720p) and music with up to 5 devices simultaneously
- Supports internet connection through a home or business Wi-Fi network (Internet Pass-thru)
POWER:
- AC Wall Power Charger (100-240V ~ 50-60Hz)
- Lithium-ion Battery
- Up to 5.5 hours of operation on a full charge
Note: Battery life will depend on the configuration of the product as well as usage conditions.
SYSTEM REQUIREMENTS:
- iPad, iPhone (3GS or higher), iPod Touch (4th generation or higher) running iOS 4.2 or higher, or Android phone with v2.3 or higher, or Android tablet with v3.0 or higher, or PC running Windows XP/Vista/7 or higher, or Apple Mac running OSX 10.5 or higher, or Kindle Fire
- USB 2.0 or USB 3.0 port (when not using a Wi-Fi connection)
- Gauntlet Connect app for phone, tablet, or Kindle Fire device for data transfer (available online at respective app stores)
Note: Mobile device operating systems may have native file support limitations.
PHYSICAL SPECIFICATIONS:
- Unit Dimensions: 3.39" (D) x 5.47" (W) x .96" (H) or 8.62cm (D) x 13.9cm (W) x 2.44cm (H)
- Weight: 182.5 grams
WARRANTY:
- 2 Year Limited Warranty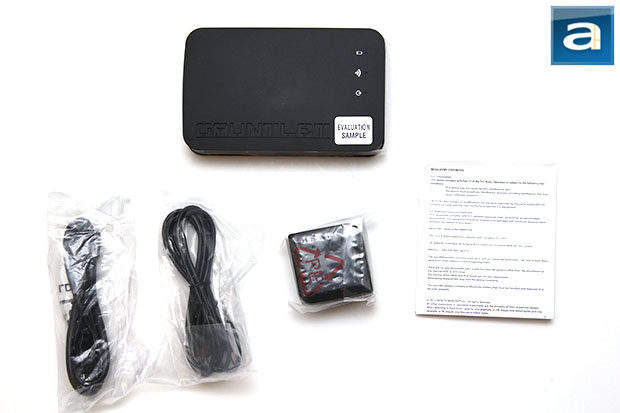 Everything was packaged inside the box with relatively environmentally friendly packaging. The Patriot Gauntlet 320GB is shelved neatly in a cardboard tray on top, while the rest of the accessories are stored in the space below. Out of the box, you will receive the following items:
1x Gauntlet 320 Unit
1x USB Wall Adapter
1x USB Type "A" to DC Power Cable
1x USB 3.0 Type "A" to Type "micro B" Cable
1x User Manual
---
Page Index
1. Introduction, Packaging, Specifications
2.
A Closer Look - Hardware
3.
A Closer Look - Software
4.
Performance and Conclusion