By: Jonah Chow
June 25, 2021
There are plenty of nice Korean restaurants in Calgary, but one of my favorites is a place called Insadong. While their all-you-can-eat menu has a bounty of dishes to fill your stomach past your limit, their lunch specials hold a special place in my heart. For under $16, you can purchase a large portion of rice, sweet potatoes, kimchi, boneless fried chicken, cabbage, and barbecue meat of your choice. Most times, I had to split it into two or even three meals, which for the money, is a pretty good bang for your buck. All of this would be undercut if the food was not good though, which far from reality. The quality of the food itself is great and what ultimately has me coming back all the time. Whether you go for the beef bulgogi, pork bulgogi, spicy chicken, pork ribs, or beef ribs, they all taste amazing. In general, the cheap price was a big reason for why this lunch special is worth getting, it is the quality and quantity of the food that ultimately what makes it great. Similarly, a keyboard cheaper than the competition is always nice to have, but it still needs to have good quality switches and a solid build. This brings us to today's review of the ROCCAT Pyro, a mechanical keyboard that offers a lot for a retail price of only $100. Does the Pyro have good quality to complement its competitive price? Let us read on to find out!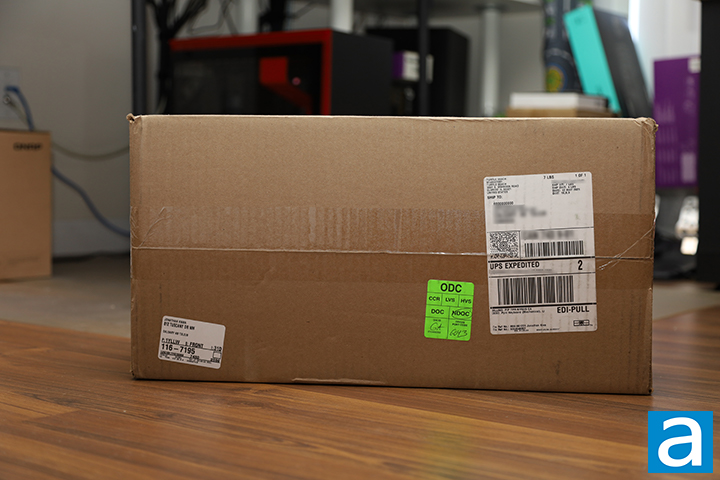 Our review unit of the ROCCAT Pyro arrived via UPS Expedited from Elwood, Illinois, USA. The shipping package arrived here in Calgary, Alberta, Canada. The brown corrugated cardboard box arrived in good condition with no scratches or scuff marks. The inside came with some packing paper to ensure the products inside were cushioned, which is also nice to see with shipping packages. ROCCAT also sent us their Magma keyboard, which will be covered in the coming weeks.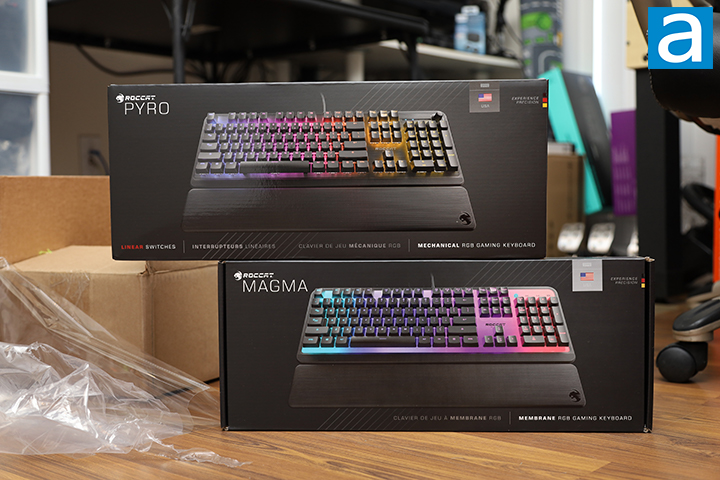 The ROCCAT Pyro retail box is very similar to other ROCCAT retail boxes we been seen in the past. This includes the present when looking at the ROCCAT Magma box in our photo above. The predominantly black color scheme is contrasted by the white text on the darker shades and black text on the lighter shades. The keyboard itself is front and center with the wrist rest attached, displaying the built-in RGB illumination. The ROCCAT logo and product name are at the top left with a US flag on the top right to indicate its layout. Text reading "Experience Precision" can also be seen at the top right between the US and Germany flags. At the bottom, text can be seen labeling this keyboard with "Linear Switches" and "Mechanical RGB Gaming Keyboard". More specifications can be found on the side and back of the box.
Before we move on, here are the specifications of the ROCCAT Pyro from the manufacturer's website:
General
Linear (red) mechanical switches from TTC
Volume wheel
5 shared media control keys
50M key strokes lifetime
1.8m USB cable
Gaming Profile
Dimensions
Height: 3.60cm
Width: 44.70cm
Length: 15.20cm
Weight: 1100g
Switch
TTC linear
45g Operating Force
2.0mm actuation point
4.0mm total travel
Compatibility
Windows 7, 8 and 10 (software support)
USB 2.0 (or higher)
Internet connection (for driver software)
Package Contains
ROCCAT Pyro – Mechanical RGB Gaming Keyboard
Palm rest
Quick-start guide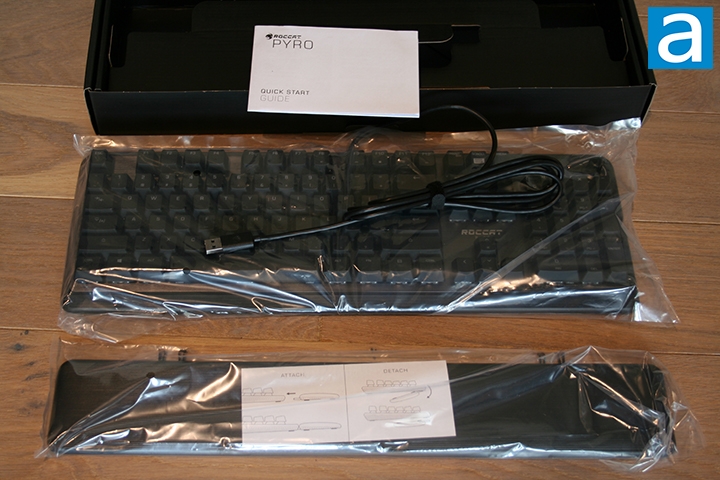 Out of the box, we get the ROCCAT Pyro wrapped inside a white translucent plastic bag. Another bag can be found holding the included ROCCAT wrist rest. A plastic USB Type-A cable can be seen attached to the keyboard itself. ROCCAT also provided a user manual that did not come inside any bag. Nothing else came out of the box, so let us move on to the visual inspection.
---
Page Index
1. Introduction, Packaging, Specifications
2.
A Closer Look - Hardware and Software
3.
Conclusion