By: Jonathan Kwan
December 2, 2016
"Dude, watch Descendants of the Sun," my friend texted me back in March of this year. "It is the most amazing drama ever. Doctor meets soldier. So romantic." Having absolutely no idea what Descendants of the Sun is, like any person in 2016, I pulled up Wikipedia to find out. As it turned out, it was a Korean drama. I kind of chuckled a bit, and told her I will look into it. The reality is it was just a polite way of saying I am not interested, because, frankly, I cannot imagine myself watching a Korean drama. However, there is no denying of my friend's insistence and enthusiasm ("It is the best drama ever", she said. "I watched it five times"), I decided to watch one episode just so I can tell her I have seen it. That said, being as picky as I am for video quality, I had to download it onto my local network using obviously legal means. 1.5GB later, I pulled it up on my computer connected to my TV in my living room, and began to watch. At the end of the hour, something hit me. I actually really liked the drama. After scrambling to obtain the remainder of the episodes, once again, I must emphasize by obviously legal means, I came to another realization: A decade ago, 24GB would have been enough to fill a significant chunk of any storage array. But today, storing 24GB on my network was really nothing at all, considering I have four Western Digital Red WD40EFRX 4TB running in RAID 5. But we all know the demand for more storage does not stop here. With 4K videos topping 20GB per hour nowadays, depending on the compression quality, my 12TB of usable storage may not be as much as I think it is. To keep things available for many more Korean dramas to come, hard drive manufacturers are working hard to keep customers happy. Today, we will take a look at Seagate's IronWolf 10TB NAS HDD. 10TB capacity is epic. But how well will it perform? Read on to find out!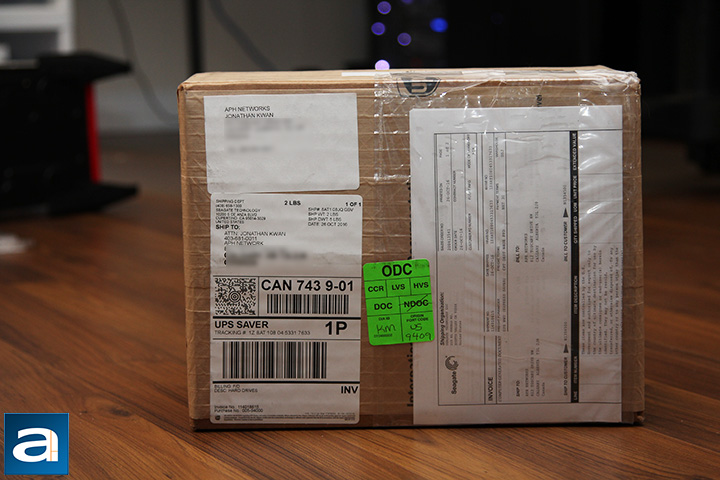 As usual, our review unit of the Seagate IronWolf ST10000VN0004 10TB came in a medium sized, brown corrugated cardboard box from the company's American headquarters in Cupertino, California, USA. A local shop, MJR Print and Fulfillment, sent the hard drive on its way to us here in Calgary, Alberta, Canada via UPS Saver. The shipping package is quite familiar to us here at APH Networks, considering pretty much everything we got from Seagate in the last little while all came in the same form. As always, everything arrived in excellent condition for our review today.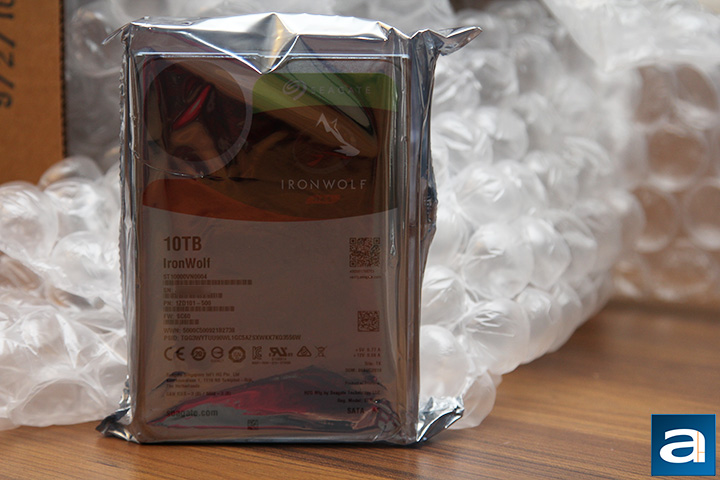 Although the Seagate IronWolf ST10000VN0004 10TB only came in an OEM anti-static bag, there was a ton of bubble wrap inside to keep the OEM packaged drive safe and sound throughout the journey. When I say a lot, I really mean a lot -- just take a look at our photo above. To ensure adequate protection for fragile, mechanical devices like this, they definitely went all the way. To be honest, I have never purchased a hard drive that is not in OEM packaging in the past, so experienced online shoppers will find this a relatively familiar sight.
Keeping this in mind, before we move on, let us take a look at the specifications of the Seagate IronWolf ST10000VN0004 10TB, as obtained from the manufacturer's website:
Specifications
Standard Model Numbers: ST10000VN0004
Interface: SATA 6Gb/s
Features and Performance
Number of Drive Bays Supported: 1 to 8
Multi-User Technology (TB/yr): 180
Rotational Vibration (RV) Sensors: Yes
Dual-Plane Balance: Yes
Error Recovery Control: Yes
Max Sustained Data Transfer Rate OD (MB/s): 210
Spindle Speed (RPM): 7200
Cache (MB): 256
Reliability/Data Integrity
Load/Unload Cycles: 600,000
Nonrecoverable Read Errors per Bits Read, Max: 1 per 10E15
Power-On Hours (per year): 8760
Workload Rate Limit (WRL) (TB/year): 180
Mean Time Between Failures (MTBF) (hours): 1M
Warranty, Limited (years): 3
Power Management
Startup Current, Typical (12V,A): 1.8
Average Operating Power (W): 6.8
Idle Average (W): 4.42
Standby Mode/Sleep Mode, Typical (W): 0.8/0.8
Voltage Tolerance (5V): ±5%
Voltage Tolerance (12V): ±10 %
Environmental
Temperature (°C)
- Operating (ambient, min): 5
- Operating (drive case, max): 70
- Nonoperating (ambient, min): –40
- Nonoperating (ambient, max): 70
Halogen Free: Yes
Shock, Operating/Nonoperating: 2ms (max, Gs): 70/250
Acoustics
- Idle (typical, bels): 2.8
- Operating (typical, bels): 3.2
Physical
Height (mm/in, max): 26.11mm/1.028in
Width (mm/in, max): 101.85mm/4.01in
Depth (mm/in, max): 146.99mm/5.787in
Weight (g/lb, typical): 705g/1.55lb
Carton Unit Quantity: 20
Cartons per Pallet/Cartons per Layer: 40/8
---
Page Index
1. Introduction, Packaging, Specifications
2.
A Closer Look, Test System
3.
Benchmark: AIDA64 Disk Benchmark
4.
Benchmark: ATTO Disk Benchmark
5.
Benchmark: Crystal Disk Mark 3.0
6.
Benchmark: HD Tach 3.0.1.0
7.
Benchmark: HD Tune Pro 4.60
8.
Benchmark: PassMark PerformanceTest 8.0
9.
Benchmark: PCMark 7
10.
NAS Performance, Power Consumption
11.
Conclusion