Page 11 - Conclusion
For about $370 at press time, the Seagate NAS HDD ST8000VN0002 8TB has a lot of similarities with its enterprise grade cousin, the ST8000NM0055 8TB. At the same time, there is quite a bit that separates one from the other. Both hard drives are some of the fastest mechanical hard drives we have ever tested here at APH Networks, and with almost identical hardware under the hood, it is unsurprising the ST8000VN0002 and ST8000NM0055 had very similar linear read speed. However, the consumer grade drive was slightly faster in consumer and small office/home office workload simulations, as you can see in our PCMark 7 and PassMark Performance 8.0 results. On the other hand, the enterprise grade drive had much lower random access time with considerably faster 4K and 4K QD32 workloads; all of which are important in a datacenter environment. In our NAS tests, the Seagate NAS HDD ST8000VN0002 was once again one of the best performers on our charts. Power efficiency was also very commendable for its size and performance class. As far as hardware features are concerned, the Seagate NAS HDD ST8000VN0002 8TB comes with balanced shafts to handle vibrations in a system configured for up to eight drives. However, it does not have the Seagate Enterprise Capacity's ramp load technology, top cover attached motor, humidity sensor, on the fly error correcting algorithms, and super parity. Furthermore, while ST8000NM0055 has a MTBF rating of two million hours, 550TB per year workload rate limit, and five-year warranty, the ST8000VN0002 we are reviewing today has a rated MTBF of only one million hours, 180TB per year workload rate limit, and three-year warranty. Will these properties make a difference to the average consumer? Probably not. But let us look at the price difference: Only 8% at press time. In other words, for an extra $30, you can get an enterprise grade drive with a much more robust design. Heck, the extra two years of warranty alone is worth the money in my opinion. Do not get me wrong -- the Seagate NAS HDD ST8000VN0002 8TB is a really good product, well suited for what it is intended for, both in performance and design. But if the price difference is small, instead of getting a near-enterprise grade drive, why not just get an actual enterprise grade drive? After all, sometimes, the best thing to achieve something may not be through obvious means. Instead, it could be via someone or something else with an auxiliary property that best qualifies it for the job.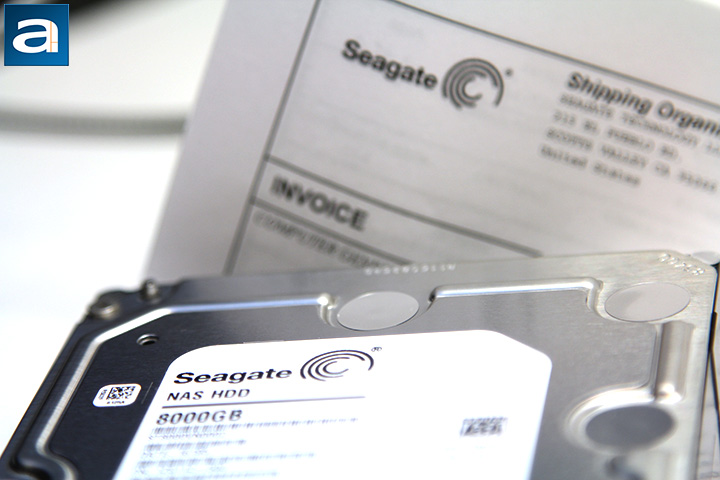 Seagate provided this product to APH Networks for the purpose of evaluation.
Since April 30, 2007, Number Ratings have been dropped for all CPUs, motherboards, RAM, SSD/HDDs, and graphics cards. This is to ensure the most appropriate ratings reflected without the inherent limits of using numbers. Everything else will continue using the Number Rating System.
More information in our Review Focus.
The Seagate NAS HDD ST8000VN0002 8TB is a super-sized and super fast near-enterprise grade mechanical hard drive that is actually relatively energy efficient for its performance class.
Do you have any comments or questions about the Seagate NAS HDD ST8000VN0002 8TB? Drop by our Forums. Registration is free, and it only takes a minute!
---
Page Index
1.
Introduction, Packaging, Specifications
2.
A Closer Look, Test System
3.
Benchmark: AIDA64 Disk Benchmark
4.
Benchmark: ATTO Disk Benchmark
5.
Benchmark: Crystal Disk Mark 3.0
6.
Benchmark: HD Tach 3.0.1.0
7.
Benchmark: HD Tune Pro 4.60
8.
Benchmark: PassMark PerformanceTest 8.0
9.
Benchmark: PCMark 7
10.
NAS Performance, Power Consumption
11. Conclusion