By: Jonathan Kwan
June 17, 2016
While I was sitting in the living room of my relatives' house in Toronto watching the Raptors game last month, I received a Facebook message from a friend. "What is the philosophy of design?" she asked. "I need to write an essay about it." Being in engineering and all, how to approach an essay question -- especially on an arts topic -- could not have been more different than my field of expertise. I had a pretty good chuckle, but being a helpful person and all, I decided to give her a hand anyway, with a little bit of assistance from a modern day invention called Google. Eventually, I think I gave her a good enough answer. While I may not be the best person to talk to about the topic itself, I think I possess a skill essential to obtaining a solution: Finding and discerning the best available resources, especially since I do research during the day. Sometimes, the best thing to achieve something may not be through obvious means. Instead, it could be via someone or something else with an auxiliary property that best qualifies it for the job. In the same way, I am a big fan of hard drives designed specifically for NAS usage. In my desktop computer at work, I have a pair of Western Digital Red HDDs running in RAID 1. Why did not I just buy a pair of desktop drives instead, considering there are products made specifically for this purpose? Well, since I am using them for storage only (My boot disk is a pair of SanDisk Ultra II SSDs, also in RAID 1), NAS drives are actually better in my desktop than actual desktop drives in my opinion. They are better designed for reliability, more suitable for RAID, and optimized for power efficiency. Oh, and of course, they are great for use in your NAS, too. Today, we will take a look at yet another NAS drive, the Seagate NAS HDD ST8000VN0002 8TB. This 7,200RPM monster is not only big on speed, but also in capacity for all your storage applications. Based off the awesome Seagate Enterprise Capacity 3.5 HDD V.5 ST8000NM0055 8TB I reviewed back in January, how will the consumer version of the epic enterprise drive perform? Read on to find out!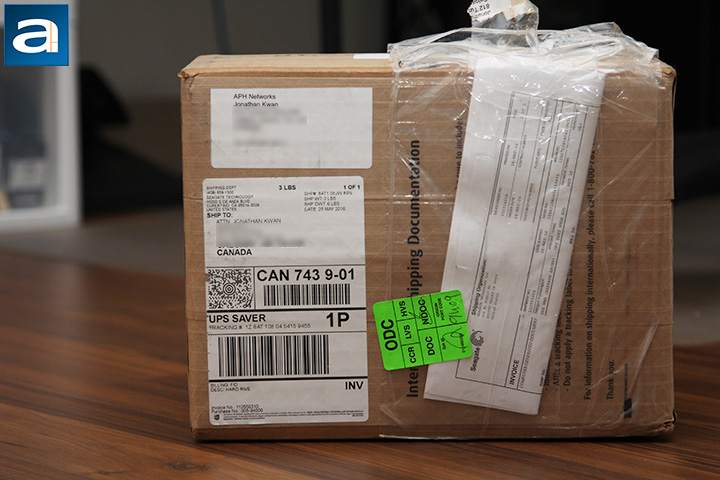 Our review unit of the Seagate NAS HDD ST8000VN0002 8TB came in a medium sized, brown corrugated cardboard box from the company's American headquarters in Cupertino, California, USA. A local shop, MJR Print and Fulfillment, sent the hard drive on its way to us here in Calgary, Alberta, Canada via UPS Saver. The shipping package is quite familiar to us here at APH Networks, considering pretty much everything we got from Seagate in the last little while all came in the same form. As always, everything arrived in excellent condition for our review today.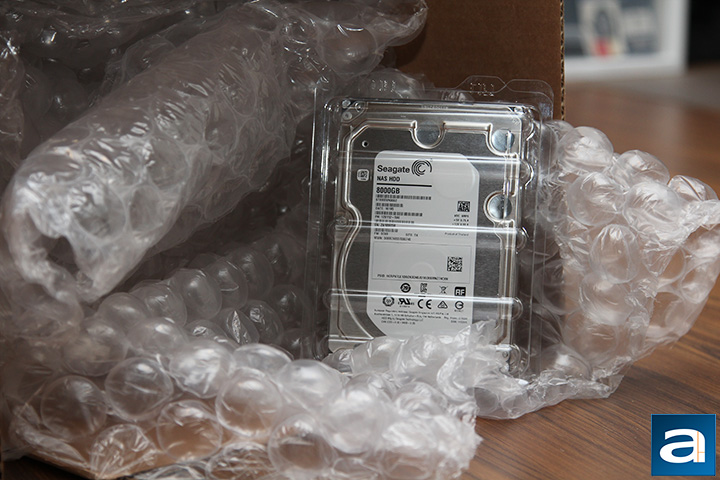 Similar to the Seagate Desktop SSHD ST4000DX001 4TB I reviewed roughly almost a year ago, and the Seagate Enterprise Capacity 3.5 HDD V.5 ST8000NM0055 8TB I reviewed earlier this year, there was a ton of bubble wrap inside to keep the OEM packaged drive safe and sound throughout the journey. When I say "OEM packaged", it means it is simply a bare drive inside a clear plastic clamshell. To ensure adequate protection for fragile, mechanical devices like this, they definitely went all the way. To be honest, I have never purchased a hard drive that is not in OEM packaging in the past, so experienced online shoppers will find this a relatively familiar sight.
Keeping this in mind, before we move on, let us take a look at the specifications of the Seagate NAS HDD ST8000VN0002 8TB, as obtained from the manufacturer's website:
Specifications
Model Number: ST8000VN0002
Halogen Free: Yes
NASWorks
Drive bays supported: 1 to 8
Dual-Plane Balance: Yes
NASWorks Error Recovery Control: Yes
Performance
Cache: 256MB
Max Sustainable Transfer Rate: 216MB/s
Interface: SATA 6Gb/s
Power Management
Startup Power (12V, A): 2.0
Average Operating Power: 9.0W
Idle Average: 7.2W
Standby/Sleep Mode: 0.6W/0.6W
Environmental/Temperature
Temperature, Operating (°C): 0°C ~ 60°C
Temperature, Nonoperating (°C): -40°C ~ 60°C
Temperature Gradient, Operating/NonOperating (max): 20°C per hour/30°C per hour
Environmental/Shock
Shock, Operating/NonOperating: 2ms (max): 70Gs/250Gs
Environmental/Acoustics
Idle (typical): 2.5bels
Operational (typical): 2.6bels
Reliability
Load/Unload Cycles: 600,000
Nonrecoverable Read Errors per Bits Read, Max: 1 per 10E15
Power-On Hours: 8760
Mean Time Between Failures: 1,000,000hr
Warranty, Limited (years): 3
Physical
Height (mm/in): 26.11mm/1.028in
Width (mm/in, max): 101.60mm/4.0in
Depth (mm/in, max): 146.99mm/5.787in
Weight (g/lb): 780g/1.72lb
Carton Unit Quantity: 20
Cartons per Pallet / Cartons per Layer: 40 / 8
---
Page Index
1. Introduction, Packaging, Specifications
2.
A Closer Look, Test System
3.
Benchmark: AIDA64 Disk Benchmark
4.
Benchmark: ATTO Disk Benchmark
5.
Benchmark: Crystal Disk Mark 3.0
6.
Benchmark: HD Tach 3.0.1.0
7.
Benchmark: HD Tune Pro 4.60
8.
Benchmark: PassMark PerformanceTest 8.0
9.
Benchmark: PCMark 7
10.
NAS Performance, Power Consumption
11.
Conclusion