By: Aaron Lai
May 22, 2020
There is an old saying that says you do not realize what you have until it is taken away. This reminds a lot of people about the good things they have in life and how it is important to be content with what we have or the situations we are in. On the flip side, I think it is also true you sometimes do not realize you want something until you have tried it once. Unfortunately, this can often happen when you experience something more luxurious than you are used to, putting you at a new standard or giving you higher expectations. One example for me was when I acquired a KitchenAid stand mixer at the beginning of this year. Before then, everything I baked was mixed together by hand, and I was generally used to this process. I did not really see it as tedious or tiring, but rather just a necessary task. I have since been using the mixer for all my cakes and cookies, but not for any bread. I did not realize how much time this machine saved me until I tried going back to mixing by hand. I would now be despairing if I lost access to my stand mixer, but this is only because I now have this new perspective. Unfortunately, this can be a similar experience with the products we have received over the years for APH Networks. These products stand out for not only being a niche product, but they also are designed well to the point that I become part of the niche customer base. Whether it is having mounting arms or an ultralight mice, I have become spoiled with these products that I cannot see myself using anything else. Today, we have the SilverStone PP07E power supply cable extensions used to hide extra cables and make the internals of your desktop look just a bit neater. Will they become something that I want with every subsequent build? Let us read on to find out!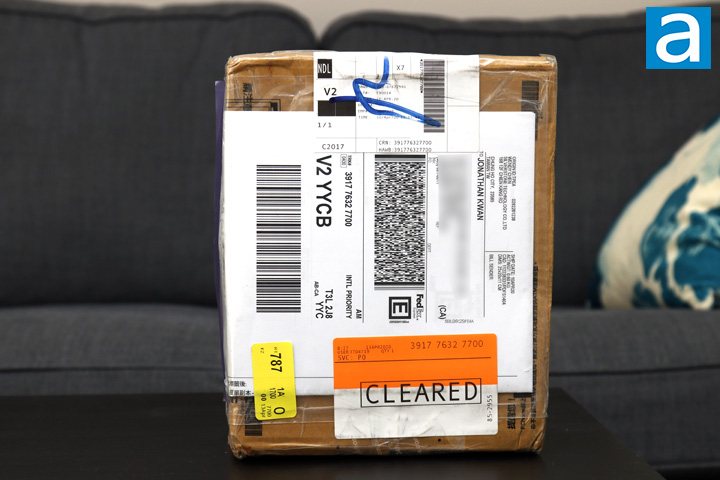 Today's review unit of the SilverStone PP07E arrived from SilverStone's Taiwan offices in Chung Ho City. This area is also known as the Zhonghe District, located southeast of New Taipei City. Other consumer electronics manufacturers located in this municipality include Viewsonic, Cooler Master, and MSI. As for our package at hand, this brown corrugated cardboard box traveled just under 10000 km to get to our APH Networks offices in Calgary, Alberta via FedEx and their International Priority service. It was clear they handled this box with priority, as this box came to us in good condition with no bumps or bruises to be concerned about. Inside, we have all of the PP07E cables with some bubble pockets to further protect the contents. We have also received the Air Penetrator AP120i PRO, which was previously reviewed by Jadon Lee.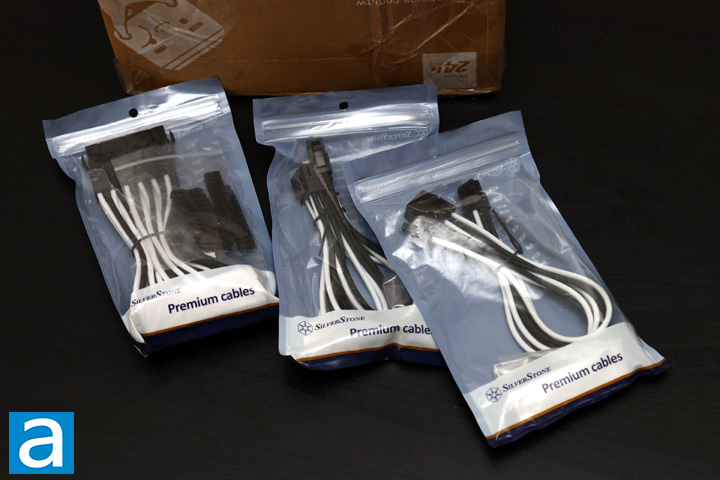 SilverStone has packaged all of their PP07E cables in individual resealable bags. As you can see, SilverStone has sent us one of each of the three PP07E cables in the same color scheme. The bags are marked with SilverStone branding underneath the clear plastic bag and a tag line of "Premium cables". There is not too much else to the packaging, but the other side has some specifications for the cables inside. There is not much else to look at, so let us see the cables inside.
Before doing so, I have grabbed the specifications for each of the cables for your reading pleasure:
1 x 24pin ATX
Model No.: SST-PP07E-MBBW
Color: Black / White
Connectors: 1 x 24 pin ATX connector
Length: 300mm (11.81")
Wire gauge: 18 AWG
1 x 8 pin (4+4) EPS
Model No.: SST-PP07E-EPS8BW
Color: Black / White
Connectors: 1 x 24 pin ATX connector
Length: 300mm (11.81")
Wire gauge: 18 AWG
1 x 8 pin (6+2) PCIe
Model No.: SST-PP07E-PCIBW
Color: Black / White
Connectors: 1 x 24 pin ATX connector
Length: 300mm (11.81")
Wire gauge: 18 AWG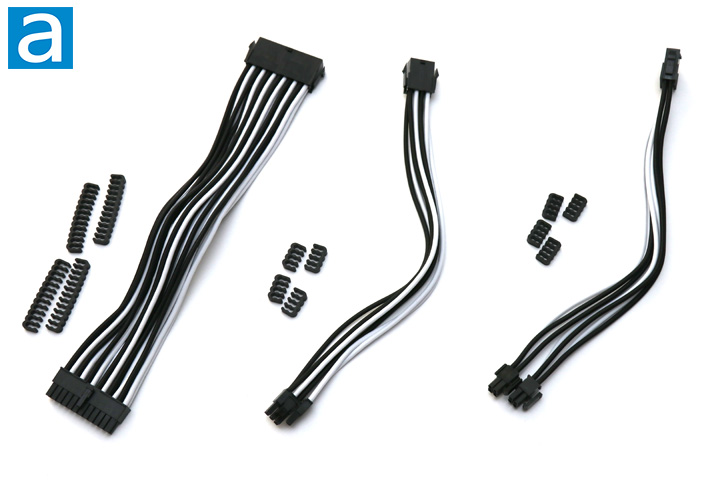 Out of the bag, each set of cables comes with a small plastic bag filled with six black claws sized to fit each wire on the cable. These are actually called cable combs, and they work by aligning the cables for a straighter run. Unlike most flat stock cables that can come with your power supply, each cable in the bundle is separated by a braiding that can easily become mixed or tangled with each other. With the cable combs, users can ensure the individually sleeved wires stay in place for a clean look on the whole run. Otherwise, we also have a bit of documentation regarding some safety and warranty information. SilverStone offers a standard one-year warranty with their cables, which is as expected.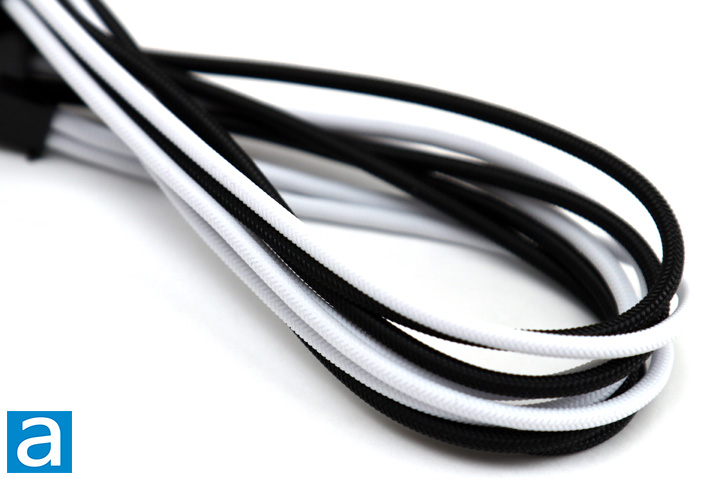 Taking a closer look at the cable itself, we received the white and black variant, which alternates between these two colors between each pair of wires. It has a really nice look and gives me the old Stormtrooper vibes again. SilverStone also offers an all-black variant for their extensions too, but I like this one more. As mentioned in the specifications, all of these cables have a wire gauge of 18AWG. I personally would have liked to see a thicker gauge, somewhere in the neighborhood of 16AWG, for these wires. This would not only ensure we have enough headroom for the current running through these cables, but also make the cables ever so stiffer for bends that stay in place. However, the aforementioned cable combs do their job in keeping the wires in place.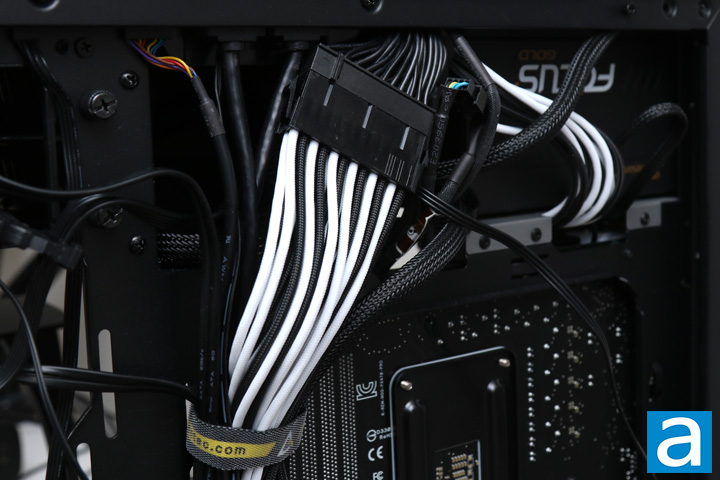 Installation of the PP07E is pretty straightforward. Instead of replacing your stock cables, these extensions attach to the end of the desired connections. As such, they will work with any power supply, regardless if it is from SilverStone or not. I would have also used the provided 8-pin PCIe extension, but I require both 8-pin and 6-pin power connections to my MSI GeForce GTX 1070 Ti Titanium and I only had a single cable to work with. I used the 24-pin ATX and 8-pin EPS cables here. As such, I would make sure you keep this in mind if you were to purchase the PP07E PCIe extensions. Due to the extra 30cm added to the two cable lengths, I had to bundle up the excess cables in the power supply attic of my Antec P120 Crystal. Next, I fitted the cable combs to my sleeved extensions before plugging them in. I personally found if I plugged the extensions into the motherboard first, I would not have enough room to fit the cables combs, especially on the EPS connection in the corner. I ended up adding two combs on my motherboard 24-pin, which made for a clean and organized curve to the back.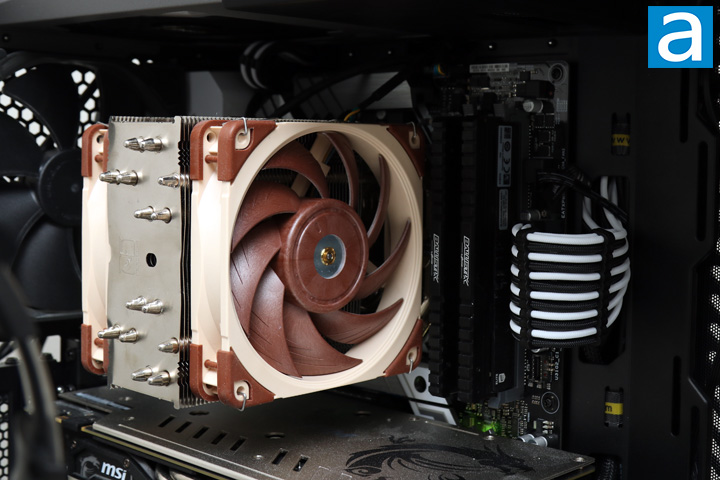 Overall, I really liked the finished look and the installation process. I am using these extensions with the Seasonic FOCUS Plus 850 Gold 850W. Unfortunately, the bundled 24-pin cable that comes with this power supply can be tougher to lead through some front routing holes, especially as it is packed together in a thicker cylinder. This is not as big of a deal in the P120 Crystal, but I have run into issues leading the bundled cable through thinner routing holes in the past. As such, having these extensions spread out the wires can make the whole cabling process easier.
-----------------------------------------
Once acquired, a stand mixer can be used directly to make the whole baking process easier, each and every time a new batch of whatever is whipped up. However, the SilverStone PP07E extension cables are not exactly something a computer user would use directly every day, which means you might not see continuous benefit with these extensions. Instead, these extension cables are only handled during installation, and are gazed upon in satisfaction after the build. Even so, in both cases, I would not want to go back to a stand mixer-free life or a braided cable-less build. From the get go, the SilverStone PP07E extension cables are exactly as you would expect. These cables come with a braided sleeve over each individual 18AWG wire for a premium fit and finish. Nothing feels loose and the 30cm of extension is definitely long enough to reach into your case easily. The braiding is flexible to allow for nice curves, while the six included cable combs do a great job at holding the wires together and keeping them organized for users to see. In application, they were easy to use and plugged into my standard power supply cables for a clean finish. They do not really serve any objective other than to look pretty, but thankfully they do succeed in this goal. I really like the white and black combination cables they sent us here. If I were to suggest any changes, it would have been potentially use thicker gauge of wires on their extensions and to offer other colors. At press time, these cables have a suggested retail price of $14 USD for the 24-pin ATX, $8 USD for the 8-pin PCIe, and $7 USD for the 8-pin EPS. The PP07E may not necessarily be available at these prices during the current pandemic, but I think the provided MSRP is reasonable for each. Overall, SilverStone has done a great job in producing yet another premium looking product that I did not know I wanted until now.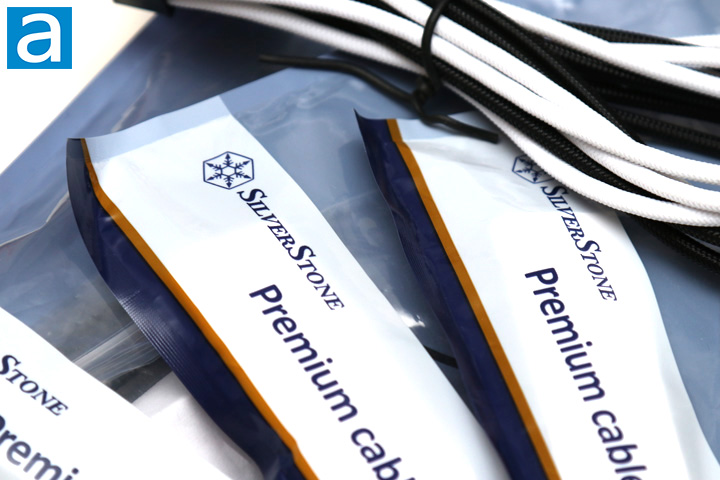 SilverStone provided this product to APH Networks for the purpose of evaluation.
APH Networks Review Focus Summary:
8/10 means Definitely a very good product with drawbacks that are not likely going to matter to the end user.
7/10 means Great product with many advantages and certain insignificant drawbacks, but should be considered before purchasing.
-- Final APH Networks Numeric Rating is 7.8/10
Please note that the APH Networks Numeric Rating system is based off our proprietary guidelines in the Review Focus, and should not be compared to other publications.
The SilverStone PP07E extension cables are well-implemented, appearance-driven products that make finished systems stand out from the crowd.