By: Jonathan Kwan
November 7, 2014
In many cultures, ravens do not carry a whole lot of positive connotation. In western literature, this bird seems to always carry an overtone of bad omen. There is even an old Chinese saying that roughly translates to -- no doubt with a negative overtone -- "All ravens are black under the sky." Basically, this Chinese saying is suggesting there are no exceptions in this world; as long as something is in a bad category, it is bad. But why are we thinking that way? In the Bible, the prophet Elijah was fed by ravens when there was no food in the land. Even Jesus illustrated God's providence using ravens as recorded in the book of Luke. Clearly, we carry a lot of prejudice when it comes to appearance, even if we do not like to admit humans are usually pretty ostentatious. But today, with Halloween a whole week behind us now, I would like to make an assertions while all ravens are indeed literally black under the sky, there is still a positive element to it. Here at APH Networks, we have reviewed quite a number of cases from the SilverStone Raven line; extending back to 2011 with the Raven RV03, to just last year with the Raven RV04, both by my colleague Preston Yuen. In between, we even covered the RVS02 hard drive enclosure. Sitting next to me today on my desk is the latest from SilverStone's collection of non-traditional cases. The fifth generation Raven chassis sports the same ninety degree rotated motherboard design, but with a much cleaned up look, and -- get this -- a daring removal of all 5.25" drive bays to create something that is actually quite compact. It remains to be black, but is it the still the best? Considering I had to make the call and claim this chassis over my coworkers when SilverStone asked us to review it, I will let you make a guess. Hint: It is good.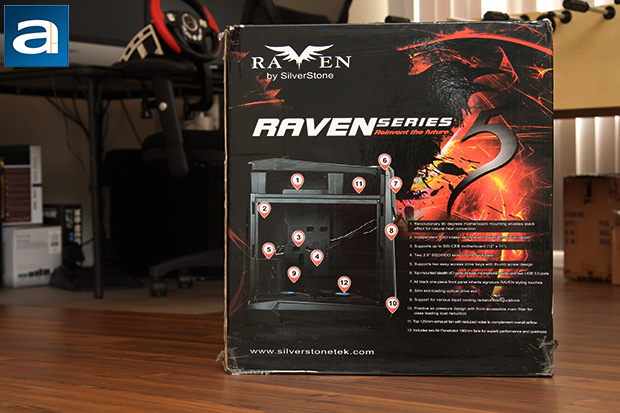 Our review unit of the SilverStone Raven RV05 came in its retail box from the company's American offices in California, USA. Usually, we get things from SilverStone using FedEx Ground, but this time, it was dropped off by the good people at UPS. Using the Standard service, everything arrived in excellent condition to us here in Calgary, Alberta, Canada for our review today. Compared to the Raven RV03 and Raven RV04, the Raven RV05's package looks a lot less creepy. Even though the full color printing adds mainly orange over the previous monochrome process, which is still your stereotypical Halloween color scheme, SilverStone carefully revised the fonts used to make it a lot more mainstream. Feature highlights and specifications can be seen on various sides of the box, along with labeled photos, which you can see in our photo above.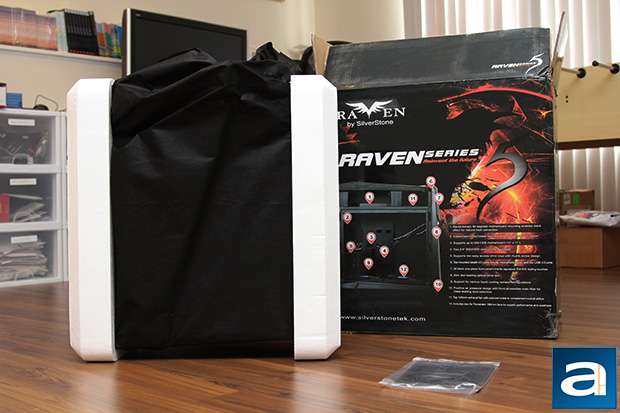 Cracking open the box reveals the SilverStone Raven RV05 mid tower computer chassis sandwiched between two large Styrofoam brackets. We specifically wanted our RV05 with a window, but SilverStone also sells the case without. For additional protection, we can see the entire chassis is wrapped in a large black nylon bag to protect its panels during transit. I actually found this bag to be quite useful; more on this later. For those surfaces that may be more prone to being scratched, additional layers of protective plastic tape is present for the end user to peel off. Product literature is found outside the case, while installation accessories in a box are placed inside the RV05. It is clear to us SilverStone has taken great care in ensuring their product arrives to the hands of the end user in pristine condition.
Before we move on, let's take a look at the specifications of the SilverStone Raven RV05, as obtained from the manufacturer's website:
Model No.: SST-RV05B-W (black + window)
Material: Plastic outer shell, steel body
Color: black
Motherboard: SSI-CEB, ATX, Micro-ATX
Drive Bay: External - Slim slot-loading optical x 1; Internal - 3.5" x 2, 2.5" x 2
Cooling System: Top - 120mm fan slot x 1; Bottom - 180mm AP fan x 2, 600/900/1200rpm, 17/25/34dBA, Downward compatible with 120mm fan x 3, or 140mm fan x 2
Expansion Slot: 7
Front I/O Port: USB 3.0 x 2; Audio x 1; MIC x 1
Power Supply: Optional PS2(ATX)
Expansion Card: Compatible with 12.3" long, width restriction – 6.57"
Limitation of CPU cooler: 162mm
Net Weight: 7.6kg
Dimension: 242mm (W) x 529mm (H) x 498mm (D), 63.8L
---
Page Index
1. Introduction, Packaging, Specifications
2.
Physical Look - Outside
3.
Physical Look - Inside
4.
Installation and Conclusion