By: Ben Joubert
January 29, 2016
If you have been to a party or a get-together, then I am sure there were chips or crisps on the table, whichever name you prefer. There are so many options for flavors today, and if you head to Costco, there will be massive bags of them, too. Kind of a joke complaint from people to chip companies is there is too much air in the bags, which takes up potential chip real estate. My favorite are Pringles, who has mostly been able to avoid this complaint due to their container working a bit differently than a normal chip bag. Of course, companies do not just add some air for fun and laugh at how everyone complains, but people still buy their product. The air inside the bag is actually nitrogen, and it is there to keep the chips fresh, as well as working as a cushion against any damage the chips could take during transportation. I am sure we all do not want any damage done to the products we buy, so we can appreciate some effort put into the safekeeping of what we end up having in our house. Perhaps if you do not like excessive amounts of air in your chip bag, you might not like air cooling either. Today, we have a solution for you. The SilverStone Tundra TD03-SLIM closed loop water cooler. If you like water cooling and building in a small form factor chassis, this water cooler could be for you due to its slim design. Read on to find out if it performs well enough to merit its place in your PC build, kind of like how I like to have Pringles in my pantry at home.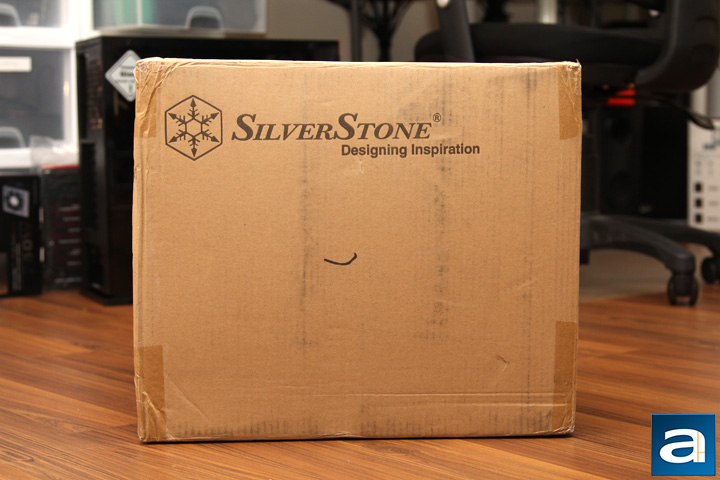 The SilverStone Tundra TD03-SLIM arrived with its bigger sibling, the Tundra TD02-SLIM, which I reviewed about a month ago. It arrived via UPS Standard to the APH Networks offices in a big brown corrugated box, with just a few dents and beat up corners. It traveled to us here in Calgary, Alberta, Canada from the company's American headquarters in California, USA. After opening the box, it was a struggle to fish out the product without spilling foam peanuts everywhere, but all the foam peanuts were a welcome sight, since they ensured the safe transportation of our review unit today. You know, kind of like having all that nitrogen in a chip bag.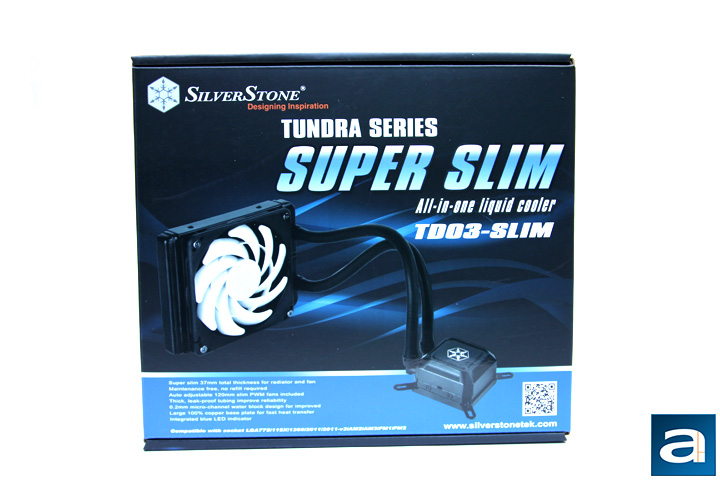 Just like the SilverStone Tundra TD02-SLIM, the box is in color, which is different from some of the other water coolers from the Tundra series like the TD03-LITE. It is a simple design, with the front of the box displaying the product and showing off how slim it is. The blue and white color scheme reinforces the water cooling, as well as its Tundra series namesake. On the bottom left of the box is a quick rundown of the selling points of the product. The socket compatibility list is really just all modern motherboard sockets for both AMD and Intel. On the back of the box are features listed in different languages and some support features. The left side of the box shows off the super slim aspect with a side view of the product, while the right of the box just has another picture of the TD03-SLIM. Where it all becomes a bit more technical is the top of the box, where all the specifications are found.
We headed to the manufacturer's page to get the following specifications:
Specifications
Model No.: SST-TD03-SLIM
Water block dimensions: 65mm (L) x 65mm (W) x 39.2mm (H)
Water block material: 100% Copper base plate, with a plastic body
Pump motor speed: 2500±200 RPM
Pump rated voltage: 12V
Pump rated current: 0.28A
Radiator dimensions: 153mm (L) x 120mm (W) x 22mm (H)
Radiator material: Aluminum
Tube length: 310mm
Tube material: rubber
Socket compatibility: Intel Socket LGA775/115X/1366/2011/2011-v3
AMD Socket AM2/AM3/FM1/FM2
Fan Specifications
Dimensions: 120mm (L) x 120mm (W) x 15mm (D)
Speed: 800~2200RPM
Noise level: 16.5~27.4 dBA
Rated Voltage: 12V
Rated Current: 0.02 ~ 0.15A
Max airflow: 13.1 ~ 35.85CFM
Pressure: 0.31 ~ 1.84 mmH2O
Bearing type: long life sleeve bearing
Connector 4 Pin PWM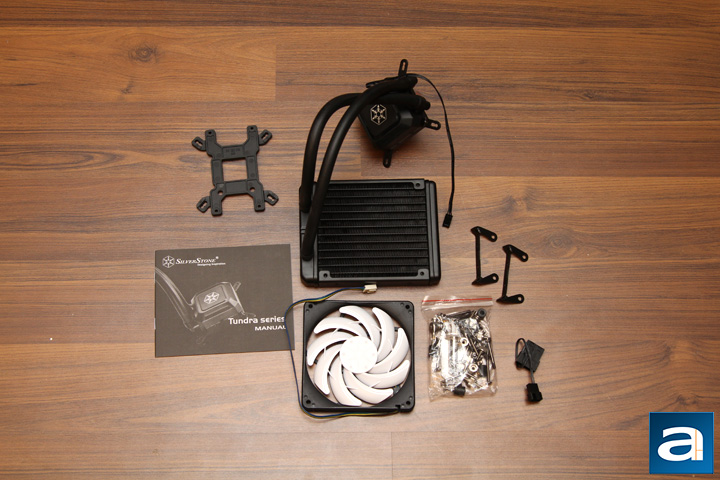 SilverStone does an excellent job with packaging the cooler. Everything is tightly packed to make sure there is no movement inside. The fan, as well as the radiator and water block, are covered in plastic to protect it from any scratches. Overall, I am happy with the packaging. Inside a little white box is everything required for installation, including all the different screws, backplate for the motherboard, along with other mounting tools for AMD sockets. Also included is a Molex connector. A short manual is also packaged with clear installation instructions. The manual also helpfully specifies every part that should be in the box, and identifies it for a smoother installation process. The one PWM fan come in at 15mm in depth, which, comparing to other fans, is very thin, and ensures the TD03-SLIM is deserving of its name.
---
Page Index
1. Introduction, Packaging, Specifications
2.
Physical Look - Hardware; Installation
3.
Test Results
4.
Conclusion