By: Kenneth Kwok
February 11, 2011
In the past few weeks here at APH Networks, there has been quite a few articles on SilverStone products. Many users who have followed along would have noticed we had gone through two separate articles on SilverStone products alone over the past month or so. Today, we are finally on our the last of our trio, and plan to go out with a bang. (Not literally. We're not blowing anything up.) We chose the biggest object to review out of the three, just to give it the incremental quality -- or at least quantity -- vibe. SilverStone is well known for their excellence in the computing field, with products ranging from fans such as the SilverStone Air Penetrator SST-AP121-L, power supplies such as the SilverStone Strider Gold ST75F-G 750W, as well as cases such as the Precision PS05 we are reviewing today. Just imagine how many articles we could go through in a year. Anywho, for our final part of the SilverStone trio of articles, we chose to end it off with a case. The SilverStone Precision PS05 is the newest revision of the Precision series. Although it is the value line for SilverStone, even the value series promises "thoughtful details from high-end chassis designs", according to the manufacturer. That is one bold statement to make for such a product in its intended market, but we trust SilverStone knows what they are talking about, since they are known for making excellent stuff in this area. So let us dive right into this review, and see how well this case implements "details from high-end chassis designs".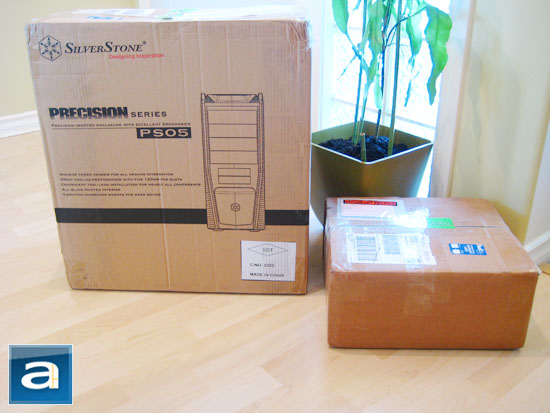 The sample unit of the SilverStone Precision PS05 was sent in from SilverStone's American offices in California, USA. FedEx Ground was used to ship the package, which arrived within a week from the date on it was picked up at its origin. Unsurprisingly, the big brown corrugated box shown in our photo above with the word PRECISION printed boldly on it is our PS05. It was barely damaged with only slightly dented edges, and some wear and tear on the cardboard. In general, both packages we received from SilverStone arrived in very good condition.
Packaging for the SilverStone Precision PS05 is not exactly the best looking examples we have seen in a while. Since this case is a budget oriented case, we did not expect too much in this aspect, nor did it really matter, since what lays inside is the most important part. What we have is a brown corrugated cardboard box with text in black ink and just a dab of red, similar to the NZXT Beta I have reviewed in July 2009. The key features are displayed on the box, along with the SilverStone logo, chassis name, and an outline of the front profile of the PS05.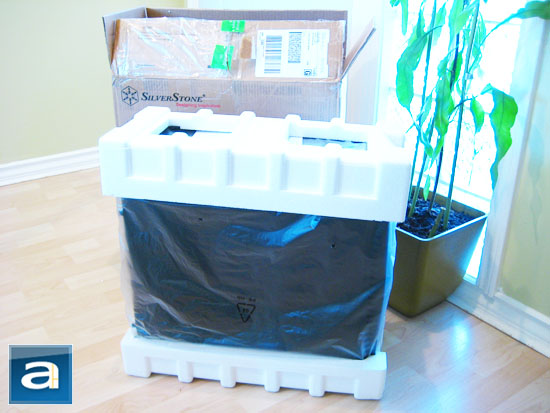 Breaking open the packaging, we are presented with the SilverStone Precision PS05 in its flesh and blood, or otherwise what you would consider as just black painted metal. The PS05 is wrapped in a plastic bag, and sandwiched between two large foam brackets to make sure the unit stays in place during transport. SilverStone provided very good effort in protecting the Precision PS05 from any damage that can be incurred when it makes its way to various places in the world. The instructional manual can also be found inside the retail box, which provides basic information about the case and some installation instructions as well. Before we move further ahead in our review, let's take some time to take a look at the specifications of the case, as obtained from SilverStone's website:
Model No:
- SST-PS05B (black)
- SST-PS05B-W (black + window)
Material: Plastic & mesh front panel and steel body
Motherboard: ATX, Micro ATX
Drive Bay:
External:
- 5.25" x 4
- 3.5" x 2
Internal:
- 3.5" x 4
Cooling System:
Front: 1 x 120mm fan slot
Rear:
- 1 x 120mm exhaust fan(PS05B)
- 1 x 120mm LED exhaust fan (PS05B-W)
Top: 2 x 120mm fan slot
Bottom: 1 x 120mm fan slot
Expansion Slot: 7
Front I/O Port:
- USB2.0 x 2
- Audio x 1
- MIC x 1
Expansion Card: 11"
Limitation of CPU cooler: 160mm
Limitation of PSU: Unlimited
Net Weight: 6.2 kg
Dimension: 190 mm(w)x 466mm(h) x 485mm(d)
---
Page Index
1. Introduction, Packaging, Specifications
2.
Physical Look - Outside
3.
Physical Look - Inside
4.
Installation and Conclusion