Page 4 - Installation and Conclusion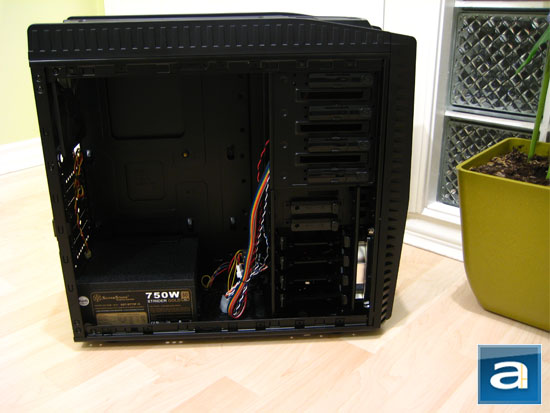 Installing the motherboard was quite straightforward with the included standoffs, so let me get that out of the way first. To move in chronological order, the first thing I installed was a front intake 120mm fan. I chose the SilverStone Air Penetrator SST-AP121-L to go with my PS05. In order to do execute this installation, I had to first remove the front panel, and then remove a metal cutout with a screwdriver. After install the fan onto the cutout, I pushed the bracket back in to the chassis frame and secured it with one screw. Next up, I installed the power supply, which was the SilverStone Strider Gold ST75F-G 750W. Using the included thumbscrews, I was able to install it into the case quickly. Again, if you want a more secure installation, whipping out your screwdriver at this point is probably a good idea. It was nice our full build was built with as many SilverStone products as possible, which I have reviewed in the past two months or so. Anyway, the installation of all of this was straightforward and really easy to complete, there was no problems were encountered at all.
On to cabling, I found that this aspect was also a piece of cake, thanks to the many cutouts on the motherboard tray. This means it was possible to route cables behind the motherboard tray for a tidy appearance. Using this method, I was able to send cables across the entire system, while keeping it nice and clean along the way. This not only looks good, but also improves airflow inside your computer as well.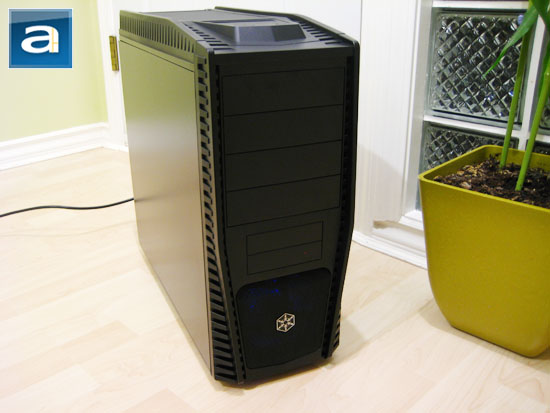 After installation was completed, the case still basically looks the same before it was fully built. Nothing new here. I turned the build on, and noticed the light from the power LED located above the front intake mesh, as well as the blue LED from the SilverStone Air Penetrator SST-AP121-L. Overall, the design of the case is non-offensive, and although some of the metal finish can be a fingerprint magnet, it still looks very nice overall. The usage of the top input ports as well as power and reset buttons also makes it very convenient for me, since I leave my computer on the ground and not elevated. This part is about choice, and may not apply to everyone, however.
On a scale from 0.0 to 10.0 where 0.0 is silent and 10.0 is the loudest, I would rate the included fan combined with SilverStone's Air Penetrator SST-AP121-L and Strider Gold 750W to be approximately 4.0 subjective in my opinion. It produces a slightly audible buzzing noise when you are very close to the case, but in normal work times, it should be fine for most intents and purposes. The stock fan is quiet enough, unless one is all about silent optimizations based on standards set by our Editor-in-Chief Jonathan Kwan, haha.
-----------------------------------------
So how well does SilverStone achieve their plan to provide "thoughtful details from high-end chassis designs"? Surprisingly well, to be honest. I was skeptical at first of how a budget oriented case could claim to provide features found on high-end chassis designs, but after taking an in depth look into the SilverStone Precision PS05, I have seen how this is possible. This includes a truly tool free 3.5" and 5.25" internal/external drive bays, as well as expansion card system that actually works. The expansion card screwless system is by far the best system I have seen so far in a budget case, even though it is made out of plastic. This is very impressive, since this case is meant for people on a limited budget only. In addition to this, the case was also built very well, despite thinner steel panels than other cases I have used in the past. In practice, this is not a huge issue, and with its non-offensive look, this is truly one of the best cases out there for the budget oriented crowd. Hiding cables was also a breeze, thanks to the embedded routing system to allow cables to go behind the motherboard tray. The included heatsink backplate cutout is also a nice touch. The installation process was generally very smooth, and definitely a pleasure to use. Of course the SilverStone Precision PS05 is not perfect, since the steel panels are thinner than other cases I have used in the past as aforementioned, has some dust prone panels, and finish that is a fingerprint magnet to a certain extent. Overall, the SilverStone Precision PS05 is definitely a great case for the money you pay, and retailing at as low as $40 after a mail in rebate at press time, those looking for a budget oriented case with elements of high-end features, this is surely one of the best choices available in the market right now.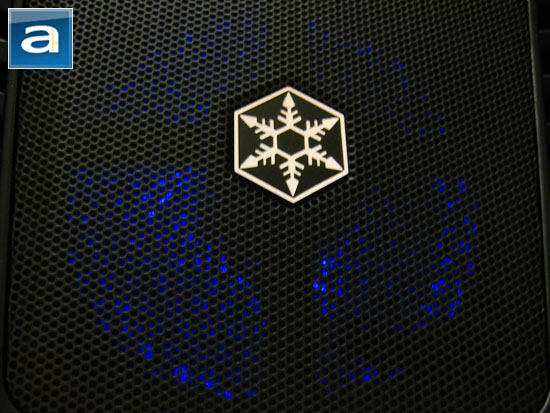 SilverStone provided this product to APH Networks for the purpose of evaluation.

APH equal.balance Award | APH Review Focus Summary:
8/10 means Definitely a very good product with drawbacks that aren't likely going to matter to the end user.
7/10 means Great product with many advantages and certain insignificant drawbacks; but should be considered before purchasing.
-- Final APH Numeric Rating is 7.5/10
Please note that the APH Numeric Rating system is based off our proprietary guidelines in the Review Focus, and should not be compared to other sites.
The SilverStone Precision PS05 lives up to its claims -- budget price of admission, but with some legitimately high end features.
Do you have any comments or questions about the SilverStone Precision PS05? Drop by our Forums. Registration is free, and it only takes a minute!
---
Page Index
1.
Introduction, Packaging, Specifications
2.
Physical Look - Outside
3.
Physical Look - Inside
4. Installation and Conclusion