By: Preston Yuen
August 10, 2012
"But my [Korean drama] show isn't done yet," my friend messaged me one evening. "I'm streaming them through my slow Internet." As some of you may know, some of these movies and drama can only be watched by streaming. However, I always tend to keep my old time favorites on my computer or my NAS. Like my friend, I am one of those people who appreciate Asian drama that are played through my home theater system. You just sit back, relax, and enjoy your time. There was one time when my brother caught me chilling out on the couch watching one of those movies. "You've watched that so many times. Let me hook you up with new ones," he said. So, my collection grew and grew until I started running low on space. You can probably see where this is going by now. I soon went to the local computer store to pick up more hard drives, but this posed yet another problem: I will soon run out of SATA ports. Having spent quite a bit on hard drives already, I cannot see a quick solution to this. However, what we have brought in to review today is a cheap, quick, and dirty solution to address this problem, but be prepared for a mouthful of technical words. It's called the SYBA HyperDuo SY-PEX40052. For just $25 at press time, this little board will fit snugly into one of your PCIe x1 slots. Though it may not give you the most optimal speeds in transfering files, it will get the job done at getting you more SATA ports. Read on to see how it performs!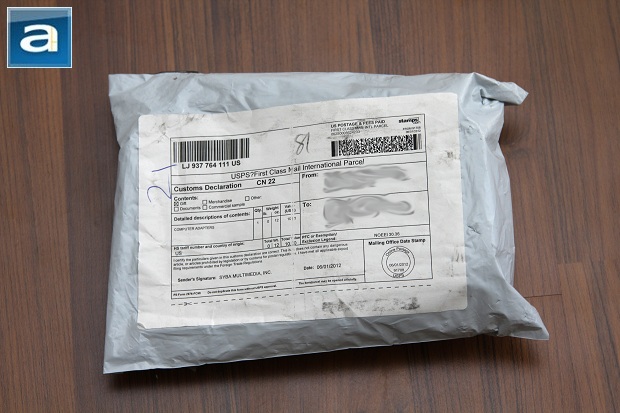 Our unit of the SYBA HyperDuo SY-PEX40052 came in a large, white envelope via USPS First Class International Parcel from our good neighbors down south. As for myself, I typically don't see such packaging, as most of my presents come in corrugated cardboard boxes, in which you can see the bumps and bruises. In this particular case, while it is an envelope, it seems like at had a pretty smooth ride to our Calgary, Alberta, Canada office as it made its trasfer to Canada Post across the border.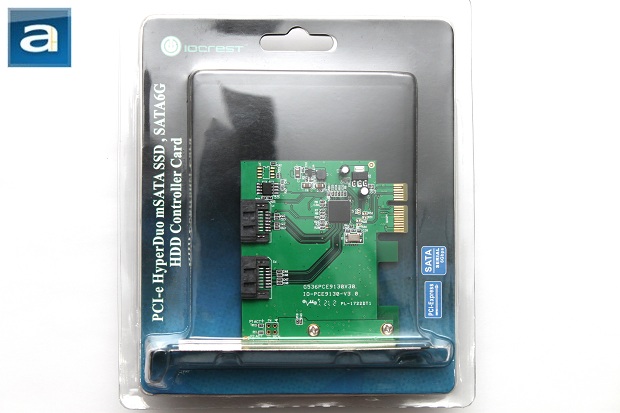 Pulling our SYBA HyperDuo SY-PEX40052 out of the box, you will see that the product is clipped and protected in a very simplistic plastic shell. For something of this nature, I would have expected more production such as using some type of foam for cushion. Its brand and model is plainly printed vertically on the left side, so it should be very simple to spot. Before we move on to see how this controller performs, let's take a look at the features and specifications, as obtained from the manufacturer's website:
Features
- Increase system overall performance by combining a high performance mini SAYA SSD and a low cost hard drive
- Maximum 6 Gb/s*
- Port Multiplier Compatible
- Hot swappable
- Install into standard height or low profile system
- Compatible with an SATA I, II, or III hard drive
- NCQ Support
Specifications
- 2 Internal SATA III Ports
- Port Multiplier Compatible
- Hot Swappable
- Maximum 6Gbits/sec Data Transfer Rate
- Install into Standard Height or Low Profile System
- Compatible with ay SATA I/II/III Hard Drive
- NCQ Support
- Support Raid 0,1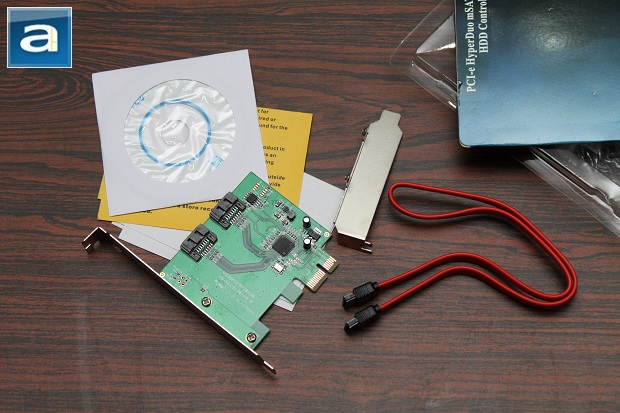 Popping the package open, you will receive the SYBA HyperDuo SY-PEX40052 itself, a low profile I/O mount, warranty information, user manual, and a driver CD. Both the driver and the user manual can be downloaded from their website, but it's nice to see that they have provided a CD and a small manual for those that prefer that instead.
---
Page Index
1. Introduction and Specifications
2.
A Closer Look, Installation, Test System
3.
Benchmark: AIDA64 Disk Benchmark
4.
Benchmark: ATTO Disk Benchmark
5.
Benchmark: Crystal Disk Mark 3.0
6.
Benchmark: PassMark PerformanceTest 7.0
7.
Conclusion