By: Aaron Lai
June 3, 2022
Sometimes I am reminded to take a step back and look at the past to learn from history, whether it is in my own life or in the life of others. It really helps to ensure you can find strategies to approach similar problems while also avoiding repeating mistakes. On the other hand, this is also only useful if you are looking forward to where you are going. I was reminded of this necessity of this a few weeks back when I was in an office for a meeting during the day. As the meeting was near the end of the day and I wanted to get out to avoid the rush hour traffic coming home, I was signing out and not looking where I was going. To preface this, this office building held a small company with everyone working in the main area. There were many glass walls, including several fishbowl-like conference rooms. Worse of all, the entrance was also enclosed by a glass mudroom. As such, the writing was on the wall to what happened next: I ran full speed into the glass wall, thinking it was a glass door to the exit. I was so shocked I fell down in a daze. I could tell everyone was looking right at me and someone quickly asked if I was alright. All I could do was laugh nervously, before running out in the parking lot to hide in my car and nurse my pain, both physical and emotional. Needless to say, I do not think I would want to go back to that office anytime soon. However, it brings up an important point that as much as we should reflect on our past, we should also be ready for what is in front of us. Today, we have the Thermaltake TOUGHLIQUID Ultra 360, which is the extended version of the TOUGHLIQUID Ultra 240 I reviewed in the past. While these coolers were actually released at the same time, what sort of things can we learn from our past review, and what differences can we expect with the 360mm version today? Let us read on to find out!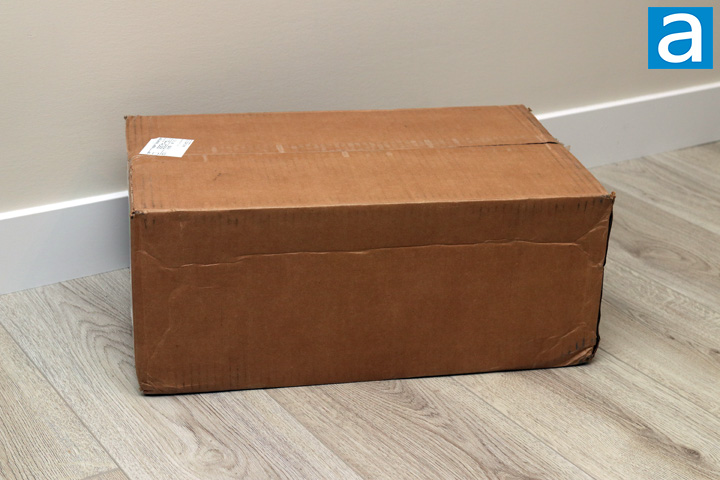 Today's review unit of the Thermaltake TOUGHLIQUID Ultra 360 arrived from Thermaltake's offices in City of Industry, California. Traveling with UPS and their Standard ground service, this box arrived in excellent condition to our offices in Calgary, Alberta, Canada. Inside, Thermaltake provided lots of packing material inside to ensure the safety of the contents inside. There are no bumps or bruises either on the outside of the box to suggest any damage during shipping.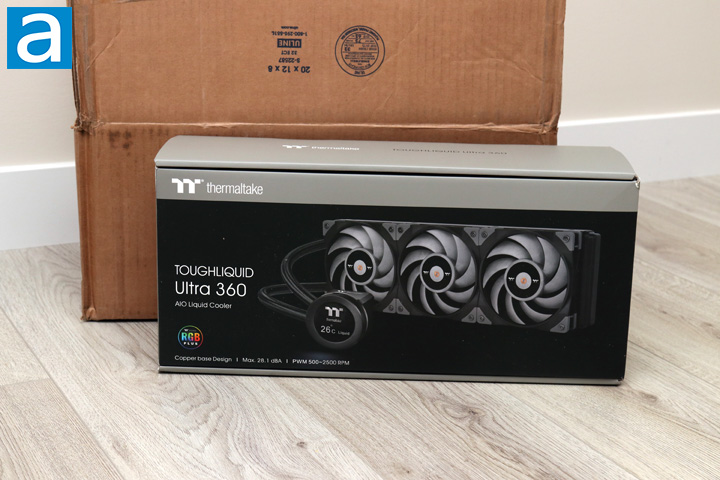 Taking a look at the retail container of the TOUGHLIQUID Ultra 360, you can see this looks very similar to the Ultra 240's container, with the primary difference being the size of the box. This is quite obvious why, as we have a larger radiator inside. The box has the same gray and black exterior with Thermaltake's "TT" branding seen around the box. The front shows off the AIO cooler with the large radiator and the screen-pump-water block combination illuminated at the front. On the side we have the name of the product, with some features highlighted underneath, including its copper base design, output noise, and operating fan speeds. We will see how these translate into performance, both thermally and audially, later in our test later on. Otherwise, around the box, we have some more specifications regarding the TOUGHLIQUID Ultra 360.
If you are interested, we have obtained the specifications from the manufacturer for your reading pleasure:
PUMP:
- Motor Speed: 3200 RPM
- Rated Voltage: 12V
- Rated Current: 0.38A
- Power Input: 4.56W
CPU DISPLAY:
- Rated Voltage: 5 V
- Power Input: 11.5 W
- Display Type: 2.1" TFT-LCD
- Display Resolution: 480x480 (RGB) px
DISPLAY SUPPORT:
- Interface: Micro USB to USB (9PIN)
- System Compatibility: Windows 7 / 8 / 8.1 / 10
FAN:
- Dimension : 120 x 120 x 25 mm
- Speed: PWM 500~2500 R.P.M (2510-4PIN)
- Noise Level: 28.1 dB-A
- Power Input: 2.76 W (one fan)
- Rated Voltage: 12 V
- Rated Current: 0.23A (one fan)
- Max. Air Flow: 72.69 CFM (one fan)
- Max. Pressure: 3.78 mm-H2O (one fan)
TUBE:
- Length: 400 mm
- Material: Rubber
RADIATOR:
- Dimension: 395 x 120 x 27 mm
- Material: Aluminum
COMPATIBILITY:
- CPU Socket: Intel LGA 2066/2011-3/2011/1700/1366/1200/1156/1155/1151/1150; AMD AM4/AM3+/AM3/AM2+/AM2/FM2/FM1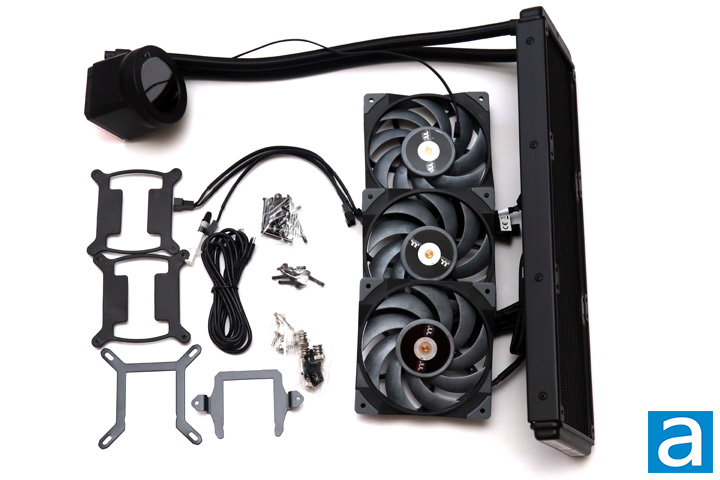 As with most all-in-one coolers, everything is held in a single cardboard carton inside the retail container. Most of the components are wrapped in plastic bags to prevent damage to the components. As you may have read in the compatibility portion of the specifications, the TOUGHLIQUID Ultra 360 supports most modern sockets, including Intel's LGA1700, LGA1200, LGA115x, LGA20xx, AMD's AM4, AM3+, and AM3, to name a few. The only modern socket that is missing is AMD's TR4, although this is understandable, considering how much larger the IHS area is compared to general consumer processors. In addition to the radiator, pump, and CPU block combination, we have another resealable bag filled with mounting equipment. Three Thermaltake TOUGHFAN 12 Turbo fans are included with the AIO unit. Otherwise, there is finally some documentation included to help users with the installation process, for both the hardware and software.
---
Page Index
1. Introduction, Packaging, Specifications
2.
A Closer Look - Hardware and Software; Installation
3.
Test Results
4.
Conclusion