By: Kenneth Kwok
November 24, 2009
It's surprising how time just flies by. It feels as it was just yesterday when the new term computer science classes just started for me, and one whole semester is already close to an end. Not to mention it has been a very long time since our last heatsink review, but it barely feels that way! One of the most notable was our Noctua NH-U12P review, written by APH Networks' Editor-in-Chief Jonathan Kwan, which achieved an APH:Renewal Award for its very balanced performance and general excellence back in the days. During this interval of time, we have observed a relatively slow development in terms of technological progression in the heatsink market. The same basic heatsink design concepts still apply today. It's still about efficiency and even more so, the effectiveness of the fan on the heatsink itself. In that regard, it is absolutely critical to strike an optimal balance between noise, fan speed, and airflow for a viable product in today's extremely competitive high end personal computer air cooling market. That said, there are newer heatsinks with more radical designs such as Thermaltake's V1 or Cooler Master's V10 on the market today. The funny thing is that their names sound a lot more like an automotive engine than a heatsink, haha. Too bad we can't equip them with variable valve timing or add a turbocharger in, otherwise imagine what they can do? Jokes aside, even with such products on the market, it did not render the inherent balance of simplicity, price, and effectiveness of tower heatsinks obsolete at all. In light of that, we took on the TMG IA1 tower heatsink from Thermaltake. But how will it perform in real life? Read on to find out.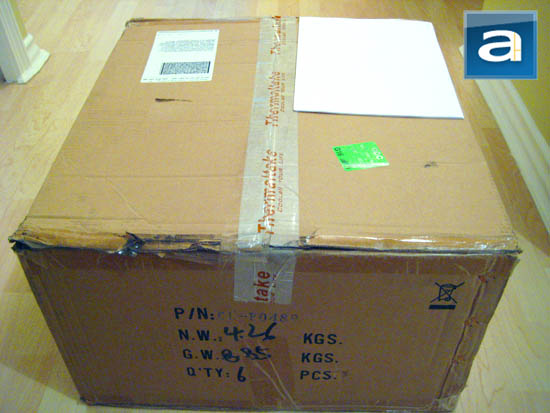 Our test unit came in an excessively large box from Thermaltake's offices in California, USA. UPS Standard, the preferred shipping method of Thermaltake, was used to send the item to us. As we stated in our Thermtaltake Litepower 450W report, the package was in less than stellar condition on arrival, most likely due to it being mishandled by UPS at some point. At least it still had the Thermaltake tape still left on it haha! Either way, the items inside such Thermaltake TMG IA1 we are reviewing today were still in a surprisingly good condition. That's thanks to a single piece of cardboard that partitioned its interior, and at same time kept the two items in their place.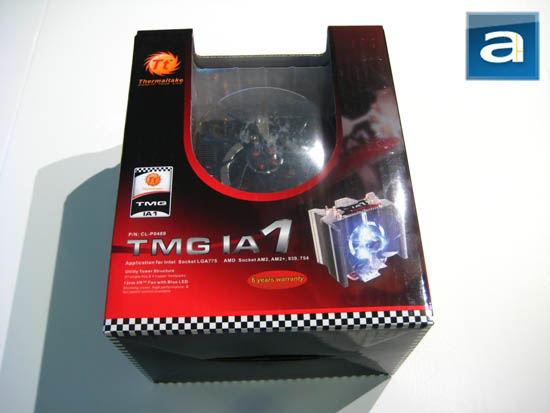 Just like our other Thermaltake evaluation products, the TMG IA1 came in retail packaging -- which still has the standard red, white and black Thermaltake design on the cubic-ish box. Interestingly, it looks almost identical to all other heatsink boxes from Thermaltake; even my MaxOrb box which I got back in March of last year has the same basic thematic design. Of course, what differs is the name and picture of the heatsink on the bottom right. Meanwhile, the box features a cutout for the TMG IA1 shaped in a U shaped opening from the top to the bottom of the heatsink fan that resides within. This type of packaging is especially appealing in retail stores, since it provides a live preview of the product without opening the box.
Before we go on, let's take a look at the specifications as taken from Thermaltake's website:
- Compatibility:
Intel® Core 2 Extreme (Socket LGA775)
Intel® Core 2 Quad (Socket LGA775)
Intel® Core 2 Duo (Socket LGA775)
Intel® Pentium D (Socket LGA775)
Intel® Pentium 4 (Socket LGA 775)
Intel® Celeron D (Socket LGA775)
Intel® Celeron (Socket LGA775)
AMD® Phenom (Socket AM2+)
AMD® Athlon 64 FX (Socket AM2/939)
AMD® Athlon 64 X2 (Socket AM2/939)
AMD® Athlon 64 (Socket AM2/939/754)
AMD® Sempron (Socket AM2/754)
- Heatsink Dimension:
140mm (L) x 97.37mm (W) x 160mm (H)
5.51 (L) x 3.83 (W) x 6.3 (H) in
- Heatsink Material: 51 Aluminum Fins w/ Copper & Aluminum Base
- Heatpipe: Ø 6mm x 4mm
- Fan Dimension: Ø 120mm x 25mm
- Fan Speed: 1300 ~ 2100RPM
- Noise Level: 20dBA
- Max. Air Flow: 70.28CFM
- Max. Air Pressure: 2.51mmH2O
- LED Fan: Blue LED
- Power Connector: 3 Pin
- Rated Voltage: 12V
- Started Voltage: 7V
- Rated Current: 0.12 ~ 0.55A
- Power Input: 6.6W
- MTBF: 30,000 Hours
- Weight: 684g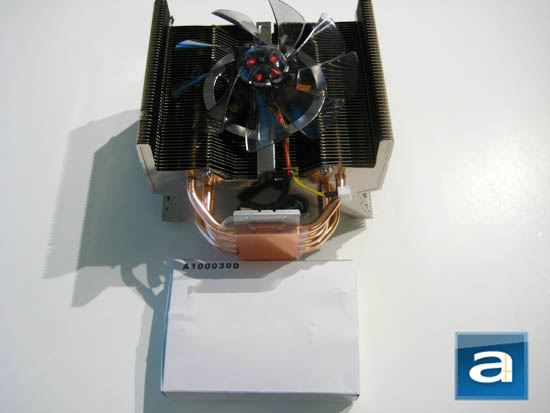 Out of the box is the Thermaltake TMG IA1, and another small cardboard box inside it. Both are initially encased in the snap open plastic shell, as seen from the front of the retail packaging. The plastic enclosure easily kept both entities in its place inside. Inside the small cardboard box as aforementioned, all the materials and instructions to install the heatsink were placed. Instructions were included for all current generation AMD and Intel processors; excluding the Intel Core i7 series of processors. Packaging-wise, Thermaltake did a good job of keeping the box simple and effective at the same time to allow for easy pick up and installation.
All of the accessories that came out of the white paper box were individually packaged in resealable plastic bags. It's amazing how all the accessories could fit so comfortably in such a tiny box, and still seems to be comfortable in accommodating all of it! Included inside are the usual instruction guide, warranty information, Key 3 Spirit sticker, and its explanation. The instruction guide is simple and is translated to many different languages as printed on a thin piece of slightly glossy paper.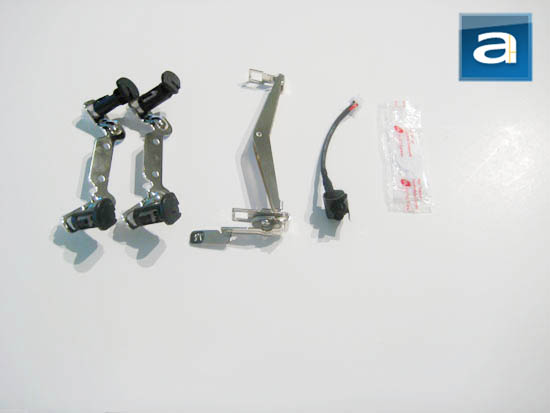 There are very little accessories included with the Thermaltake TMG IA1. That's actually a good thing, since it usually translates to simpler installation and usage. This heatsink is probably one of the easiest to install for something of its size. The included accessories shown above from left to right are as follows: Two LGA775 heatsink mounts with push pins, retention clip for AMD motherboards, thermal grease, and a variable fan speed controller.
The included fan speed controller is plugged into a two pin connector from the fan into the controller. The controller itself is nothing more than a variable resistor inside, with a plastic knob attached to a cable and a sticker on the outside. The sticker provides indication of direction that represents either an increase or decrease of RPM. Its length is very short, and will cause some problems that we will get into more details later on in the review.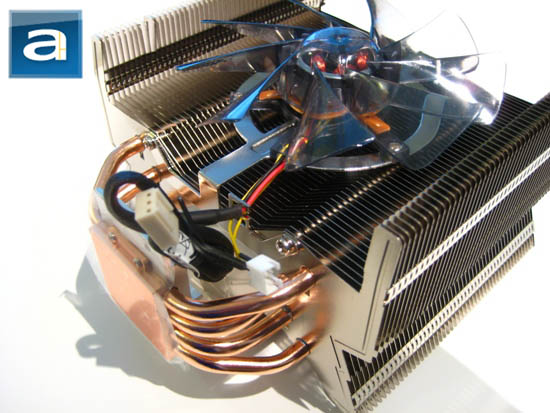 In terms of design, the Thermaltake TMG IA1 follows the footsteps of other tower heatsinks such as Noctua's NH-U12P and Thermalright's Ultra 120. Despite these similarities, there is one thing that sets this heatsink apart from the noted designs: Thermaltake chose to install the fan directly onto the heatsink itself; using a non-removable 120mm intake unit. The exposed fan is made of transparent plastic with no frame, along with blue LEDs integrated into it to light up your case. They are there for style, and makes the case interior look more dazzling to those with windowed case and wants some cool lighting effects.
Two cables route from the bottom of the fan; one being the standard three pin motherboard fan cable, and a second two pin connector for attaching the fan speed controller we have discussed earlier about. The fan speed controller is a nice touch to allow for the adjustment of the RPM on the fly. On the other hand, while I did not expect the fan speed controller to be implemented outside of the case, I actually did expect it to be either mounted on the cooler itself similar to the Thermaltake MaxOrb -- or a long enough cable to mount or stick it to the interior of the case. Both are not possible since the cable is too short; this makes the fan speed controller next to useless because it is very hard to place anywhere in the case in a practical manner.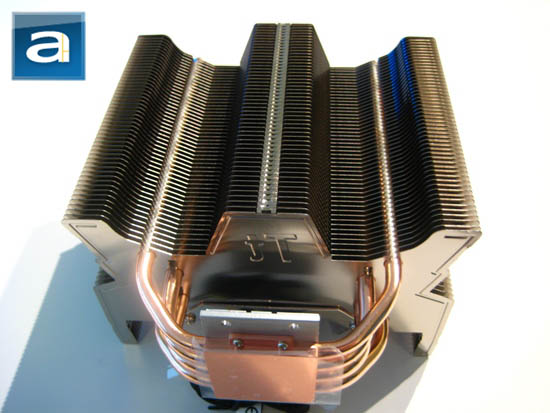 The design of the back of the heatsink is almost identical to the front, except it doesn't have a fan on this side. The best way to describe the back of the Thermaltake TMG IA1 is that it is in fact "W"-shaped. There are 51 aluminum fins that run from the top to the bottom; each one distributing heat into the surrounding air. Copper heatpipes were used through the array of fins through the center to accelerate the thermal transfer process. Cooler air is brought over the fins for cooling courtesy of the front mounted 120mm fan.
As aforementioned, the Thermaltake TMG IA1 is a hybrid copper and aluminum heatsink. Customarily, the copper is used for its heatpipes and base, while aluminum is used for the rest of the fins and overall construction of the heatsink. This is due to the thermal capabilities, weight and cost of such metals. Aluminum is used for the non-core contact elements due to its lighter weight. Heck, using a heatsink that weighs over a kilogram isn't a particularly bright idea haha. Aluminum has a specific heat capacity of 0.897J/g°c, certainly it's not the most optimal -- but due to its weight and cost, it is used in almost all heatsinks. Copper has a specific heat capacity of 0.385J/g°c which makes it a faster heat conductor, but the weight of copper vs. aluminum renders the construction of pure copper for this heatsink impractical. That's unless I want to go through Asus motherboard RMA service all over again. (Seriously my last experience with their RMA service isn't very encouraging.)
Unlike the Noctua NH-U12P, the Thermaltake TMG IA1 is not electroplated with nickel. That means that the lifetime of the metal will be lesser than that of the Noctua NH-U12P due to possible metal corrosion. To be honest, however, you probably won't be using your computer long enough until the metal on the heatsink corrodes to an unusable state! Also, seeing as how the fan is non-replaceable, if anything goes wrong we will be switching the heatsink way before the metal becomes unusable. Speaking of which, the TMG IA1 has a mean time before failure (MTBF) rating of 30000 hours. By my calculations, if you use the heatsink for approximately 10 hours a day, every day, it would take about eight years before it hits MTBF.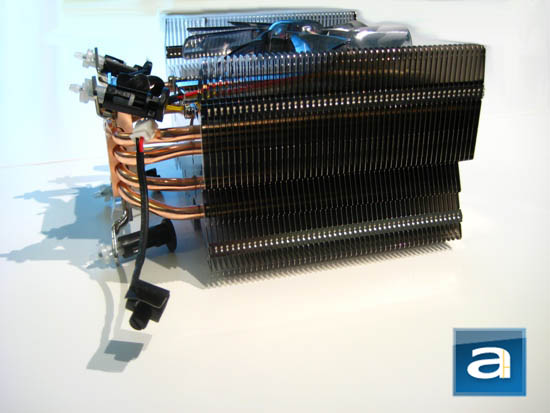 Four heatpipes goes in both directions to lead the heat away from the contact base to 51 aluminum fins above as I have previously mentioned. There is an empty gap between the base and the array of fins, as this allows for better airflow in areas of heat congestion and therefore better overall heat dissipation. This design has been proven effective in many tower heatsinks designs in the past, and this continues on in the market today. It simply makes sense to implement this design into Thermaltake's Thermal Maximum Grade series of coolers. The cooler air drawn by the intake fan then dissipates the heat out of the fins, and pushed out as exhaust heat outside of the user's chassis.
The shape of the side cannot be represented particularly by a single common mathematical equation. It is straight; and then it slopes down a bit lower to the rear of the Thermaltake TMG IA1. This design is most likely used to better dissipate heat in relation to airflow, and to accommodate the integrated 120mm LED fan. The build quality is overall very sound and quite sturdy.
Thermaltake's VR fan controller can also be seen here; as duly noted before -- the cable length is inadequate and seems to get in the way more than actually being useful. It is impossible to use it when the machine is operating without blocking the fan or injuring yourself from the aluminum fins haha. I would appreciate it if they reconsider the placement, and the quality of the included VR fan controller.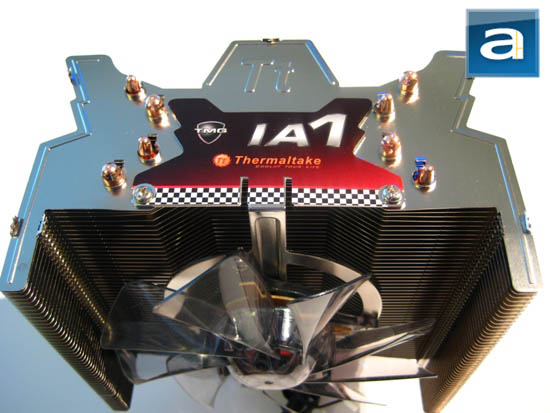 Taking a bird eye's view of the Thermaltake TMG IA1 gives a better look into the overall design of the heatsink. A plastic badge featuring the Thermaltake TMG IA1 branding is placed at the top. There is a variable edged gap between the fan and the fins on the heatsink, which allows more optimized airflow and increasingly uniform amount of air to reach each aluminum fin. Similar to the Noctua heatsink, only four of the heatpipes have aesthetic end caps, while the other four do not have them for some reason. I don't understand why companies don't just put finishing caps on all of them because it actually looks a lot better. Unlike the Noctua, the heatpipes still keep their copper color and are aligned in an "X" formation.
By the way, don't you think the heatsink in the photo angle above look like a Decepticon from Transformers?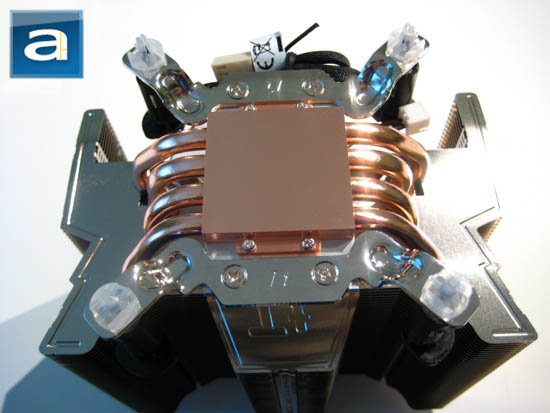 Thermaltake's logo can also be spotted again here engraved on the bottom; with two more added to the mix when the LGA775 attachments are added. It's really hard to not recognize the TMG IA1 as a Thermaltake product! Installation of these two retention clips requires only four screws in total. This design for easy installation is intuitive, and clears away the need to remove and reinstall the motherboard by using stock Intel mounting methods. The downside to that is that the clips are not very durable, and can be very frustrating to use at times.
The base of the Thermaltake TMG IA1 is remarkable as always; the copper is given a nice polish for a clean finish. There are no traces of machine marks or obvious dents of any sort. It's just shiny copper, and a seemingly flat surface. Thermal paste will still need to be used to fill in the microscopic valleys on the copper base. A small layer of metal is used to fix align the heatpipes in place. It's good to see that Thermaltake still keeps its dedication to quality, especially when it comes to the base of their heatsinks.
Installation was a breeze, since it uses the stock LGA775 pins. Although the heatsink is relatively large, simply apply thermal grease, spread it around, put the heatsink above the processor, and push in the clips -- a simple process. Lastly, plug in the three pin motherboard connector and voila! - the Thermaltake TMG IA1 is installed and ready to go. It couldn't get simpler than this for an Intel LGA775 heatsink installation.
-----------------------------------------
The Tests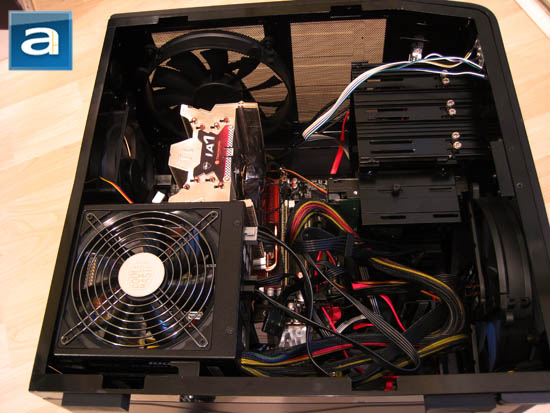 What kind of cabling is that? - Editor
It is because of the front mounted power supply. - Kenneth
Um... I bet I can do a better job that that regardless. - Editor
Meh, it could be worse with an additional IDE cable - Kenneth
Yeah just admit you're a noob at cabling, haha. - Editor
Fine I am noob at cabling, but you are noob with *cough* *cough* - Kenneth
Why are we having a conversation/argument in a review anyway? :S - Editor
Good point! XD - Kenneth
The following are the specifications of our test system, and relevant information towards our testing methods:
CPU: Intel Core 2 Quad Q9550
Motherboard: Asus P5E3-Deluxe
RAM: OCZ Gold PC3-10600 2x1GB
Graphics: Palit Radeon HD 4850 Sonic (512MB)
Case: NZXT Panzerbox (NZXT 120mm - Back, NZXT 190mm - Top back, NZXT 190mm - Front)
Power: Cooler Master Silent Pro M 1000W
Optical Drive: LG 16X DVD Burner
Hard Drive: Seagate Barracuda 7200.11 640GB
Operating System: Microsoft Windows 7 Professional
The computer remained in the same location in the same room throughout all tests. The room temperature is around 19c. Arctic Silver 5 thermal paste was used for its performance; all pastes were given a proper amount of time for them to fully settle. The fans on all heatsinks are directly connected to the motherboard's 4-pin connector, Asus Q-Fan "Optimal" setting enabled. Computer is turned on and idling for at least 1 hour for the idling tests. High CPU load results were obtained using Prime95 multithreaded in-place large FFTs test for a minimum of 30 minutes.
Sticking with the same philosophy as with our previous reviews, we have written about heatsinks, we did not compare them to a large array of them as we see that there are too many variables that makes it near impossible to have the exact same environments when we do our tests. Ranging from the room temperature, amount of thermal paste to the amount of airflow into and out of the case, we consider these variables that leave a substantial margin of error. Therefore the results from our tests should give a relative account of the performance of our heatsinks. However, it is also important to note that as before we will be looking at the more important aspects of engineering, build, noise and performance in relation to idle/load as these factors are more controlled and leads to a much better product then just comparing to other heatsinks alone.
To display a relative temperature difference between heatsinks, we chose the OCZ Vendetta as our second heatsink in our comparison today. It is a budget heatsink that performs relatively well for its price, and will help in our temperature as well as RPM tests for a better understanding of the performance numbers of our Thermaltake TMG IA1.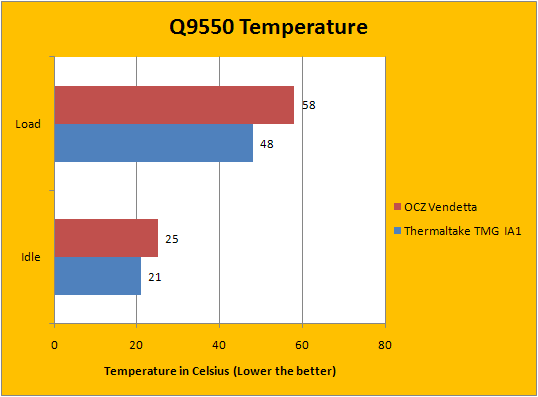 When we first took a look at our test results, we were stunned by the temperatures we got on idling. The OCZ Vendetta has an impressive idling temperature of 25c. Just when we thought we had a winner, the Thermaltake TMG IA1 shattered that and got an even more impressive temperature of 21c on idle. As far as air cooling goes, 2 degrees over ambient is actually pretty darn good! There were two major factors to our extraordinary results during idling: The surrounding temperature of 19c, in conjunction with the increased airflow thanks to our NZXT Panzerbox's dual 190mm fans. These two correlated factors led to these excellent results, and really reflects on the effectiveness of both of our compared heatsinks. However, the Thermaltake TMG IA1 with its 120mm fan easily outperformed the OCZ Vendetta, which has a slightly smaller fan at 92mm.
The performance of the Thermaltake TMG IA1 shone again in our load tests. The recorded load temperature is pegged at 48c, compared to 58c of my OCZ Vendetta. The 10c makes a huge difference when running CPU intensive programs, as far as the primary purpose of a heatsink goes this is very significant! What impressed us the most about it has to be the airflow of the Thermaltake TMG IA1. Although the fan is non-removable, the performance was surprisingly good in our load test to add to the excellent thermal design of the TMG IA1 shape. Considering a Q9550 with a stock Intel heatsink/fan would have easily been over 60c, there is great potential and performance to be had in the TMG IA1.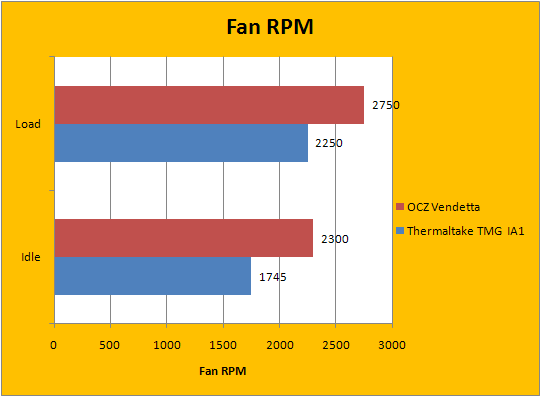 Differences between the fan speeds are quite apparent in the final stage of our testing. This is due to the fan size difference; with the Thermaltake TMG IA1 utilizing a 120mm fan, while the OCZ Vendetta uses a 92mm fan. Running at 1745RPM on idle compared to 2300RPM of the OCZ Vendetta, its airflow is more or less comparable (But at lower RPM) and thus allows the heatsink fan to be considerably quieter than the Vendetta. During full load, the RPM shoots up to 2250rpm, which is still ~500rpm less than the recorded 2750rpm of the OCZ Vendetta. Even at 2250, the noise is still generally acceptable, and the cooling as we saw before is much better than that of the OCZ Vendetta -- and of course significantly better than the Intel stock heatsink.
Speaking of noise, with an implemented fan speed controller, the Thermaltake TMG IA1 makes it easy to suit all purposes from those looking to have the coolest CPU to the ones wanting the less noise from their PC -- and even those who want to strike a balance between the two. With great performance on both idle and load, the noise is acceptable, even on the highest setting -- although it does tend to get a bit louder as expect. However, I found the middle setting to be optimal and gives both good performance and decent amounts of noise. If I had to rate the Thermaltake TMG IA1 on a scale of 1 to 10 where 1 is quietest and where 10 is loudest, I would rate it at 4.5 at optimal settings. Overall, the noise factor is generally pretty good.
-----------------------------------------
The Thermaltake TMG IA1 is actually a pretty good heatsink. From its solid construction, to its finely finished base, not only is the build quality great, but so is the recorded performance of the heatsink. Noise is generally acceptable, but cannot be classified into the 'silent PC' area without undervolting it all the way. With the added extras such as a separate fan controller (Albeit not very usable due to the short length), adding to the already fully equipped package, there is not much going against the heatsink to be honest! On the other hand, there can still be some minor adjustments to makes this an even better product. First off would be allowing a separately mounted fan instead of the non-removable integrated unit. This fan was quiet at low RPMs, but did get noticeably louder on load as it spins up. Aftermarket fans may also increase the performance of the heatsink, and could allow for more user customization. The appeal of integrated LEDs are ones of those things that are solely dependent on the user. The fan controller would also be a bit more useful if the cables were a bit longer; I found it was almost always dangerous to attempt to change the fan speed when the fan was in motion. All in all, the Thermaltake TMG IA1 makes a decent entry into today's already saturated CPU cooling market.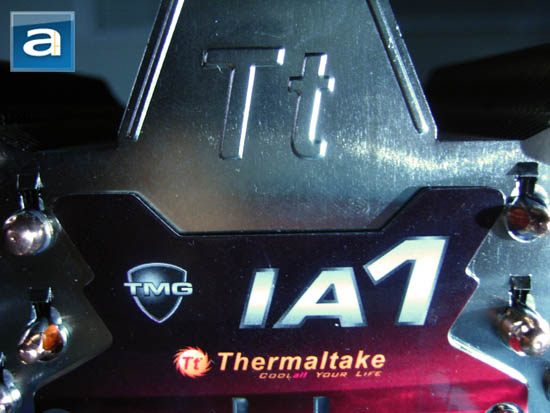 Special thanks to Ramsom over at Thermaltake for making this review possible.
APH Review Focus Summary:
6/10 means A product with its advantages, but drawbacks should not be ignored before purchasing.
7/10 means Great product with many advantages and certain insignificant drawbacks; but should be considered before purchasing.
-- Final APH Numeric Rating is 6.4/10
Please note that the APH Numeric Rating system is based off our proprietary guidelines in the Review Focus, and should not be compared to other sites.
The Thermaltake TMG IA1 is truly a worthy competitor in today's market with a great balance in build quality and performance. Fan noise could use some improvement, however.