By: Jonathan Kwan
April 5, 2019
As a citizen of a free and democratic society, I have voted in every single election I could since I turned 18. I used to enjoy watching political campaigns, but in the last little while, I have noticed a dramatic shift in the way people do politics. When I was a kid long before I could vote, I remember campaigns were a debate of policy. The underlying principle is while candidates differ on how to make society better, they had a common goal and a mutual respect for each other. Nowadays, things are different here in Canada. Instead of policy debates, some politicians and parties simply resort to digging up decades-old material, quoting others out of context, or a combination of both to slander their opponents to try to convince the public how terrible they are as a person when in fact they are not. In many ways, I find character assassinating others because they are competing with you for a job is sick. Maybe this is why politics and politicians, once something of admirable calling, have such a bad name in today's world. Another thing that has a bad name in today's world -- at least for audiophiles -- is any product with "bass" in its name. More often than not, they are low quality electronics that blasts muffled low frequency noise and nothing else for fake enthusiasts who know nothing about sound. When V-MODA announced their BassFit Wireless, I caught myself raising an eyebrow. On one hand, I have great respect for the company because I know they produce quality products; on the other hand, I still could not get away from the fact anything with "bass" in its name is probably a terrible product. Will the BassFit Wireless redeem the name? Read on to find out!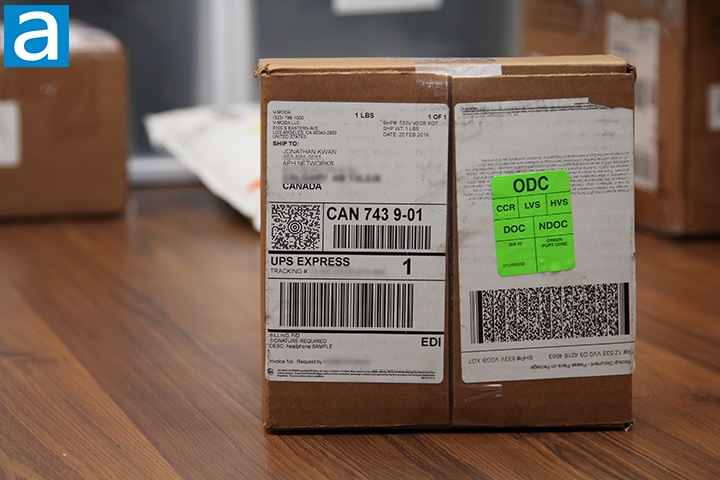 Our review unit of the V-MODA BassFit Wireless came in a small brown corrugated cardboard box from the company's American headquarters in Los Angeles, California, USA to us here in Calgary, Alberta, Canada. It has been a while since we have last reviewed V-MODA earphones; with the last pair being the V-MODA Forza Metallo. Using UPS Express, everything arrived in perfect condition for our review today.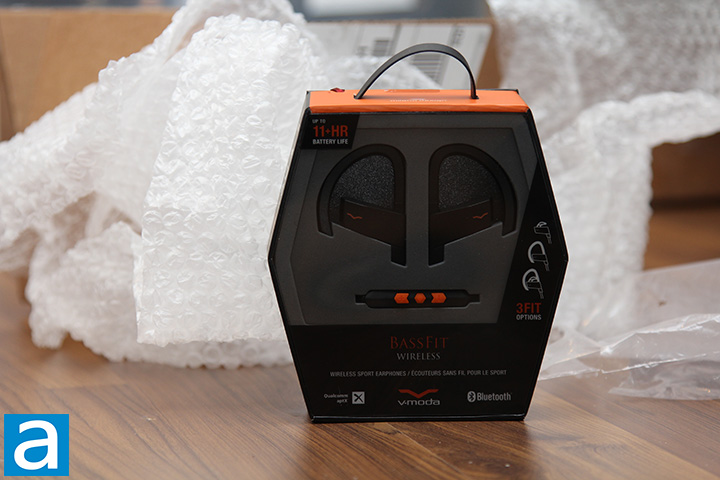 V-MODA has always been a company that is heavy on both style and substance, and this is evident right from the retail packaging. Consistent with the rest of V-MODA's current product lineup, at first glance, the BassFit Wireless's box is conventional in a sense it does not try to be different for the sake of being different. At the same time, it is unconventional in a sense that it is well designed in its unique details. The thick cardboard walls are constructed into a hexagonal shaped box; with colors well-coordinated in a mix of mainly orange and black shades. In front, you will see a both sides of the V-MODA BassFit Wireless in addition to the three-button remote through a window, as you can see in our photo above. Below the window is the product name and the line "Wireless Sport Earphones". Along the bottom edge, we see various logos like Qualcomm aptX, Bluetooth, and V-MODA itself, followed by the three fit options on the right. A tab at the top points your attention to its 11-hour battery life. A rubber handle on top is present for some style, while the inner packaging is sealed by a ribbon you have to cut. Finally, feature highlights, compatibility, and what is included can be found on the remaining sides, along with some specifications.
Speaking of specifications, before we move on, let us take a look at the specifications of the V-MODA BassFit Wireless, as obtained from the manufacturer's website:
Type: Bluetooth in-ear type headphones with remote and mic for sport
Speaker driver: 10mm dynamic driver
Impedance: 14 ohm
Frequency response: 20Hz - 20,000Hz
Headphone sensitivity: 100dB @ 1kHz 1mW
Microphone sensitivity: -42dB @ 1kHz
Battery: Li-ion rechargeable, up to 11+ hours playback + Fast Charge (15 mins = 2.5hrs playback)
Bluetooth range: 10m (33 feet)
Bluetooth audio codecs: Qualcomm aptX, AAC, SBC
Dual-pairing: Available with 2 devices at the same time
Weight: 17g (with fittings, without fins or hooks)
iOS/Android Battery Indicator Support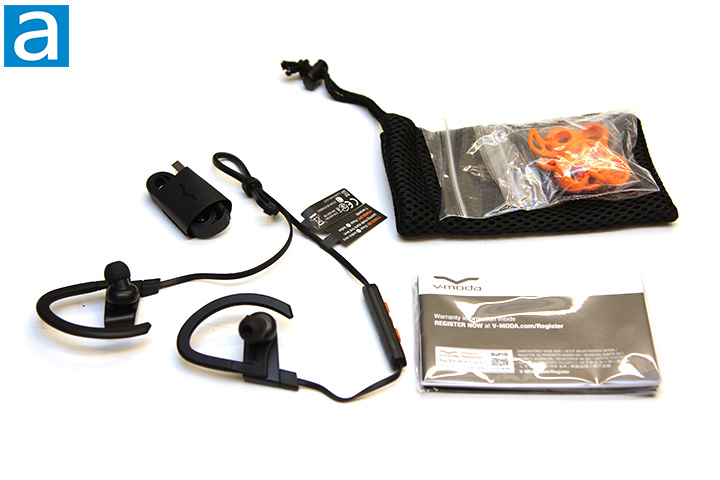 Upon opening the box, you will be greeted by its all black foam padded interior. From a practical standpoint, it protects its contents well. From an aesthetics standpoint, it looks very classy, just the way the company meant for it to be. Out of the box, you will receive the V-MODA BassFit Wireless earphones in front with the some of the accessories in the cavity below. The rest of the accessories are placed in a separate resealable plastic bag. These accessories include two of each of the four sizes (XS, S, M, and L) of Bliss 3.0 fittings for a total of eight sleeves, three pairs of ActiveFlex sport fins in different sizes, two detachable sport ear hooks, portable pouch, USB to Micro USB charging cable, and a user manual. It comes with quite a bit of accessories to accommodate a wide range of user preferences. The portable pouch looks almost exactly the same as the one that came with the V-MODA Forza, and is held closed by a drawstring. Having stuff like an OEM portable pouch is absolutely invaluable for those who plan to take the V-MODA BassFit Wireless out the front door of their house. Not only does it keep your $130 earphones protected, but I also found the case is just as fashionable as the earphones itself.
---
Page Index
1. Introduction, Packaging, Specifications
2.
Physical Look - Hardware
3.
Subjective Audio Analysis
4.
Conclusion