By: Jonathan Kwan
March 17, 2017
Back in December, my colleague Hai talked about my experience at the 84th IEEE Vehicular Technology Conference in his OLALA iDisk ID100 64GB review. Although it was kind of unconventional how he told one of my stories in his review rather than his own, since I did not have a chance to talk about that until now, I would like to take this opportunity to tell my side of the story. At the conference, Apple set up a hiring booth to look for academics with a background in wireless technology. Like any normal person seeing representatives from Apple, I initiated a conversation with the human resources manager. "I have an iPhone and a MacBook Pro," I began, deliberately avoiding the fact I primarily boot Windows 10 on the latter. "That is awesome," she replied. "Which iPhone do you have?" Without really thinking twice, I jokingly teased, "The one with a headphone jack." For two seconds that felt like an eternity, we both paused and looked at each other, unsure what to say next. At that point, I realized I probably lost all my chances at getting a job at Apple to design the next big thing already. There are a couple of things you can draw from this story. Firstly, do not make fun of products from a company you are trying to build a connection with. Secondly, the 3.5mm headphone jack we have all come to love is indeed going the way of the dodo bird. As we stop for a moment of silence to celebrate everything the connector has brought us since the 1950s, today, we will review V-MODA's Forza Metallo: An in-ear monitor designed with everything pre-iPhone 7 in mind. And yes, in case you are wondering, there is a wireless version available from the company.
Our review unit of the V-MODA Forza Metallo came in the same box as the V-MODA Forza my colleague Aaron Lai is reviewing. Originally, I was expecting either the Forza Metallo or the Forza, but we here at APH Networks never complain when we get an "or" substituted for an "and", haha. As always, the package came from V-MODA's American headquarters in Los Angeles, California, USA to us here in Calgary, Alberta, Canada. Using UPS Expedited, everything arrived in perfect condition for our review today. To get the ball rolling, I unsealed the package, and got straight to work.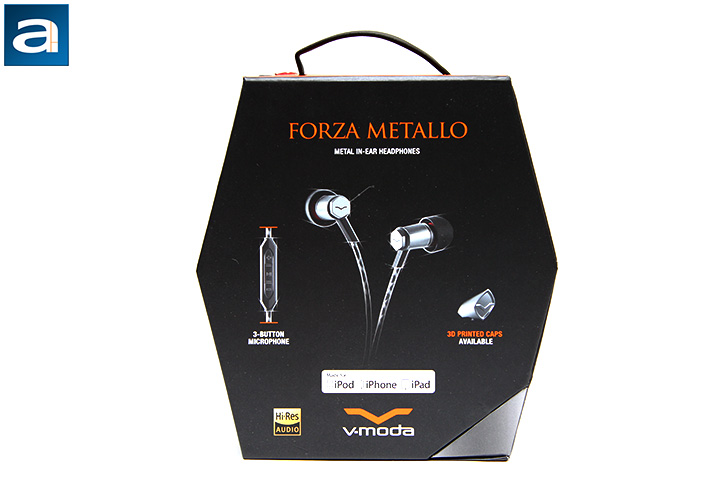 V-MODA has always been a company that is heavy on both style and substance, and this is evident right from the retail packaging. Consistent with the rest of V-MODA's current product lineup, at first glance, the Forza Metallo's box is conventional in a sense it does not try to be different for the sake of being different. At the same time, it is unconventional in a sense that it is well designed in its unique details. The thick cardboard walls are constructed into a hexagonal shaped box; with colors well-coordinated in a mix of mainly orange and black shades. In front, you will see a photo of both sides of the V-MODA Forza Metallo in addition to the three-button remote, as you can see in our photo above. Above the photo in the center is the product name, along with the line "Metal In-Ear Headphones" -- indicating this is not the same as the regular Forza. Below the photo is a Made for iPod/iPhone/iPad certification and the company's logo. An Android version is also available. A rubber handle at the top is present for some style, while the inner packaging is sealed by a ribbon you have to cut. Finally, feature highlights and compatibility can be found on the remaining sides, along with some specifications.
Speaking of specifications, before we move on, let us take a look at the specifications of the V-MODA Forza Metallo, as obtained from the manufacturer's website:
What's Included?
- Forza Metallo
- Designed in Italy vegan leather carrying pouch
- 8 pairs of BLISS™ 3.0 fittings in XS, pre-installed S, M and L sizes
- 3 pairs of ActiveFlex™ sport fins
- 1 pair of ActiveFlex™ sport ear hooks
- 2 pairs of RemixRings
- Six-Star Service
- 2-Year Premier Warranty
- 50% Immortal Life Program Replacement
Speaker Driver - 5.8mm neodymium dynamic-type
Frequency Response - 20Hz – 40,000 Hz
Sensitivity - 99dB @1kHz 1mW
Microphone Sensitivity - -42dB @ 1kHz
Cables - Ultra-reinforced, 32" plug to y-connector, 12.83" even-length earphone cables
Plug - 45 degree, 24k gold-plated, 3.5mm
Weight - 14g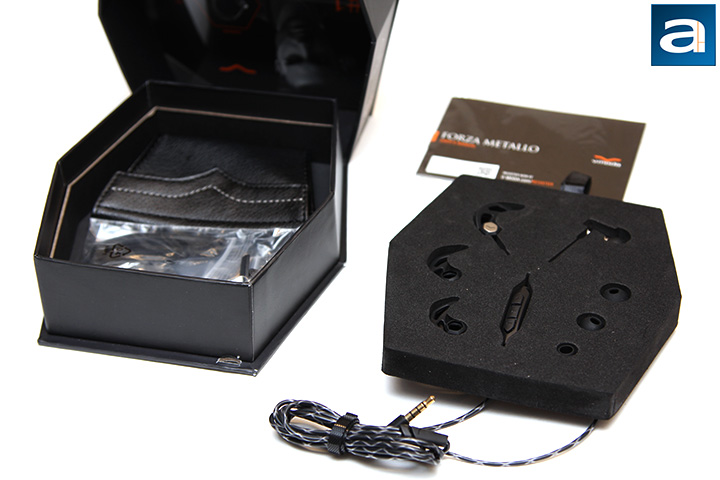 Upon opening the box, you will be greeted by its all black foam padded interior. From a practical standpoint, it protects its contents well. From an aesthetics standpoint, it looks very classy, just the way the company meant for it to be. Out of the box, you will receive the V-MODA Forza Metallo earphones in front, with the some of the accessories in the cavities on the side. The rest of the accessories are placed in a separate resealable plastic bag. These accessories include four sizes (XS, S, M, and L) of Bliss 3.0 fittings in both black and clear for a total of eight sleeves, three pairs of ActiveFlex sport fins in different sizes, ActiveFlex sport earhooks, leather case, and a user manual. It comes with quite a bit accessories to accommodate a wide range of user preferences. The leather pouch looks almost exactly the same as the one that came with the Zn, which has white stitching, and is held closed by magnets. Having stuff like an OEM leather pouch is absolutely invaluable for those who plan to take the Forza Metallo out the front door of their house. Not only does it keep your $130 earphones protected, but I also found the case is just as fashionable as the earphones itself.
---
Page Index
1. Introduction, Packaging, Specifications
2.
Physical Look - Hardware
3.
Subjective Audio Analysis
4.
Conclusion