By: Aaron Lai
January 24, 2020
Whenever I have items to buy on my list, it often is at least a decision that lasts a week if not longer. This does not mean I do not have spontaneous purchases. However, if it is something I really am invested in, I would often spend lots of time researching the product, determining which is the best, and waiting for prices to reach a point where I am willing to commit. It might be seen as a tad obsessive, and I think I could reduce the amount of time doing this sort of researching, but I also like to make an informed purchasing decision. I think this is part of why I like writing reviews so much, as others too can make informed purchasing decisions based on the products we look at. On the other hand, I have a friend who just buys whenever. He does do his research on what he wants, but when it comes to price, he does not care to wait for a sale and will just buy it when it is available. In some ways, I can understand his thought process, because it is a tradeoff between saving money and the presumable extra time to enjoy the product earlier. I personally feel weird about his ways of buying, because I think it is a good idea to find the best price for the product. Getting the best performance for your money is something I value and I think it is the idea behind the Western Digital Blue SN550 NVMe SSD 1TB. It was only last year that Western Digital unveiled their budget NVMe offering that garnered positive feedback from reviewers and users for its value proposition. Since then, Western Digital has now refreshed their newest WD Blue NVMe drive in the form of the SN550. What improvements have they made since their first release, and is it still something that offers a great bang for the buck? Let us read on to find out!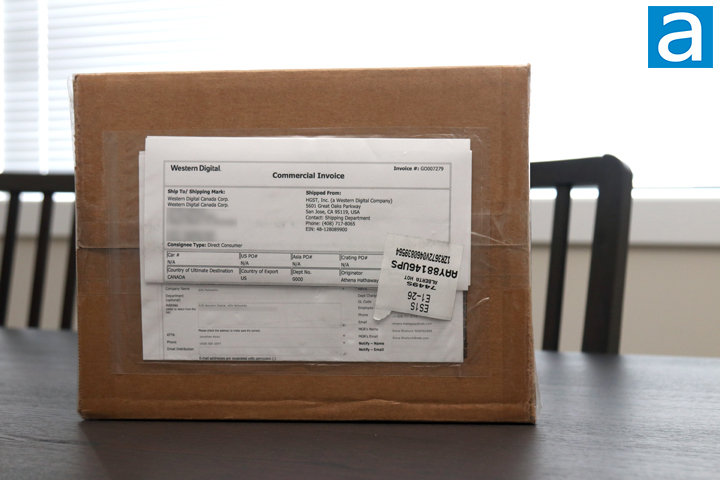 Today's review unit of the Western Digital Blue SN550 NVMe SSD 1TB arrived from Western Digital's offices in San Jose, California. Traveling with UPS and their Saver shipping option, this product arrived in a brown corrugated cardboard box with little to no damage on it. The box was a bit bigger than I expected, but thankfully they packed it with enough packing paper to ensure there was no damage to the product itself. Otherwise, I grabbed a knife and opened up this box to see what was inside.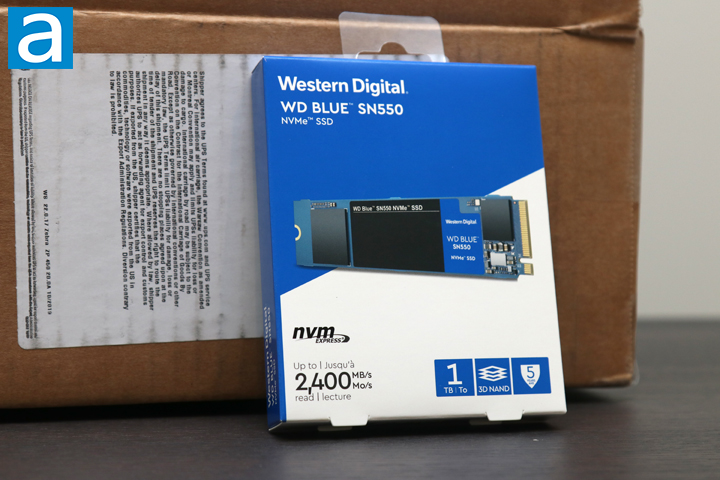 If you see the retail packaging of the SN550, you might think this is similar to its predecessor, the WD Blue SN500. Indeed, the box size and colors used are the same. The front shows off the drive in a scaled down form. Other specifications on the front show that this indeed follows the NVM Express specifications, with up to a read speed of 2400MB/s. Other front box specifications include this is indeed a 1TB drive, uses 3D NAND technology, and offers a five-year warranty. Around the back is a small window, so you can see that the drive is inside, and some fine print. There is not much else to explore, so it is time to get into the product.
Before doing so, I have obtained the specifications from the manufacturer's website for your viewing pleasure:
Specifications
Interface: PCIe Gen3 8Gb/s, up to 4 Lanes
Formatted Capacity: 1TB
Performance
Sequential Read MB/s up to (Q=32, T=1): 2,400
Sequential Write MB/s up to (Q=32, T=1): 1950
Random Read 4KB IOPS up to (Q=32, T=8): 410K
Random Write 4KB IOPS up to (Q=32, T=8): 405K
Endurance (TBW): 600TBW
Power
Average Active Power (mW): 75mW
Low Power (PS3) (mW): 20
Maximum Operating Power: 4.9W
Sleep (PS4) (low power): 5mW
Reliability
MTTF: 1.7M hours
Environmental
Operating Temperature: 32ºF to 158ºF (0ºC to 70ºC)
Non-operating Temperature: -67ºF to 185ºF (-55ºC to 85ºC)
Non-Operating Vibration: 4.9 gRMS, 7-800 Hz, 3 axes
Operating Vibration: 5 gRMS, 10-2000 Hz, 3 axes
Maximum Operating Power: 4.9W
Shock: 1,500G @0.5 ms half sine
Certifications: UL, TUV, FCC, BSMI, CE, KCC, RCM, Morocco, VCCI and CAN ICES-3(B)/NMB-3(B)
Physical Dimensions M.2 2280
Form Factor: M.2 2280
Length: 82 ± 0.15mm
Width: 22 ± 0.15mm
Height: 2.38mm
Weight: 6.5g + 1g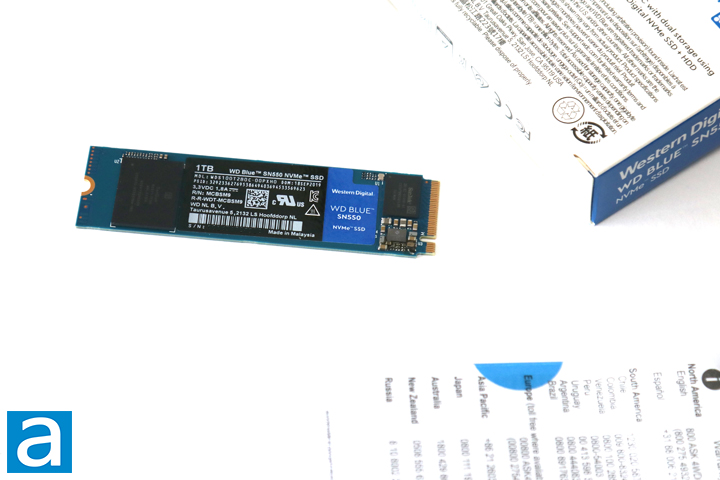 If you were expecting a lot of accessories to come with the Western Digital Blue SN550 NVMe SSD 1TB, then I am sorry to say there is not much here in this department. Western Digital has stuck their small M.2 drive in the middle of two clamshell plastic cases to protect it while in transit. In addition, we have one booklet of information regarding warranty and other details. As you already know, Western Digital includes a five-year warranty, the same that was provided with their preceding model.
---
Page Index
1. Introduction, Packaging, Specifications
2.
A Closer Look, Test System
3.
Benchmark: AIDA64 Disk Benchmark
4.
Benchmark: ATTO Disk Benchmark
5.
Benchmark: Crystal Disk Mark 6.0
6.
Benchmark: HD Tach 3.0.1.0
7.
Benchmark: HD Tune Pro 5.70
8.
Benchmark: PassMark PerformanceTest 9.0
9.
Benchmark: PCMark 7
10.
Benchmark: PCMark 8
11.
Conclusion