Page 2 - A Closer Look, Test System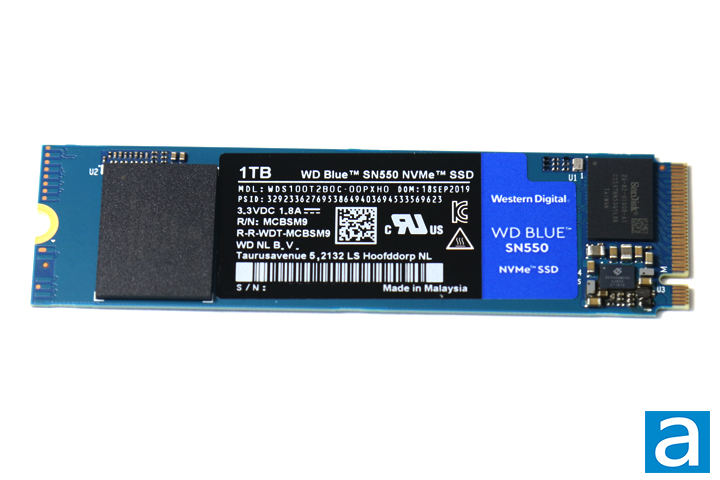 The Western Digital Blue SN550 NVMe SSD comes in a very similar design to the original SN500, which includes a similar looking label. However, on closer inspection, you will notice some parts on the drive itself have moved around on the WD Blue SN550. According to Western Digital, this is actually to improve the thermals of this SSD by relocating the NAND chip away from the controller. From a visual standpoint, M.2 drives are quite unlike any traditional 2.5" drive. Specifically, the Western Digital Blue SN550 NVMe SSD is an M.2 2280 SSD. This physical standard of 2280 refers to its physical size of 22mm by 80mm. The components are located on the dark teal printed circuit board to the side of the branding sticker, which we will take a detailed look at shortly. The Western Digital Blue SN550 NVMe SSD 1TB works on the NVMe 1.3 logical device interface and plugs into compatible motherboards directly. Electrically, M.2 NVMe interfaces with PCIe 3.0. The SN550 utilizes up to four lanes for a theoretical maximum of 4000MB/s bandwidth in each direction. This is one area that has been increased from the original WD Blue SN500, as this doubles the number of lanes available for transfer. The specified weight is a very light 6.5g for this drive. Just to note, Western Digital now sells three variants of the SN550 in 250GB, 500GB, and the larger 1TB size we have today.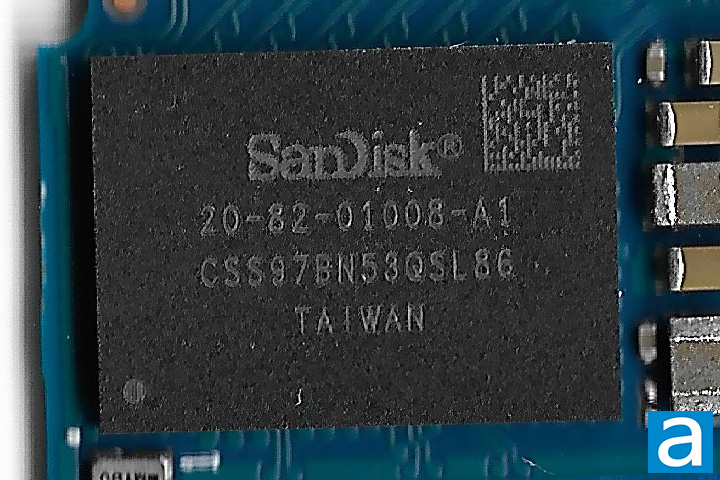 Once again, the sticker of the Western Digital Blue SN550 is located away from the components, revealing all of the necessary parts of the Western Digital Blue SN550 NVMe SSD 1TB. There are two main components to take note of. The first is the SanDisk branded controller of the drive labeled 20-82-01008-A1. This is an NVMe solution on the M.2 socket to overcome traditional SATA bottlenecks. There is no memory found on the drive, but rather the memory for the controller is located within the controller. This is a bit of a disadvantage to have no DRAM, as this can affect performance. In addition, some SSDs without DRAM may use HMB, or host memory buffer, to utilize the system's memory as a buffer location for faster access compared to flash NAND access. The SN550 however does not do this either. We will see the effects of this during our tests.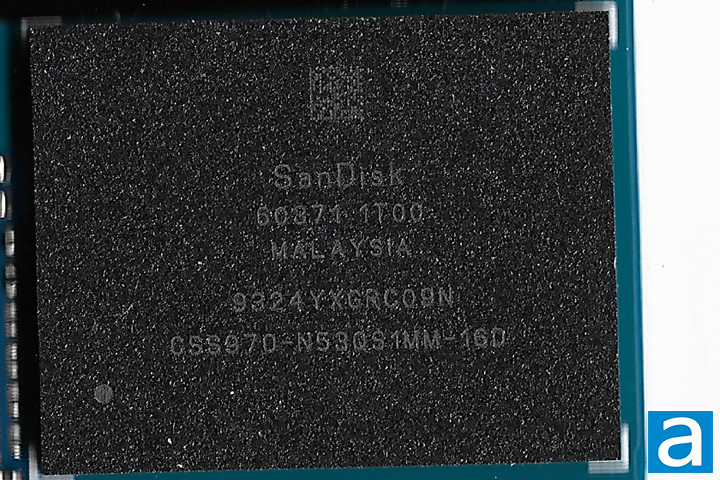 The larger black chip, the WD Blue SN550's flash NAND memory, is a SanDisk branded 96-layer BiCS4 3D triple-level cells chip. Its total rated write endurance is a whopping 600TB, which equates to about 329GB per day for five years. This is really impressive for a consumer drive, as it boasts the same drive writes per day, or DWPD, as other Western Digital SSDs. The Blue SN550 1TB's rated power consumption of 20mW low power, 4.9W peak power, and 5mW sleep is very efficient. 24GB out of the 1024GB total capacity -- just under 3% -- is provisioned for the drive controller for overhead, so the actual usable space is 1TB, as advertised. You will see 931.50GB in Windows. On the back side, you will see there are no components or labels of interest.
Specified at 2400MB/s read, 1950MB/s write, and up to 410K IOPS over NVMe 1.3 on PCIe 3.0 x4, these figures are a step up from the last generation of Western Digital Blue NVMe SSDs, though these are still not exactly mind-blowing numbers. This is still quite a bit faster than SATA 6Gb/s solid state drives. To see how it translates to numbers in our benchmarks, we will pit this middle of the ground SSD against other PCI Express based SSDs from popular manufacturers like ADATA, Crucial, Gigabyte, Kingston, Patriot, and Western Digital in the next nine pages or so.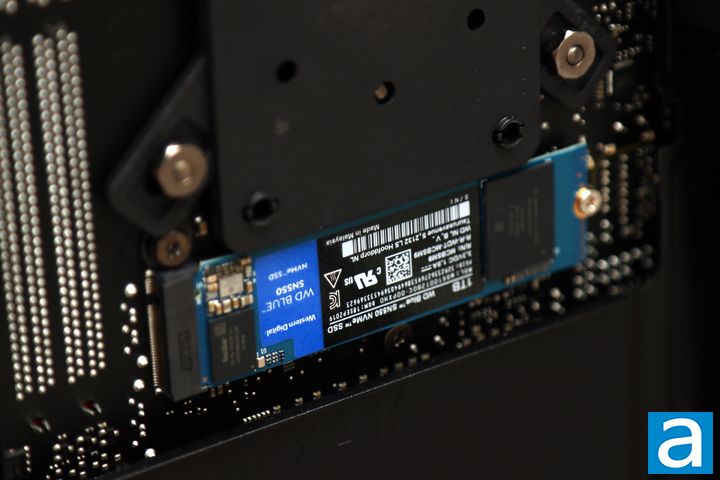 Our test configuration is as follows:
CPU: Intel Core i5-6600K
CPU Cooling: CRYORIG C7
Motherboard: Gigabyte GA-Z170N-Gaming 5
RAM: Patriot Viper 4 Blackout DDR4-3600 2x8GB
Graphics: EVGA GeForce GTX 760 2GB
Chassis: NZXT H210i
Storage: Gigabyte UD PRO 256GB
Power: Seasonic PRIME 600 Titanium Fanless 600W
Operating System: Microsoft Windows 10 Pro
Compared Hardware:
- Western Digital Blue SN550 NVMe SSD 1TB
- ADATA XPG SX8200 Pro 512GB
- Crucial P1 1TB
- Crucial P1 500GB
- Gigabyte AORUS RGB AIC NVMe SSD 512GB
- Gigabyte M.2 PCIe SSD 256GB
- Kingston HyperX Predator PCIe 480GB
- OCZ RD400A 512GB
- OCZ RevoDrive 350 480GB
- Patriot Hellfire M.2 240GB
- Patriot Viper VPN100 512GB
- Seagate FireCuda 510 1TB
- Toshiba RC100 240GB
- Western Digital Black NVMe SSD 1TB
- Western Digital Black SN750 NVMe SSD 1TB
- Western Digital Blue SN500 NVMe SSD 500GB
---
Page Index
1.
Introduction, Packaging, Specifications
2. A Closer Look, Test System
3.
Benchmark: AIDA64 Disk Benchmark
4.
Benchmark: ATTO Disk Benchmark
5.
Benchmark: Crystal Disk Mark 6.0
6.
Benchmark: HD Tach 3.0.1.0
7.
Benchmark: HD Tune Pro 5.70
8.
Benchmark: PassMark PerformanceTest 9.0
9.
Benchmark: PCMark 7
10.
Benchmark: PCMark 8
11.
Conclusion