By: Jonathan Kwan
October 14, 2016
If you know a bit of Canadian history and politics, you will realize the province of Quebec is kind of a thing of its own. While the rest of Canada speaks English, have a common law legal system, and believes in a unified country, Quebec speaks French, have a civil law legal system, and always had movement that demands political sovereignty, but still wants money from the federal government. If you think the latter point is kind of ridiculous, the rest of the country thinks so, too. A few weeks ago, I was in Montreal for an academic conference, and being from Alberta, I decided it would be interesting to say a few things that would offend everyone from Quebec. "Justin Trudeau sucks," I began. "Oh no, you cannot say this here," my friend replied. Ignoring her, I continued. "Energy East is awesome. We need to build that pipeline." My friend began to sound a little agitated, but I did not even pause before I went on to the next thing. "Stephen Harper was the best Prime Minister we ever had. Do I have to remind you I paid for this street with all the equalization payments you guys received?" At that point, there was silence in the crowd, and I decided it would be wise for me to slowly back away from the conversation. Well, at least I succeeded in offending everyone in one shot. Nowadays, having one thing that does everything is way to go, whether it is your smartphone or making political jokes to offend people from another region. Today, we will take a look at another example of something that aims to do everything. The Western Digital My Passport Wireless Pro 2TB is an external hard drive with USB 3.0 and 802.11ac to transfer data, comes with an SD 3.0 card slot with automatic data import functions, be a power bank to charge your devices, and act as a portable media server -- the list goes on. But how well will the features work, and will it deliver in performance? We took one in to find out.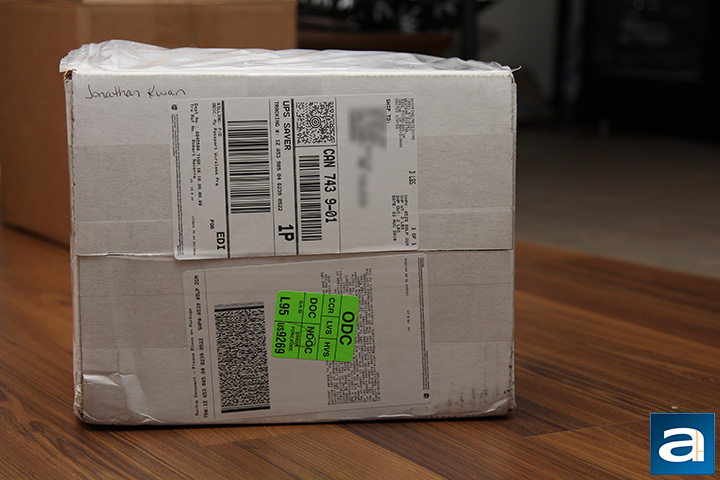 Our review unit of the Western Digital My Passport Wireless Pro 2TB came in a medium sized, white corrugated cardboard box from their American headquarters in Irvine, California, USA. Using the UPS Saver service, Western Digital's latest wireless external hard drive arrived quickly and safely to us here in Calgary, Alberta, Canada for our review today. To make no mistake who this package is for, someone wrote my name at the top left corner of the box, haha. Without further ado, I cut open the tape on the box, and got to work with my camera.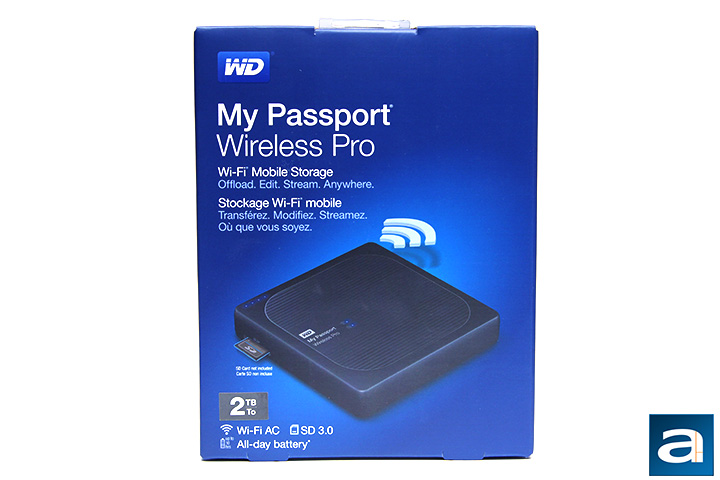 The retail box design for the Western Digital My Passport Wireless Pro 2TB is business as usual. The company's classic blue gradient background surrounds all faces of the box. In front, you will find WD's logo at the top left corner, followed by the product name and short description of the product in English and French immediately below. A 3/4 angle photo of the My Passport Wireless Pro takes up about a third of the space of the principle side. At the bottom, a 2TB sticker indicates its capacity variant, along with feature highlights such as its WiFi AC adapter, SD 3.0 support, and all-day battery life. Expanded product information can be found on the remaining sides of the box.
Before we move on, let us take a look at the specifications of the Western Digital My Passport Wireless Pro 2TB, as obtained from the manufacturer's website:
INTERFACE
Wireless 802.11ac
SD card slot
USB 3.0
USB 2.0 (host)
KIT CONTENTS
Wi-Fi mobile storage
USB cable
USB power adapter
Quick install guide
DIMENSIONS
2TB and 3TB
Length: 5.00in (126.00mm)
Width: 5.00in (126.00mm)
Height: 0.94in (24.00mm)
Weight: 1.00lb (0.45kg)
OPERATING SPECIFICATIONS
Data transfer rate
USB 3.0 up to 800MB/s
SD 3.0 up to 104MB/s
1x1 AC up to 433Mb/s
Operating temperature: 0°C to 35°C
Non-op. temperature: –20°C to 60°C
SYSTEM COMPATIBILITY
Formatted ExFAT for:
- Windows® 10, Windows 8 or Windows 7 operating systems
- Mac OS® X El Capitan, Yosemite, Mavericks or Mountain Lion
- DLNA®/UPnP® or Plex-enabled devices for streaming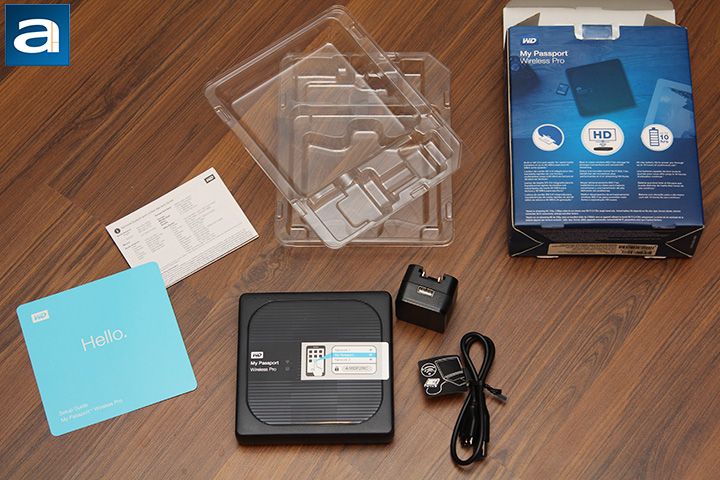 Out of the box, there are not a whole lot of things included. A clear plastic shell inside the cardboard box holds the Western Digital My Passport Wireless Pro 2TB itself, USB 3.0 cable, USB to wall plug adapter, quick setup card, and a warranty information poster. This is pretty much everything you need to get started. With that in mind, let us get started on taking a look at the wireless external hard drive as well.
---
Page Index
1. Introduction, Packaging, Specifications
2.
Physical Look - Hardware
3.
Configuration and User Interface; Test System
4.
Benchmark: AIDA64 Disk Benchmark
5.
Benchmark: ATTO Disk Benchmark
6.
Benchmark: Crystal Disk Mark 3.0
7.
Benchmark: HD Tach 3.0.1.0
8.
Benchmark: HD Tune Pro 4.60
9.
Wireless Performance and Conclusion