Page 3 - Configuration and User Interface; Test System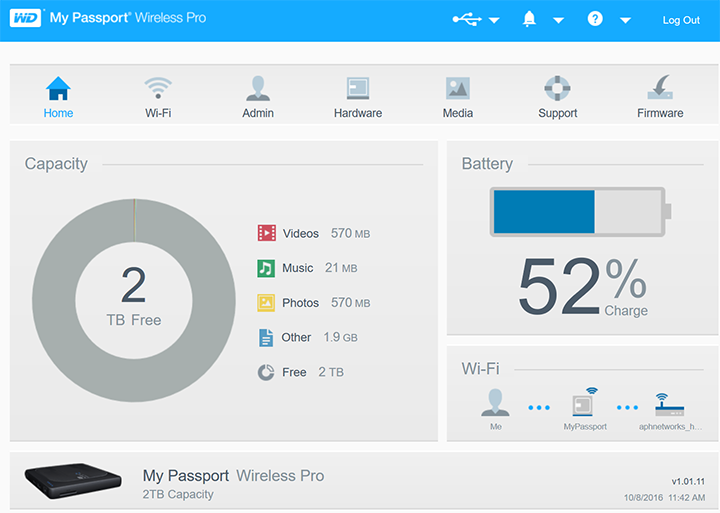 Although the Western Digital My Passport Wireless Pro 2TB is not exactly a network appliance, the set up procedure is pretty similar in nature to most routers and network attached storage systems. To start, turn it on, and connect to your My Passport's WiFi network. Since it is a Wireless AC device, you will see two SSID -- one for 2.4GHz and one for 5GHz -- given you have a dual band adapter, of course. Afterwards, point to the IP address 192.168.60.1 in your internet browser, and the rest is done via a wizard in the web-based interface. The wizard will bring you through a series of simple options like connecting it to your home's WiFi network; all of which can be changed after initialization.
A blue bar at the top serves as a notifications bar for the My Passport Wireless Pro's web-based graphical user interface. The first item denoted by a USB icon shows connected USB device, followed by a bell to see any alerts or notifications (Sort of like Facebook, except for things you should actually be aware of), help shortcuts, and finally, a logout button. Under it is an array of seven icons for seven corresponding categories. The first screen I will go through with you is the Home screen, as shown in our screenshot above. This is also the first page you will see after your Wireless Pro has been initialized. Everything is neatly categorized into four tiles. The Capacity tile contains a bar graph showing how disk usage is distributed, a battery meter is shown on the right, while a WiFi connection diagram is placed just below. A wide tile that extends across the entire bottom displays the model name, firmware version, as well as date and time -- presumably if you forget you own a Western Digital My Passport Wireless Pro 2TB, haha.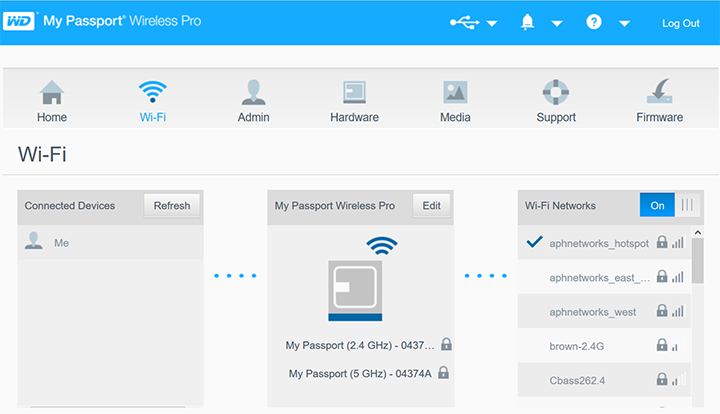 The WiFi tab allows you to configure everything related to the wireless subsystem of the Western Digital My Passport Wireless Pro 2TB. Starting from the left tile, it shows a list of currently connected devices. The middle tile shows configured active WiFi networks. Hitting the Edit button allows you to change things like your SSID, encryption key, IP address of the device itself, as well as WiFi inactivity timeout. The last tile connects your wireless external hard drive to nearby available wireless networks, where you can bridge your device computer through the My Passport to get internet access, or access your wireless hard drive from your wireless network like a regular NAS system.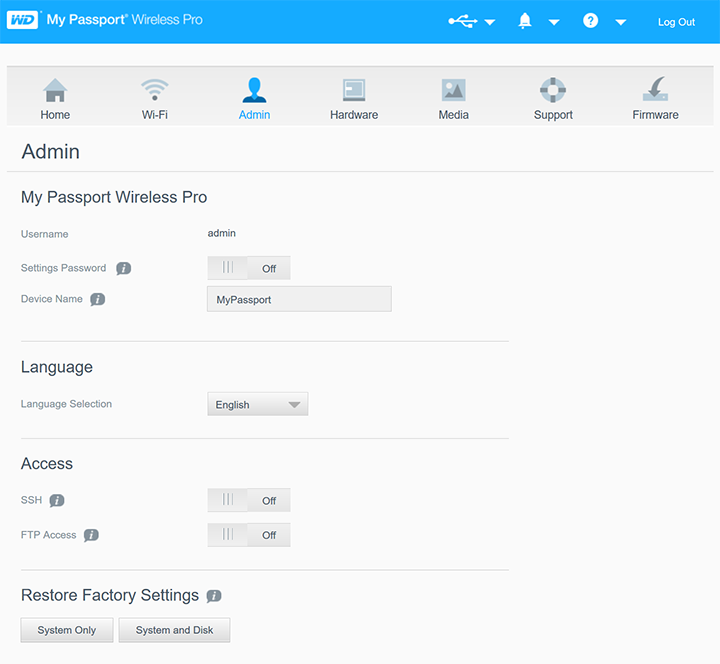 Next up is the Admin page. Everything should be quite self-explanatory here, haha. You cannot change the administrator username, but you can activate a password, as none is set by default, as well as giving your My Passport a more unique name than "MyPassport". Other options include changing the user interface language, toggling SSH and/or FTP on or off, and restore your Western Digital My Passport Wireless Pro back to its default configuration. There are two reset options, as shown in our screenshot above. One changes only the system settings back to default, while the second one clears all your personal data as well. Be careful on which one to choose -- you have been warned, haha.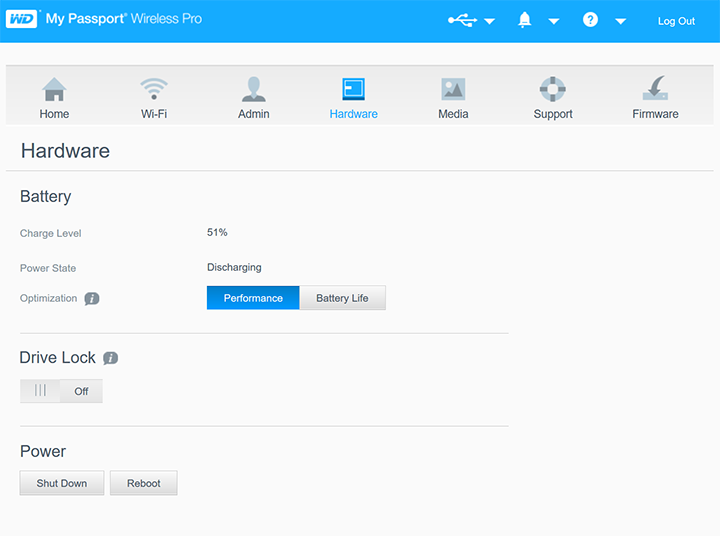 There are not a whole lot of options in the Hardware section of the Western Digital My Passport Wireless Pro's configuration interface. The first subsection pertains to the battery; where it shows the charge level, power state, and an option to choose between Performance and Battery Life for optimization. Selecting Battery Life disables the wireless band when not in use. For most people, Performance is the better way to go, which is also the default selection. Enabling Drive Lock disables direct access via USB. You can still connect via WiFi, and if you have a custom WPA2 encryption key, this means people cannot easily read your data even if they have physical access to your My Passport. You can execute a shutdown or restart here as well.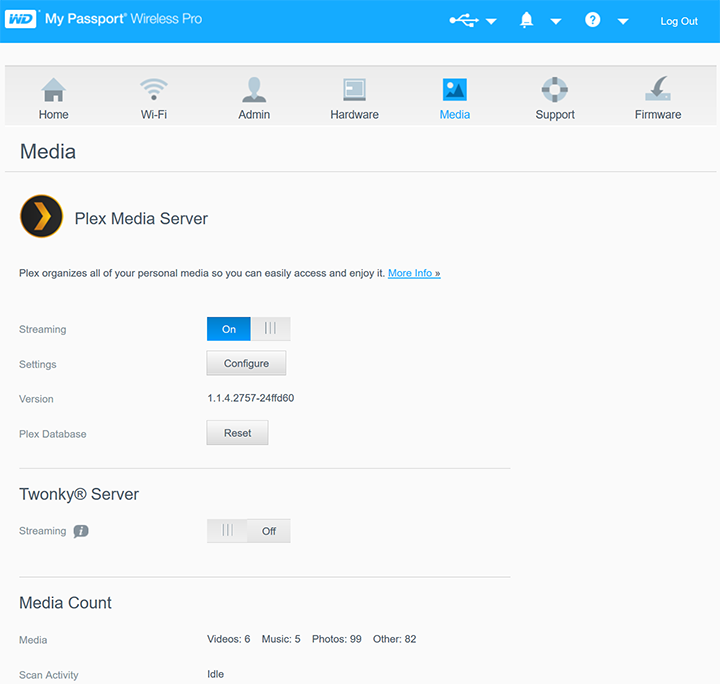 In the Media screen, you can set Plex Media Server and Twonky Server options, as shown in the screenshot above. The Media Count subsection is a database of all videos, music, photos, and other files present on the device. If you want, hitting the Rebuild button -- cut off in the screenshot above -- allows you to rebuild the database should you encounter problems. Below that, you can set automatic import options for SD cards and USB drives; where you can choose between Copy or Move. Copy retains files on the source, while Move does not. All imported files go into a preset folder on your My Passport. Under the USB device subsection, there is one more button, which is Copy Now. As the label on the button suggests, it allows you to... copy the files over now.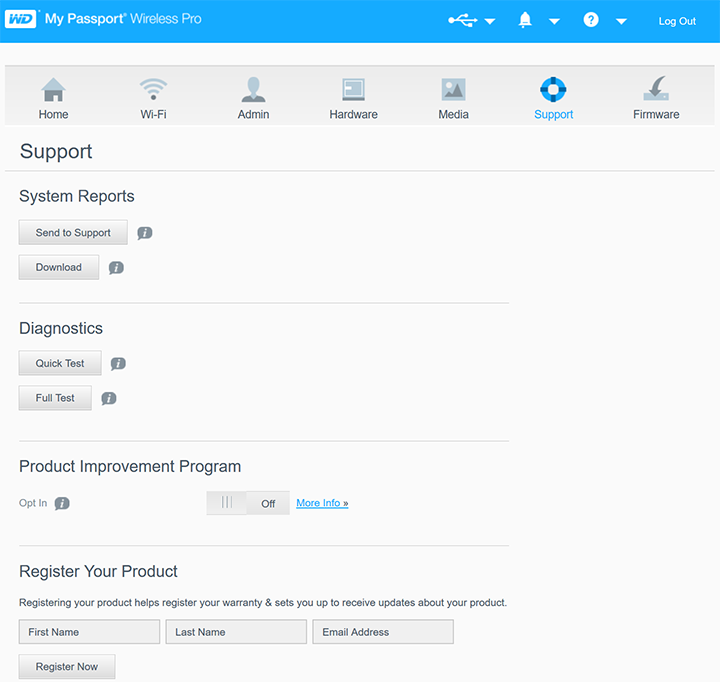 I was going to skip over the Support tab, but there are a few things worth discussing here too, haha. Each option has a little information bubble next to it, where clicking on the information bubbles will provide you with a description of what each option does. System Reports generates a very comprehensive Zip file on all hardware and software configuration and logs, which you can send to support directly, or download for your own perusal. I took a look at what the system reports were, and I do not believe it is designed for the average user to understand. In Diagnostics, you can run a Quick Test or Full Test on your hard drive. Full Test scans for bad sectors, so be sure to plug it in before running, as this may take a few hours.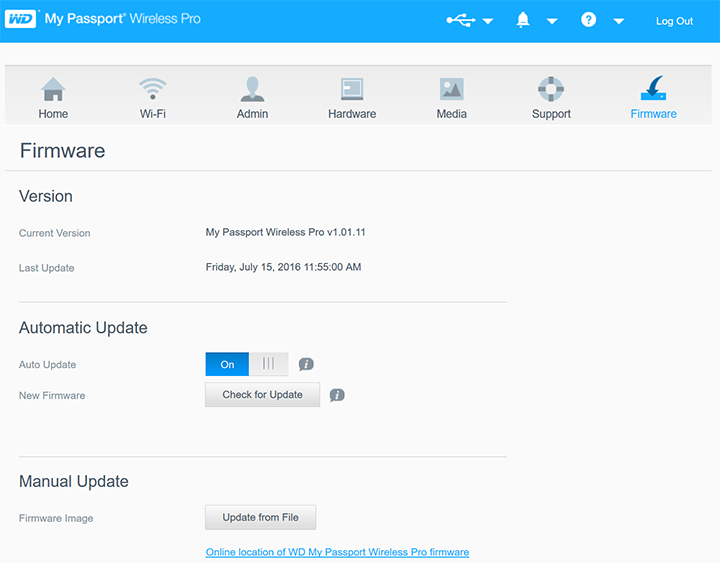 Lastly, we have the Firmware page. As you can see in our screenshot above, here, you will find the current firmware version and last update time. You can also toggle automatic updates on or off, as well as initiating a check for new firmware manually. Automatic firmware update works well from my experience; it ran flawlessly when I first fired up my Western Digital My Passport Wireless Pro 2TB. If automatic updates are not your thing, you can upload a file manually. A link to Western Digital's website containing firmware files for the Wireless Pro is conveniently included.
All in all, I found the Western Digital My Passport Wireless Pro 2TB's configuration and user interface very intuitive and easy to use. The initial setup was very straightforward thanks to the wizard, and changing the settings afterwards can be done without much hassle, thanks to the user-friendly web-based interface. I have encountered absolutely no problems in all the time I spent using this external hard drive.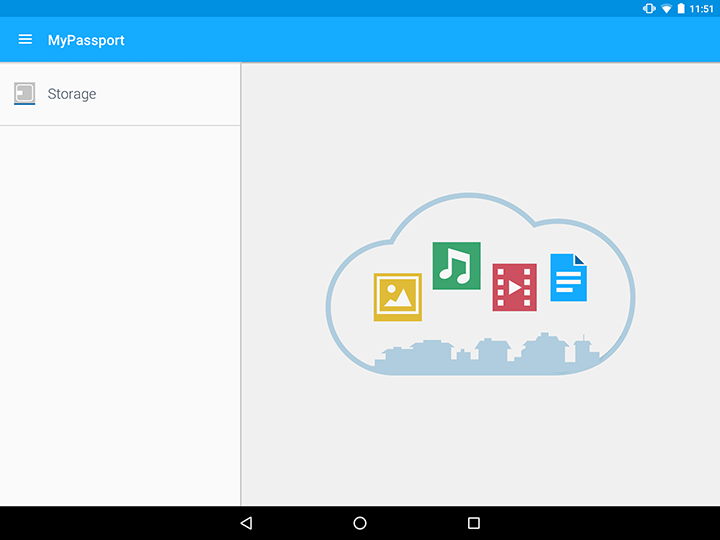 Before we move on to the tests, I installed Western Digital's My Cloud app on my Google Nexus 9 tablet to see how mobile devices interact with the My Passport Wireless Pro. Like most Android cloud applications, the overall usage experience was pretty straightforward; not too different than other apps of this nature, whether it is Microsoft's OneDrive or QNAP's Qfile. It is pretty much a standard file manager with automatic backup features. Speaking of cloud services, WD's My Cloud works with Dropbox, Google Drive, and OneDrive to keep your files in sync anywhere at any time.
Our test configuration is as follows:
CPU: Intel Core i7-4790K @ 4.6GHz
CPU Cooling: Noctua NH-D15S
Motherboard: Gigabyte GA-Z97X-UD3H-BK
RAM: Patriot Viper 3 Low Profile PC3-17000 4x8GB
Graphics: Gigabyte G1 Gaming GeForce GTX 960 4GB
Chassis: Fractal Design Define R5
Storage: OCZ Vector 180 240GB; Crucial MX200 500GB
Power: PC Power & Cooling Silencer Mk III 1200W
Sound: Auzentech X-Fi Bravura
Optical Drive: LiteOn iHAS224-06 24X DVD Writer
Operating System: Microsoft Windows 10 Pro
Compared Hardware:
- Western Digital My Passport Wireless Pro 2TB (USB 3.0)
- ADATA DashDrive Durable HD650 500GB (USB 3.0)
- ADATA DashDrive HV620 1TB (USB 3.0)
- Silicon Power Armor A30 1TB (USB 3.0)
- Silicon Power Armor A65 1TB (USB 3.0)
- Silicon Power Diamond D06 1TB (USB 3.0)
---
Page Index
1.
Introduction, Packaging, Specifications
2.
Physical Look - Hardware
3. Configuration and User Interface; Test System
4.
Benchmark: AIDA64 Disk Benchmark
5.
Benchmark: ATTO Disk Benchmark
6.
Benchmark: Crystal Disk Mark 3.0
7.
Benchmark: HD Tach 3.0.1.0
8.
Benchmark: HD Tune Pro 4.60
9.
Wireless Performance and Conclusion