Page 9 - Wireless Performance and Conclusion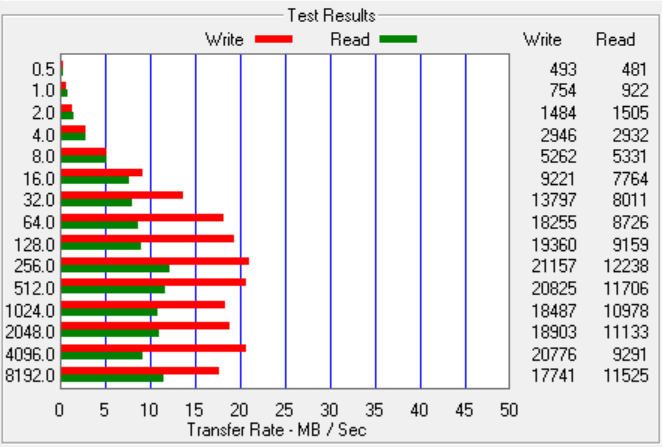 To see how much data throughput I was able to pull from a WiFi connection to the Western Digital My Passport Wireless Pro 2TB, I used a 2015 13" Apple MacBook Pro equipped with a Broadcom 802.11ac wireless adapter. This MacBook Pro is considered one of the best laptops in the market at press time. In the tests, the two devices were separated by about 30cm on a desk with no obstructions in between. This is a fairly ideal case, but it also represents a real life environment, where someone is working on their laptop with the My Passport Wireless Pro active. Western Digital's wireless hard drive was mapped as a network drive in Windows 10 Pro, and the results from ATTO Disk Benchmark is posted in the screenshot above.
Generally speaking, we were getting no more than 20% of the speed on WiFi compared to USB 3.0, meaning the peak throughput over wireless on the Western Digital My Passport Wireless Pro 2TB was about 160mbps. Just for comparison's sake, our high performance Wireless AC network equipped with a QNAP TS-453A and four Western Digital Red WD40EFRX 4TB in RAID 5 connected to an ASUS RT-AC68U router delivered an effective data throughput of 400mbps at 4m and 500mbps at 1m, line of sight. Of course, it is probably unfair to compare a battery powered wireless hard drive against a high performance router with a business-grade NAS. That said, it does show us its wireless performance has some room for improvement, although it is worth nothing this is literally ten times faster than the Wireless N based Patriot Gauntlet 320 I tested in November 2012. You should have no issues streaming 1080p videos from the My Passport Wireless Pro, but keep off the 4K, haha.
-----------------------------------------
If you happen to be a professional or enthusiast photographer, the Western Digital My Passport Wireless Pro is the product you have been waiting for. Armed with 2TB of storage with an option for a 3TB model, the My Passport Wireless Pro is not your average external hard drive. It comes with 802.11ac WiFi in addition to USB 3.0 for wireless access, as well as an SD 3.0 card slot with automatic data import functions, be a power bank to charge your devices, and act as a portable media server -- the list goes on. From my experience, pretty much everything worked as well as the website suggested. Combined with an intuitive and user-friendly web-based graphical user interface, you can get everything up and running in no time. The 6,400mAh "all day battery" is pretty fair claim in real life; of course, depending on how you use it, your mileage may vary. Chuck it in your backpack with the rest of your equipment, and it will be one of the best traveling companions you will ever own. Of course, I do have a few suggestions for Western Digital to improve their product on. Firstly, the My Passport Wireless Pro is kind of large physically, so it will not fit in your pocket. I do not think it was intended to do fit in your pocket in the first place, and since it is probably impossible to make it smaller than it already is without sacrificing one or more of the many features it has, why not go the other way? If most people are going to pack it in their backpack already for their next adventure, then making it shockproof and waterproof at the expense of physical size is what I would do. Secondly, while wireless performance was reasonably good for 1080p streaming support, it does need a bit more bandwidth for 4K. Lastly, the USB 3.0 controller was great paired with the WD20NPVZ inside for high IOPS workloads, but was, on average, 5 to 10% slower than the competition in linear operations. All in all, there is no doubt the Western Digital My Passport Wireless Pro 2TB is a great travel companion for about $190 at press time. But if WD added a rugged enclosure with a slight bump up in performance, then the My Passport Wireless Pro will become the ultimate travel companion.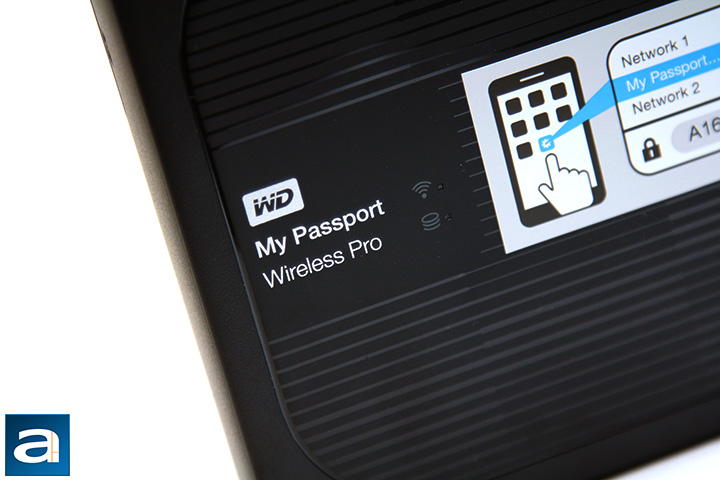 Western Digital provided this product to APH Networks for the purpose of evaluation.
APH Review Focus Summary:
7/10 means Great product with many advantages and certain insignificant drawbacks; but should be considered before purchasing.
-- Final APH Numeric Rating is 7.0/10
Please note that the APH Numeric Rating system is based off our proprietary guidelines in the Review Focus, and should not be compared to other sites.
The Western Digital My Passport Wireless Pro 2TB is a wireless external hard drive loaded with features that makes it a great travel companion for enthusiast and professional photographers alike.
Do you have any comments or questions about the Western Digital My Passport Wireless Pro 2TB? Drop by our Forums. Registration is free, and it only takes a minute!
---
Page Index
1.
Introduction, Packaging, Specifications
2.
Physical Look - Hardware
3.
Configuration and User Interface; Test System
4.
Benchmark: AIDA64 Disk Benchmark
5.
Benchmark: ATTO Disk Benchmark
6.
Benchmark: Crystal Disk Mark 3.0
7.
Benchmark: HD Tach 3.0.1.0
8.
Benchmark: HD Tune Pro 4.60
9. Wireless Performance and Conclusion