Page 2 - Physical Look - Hardware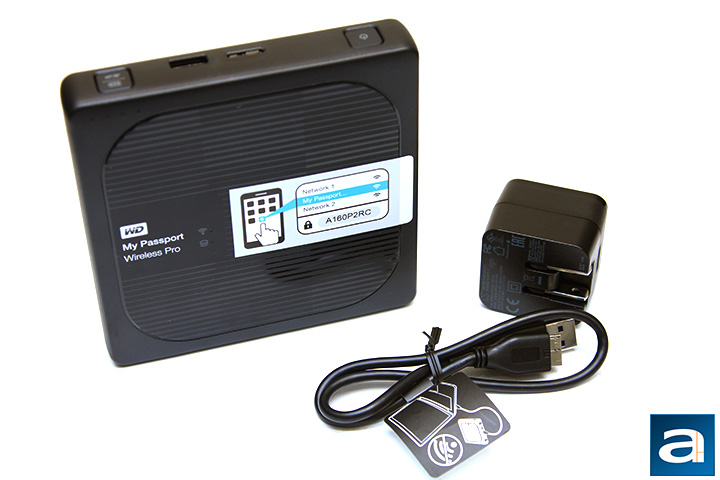 The Western Digital My Passport Wireless Pro 2TB looks nothing like the non-Pro version, but that is okay -- this one packs a lot more punch under the hood. Measuring in at 12.6cm deep, 12.6cm wide, and 2.40cm thick, the Wireless Pro is not exactly pocket size, but nonetheless should fit well in your backpack along with your laptop computer. It tips the scales at exactly one pound. The Wireless Pro's perfectly square enclosure is pretty much all business; the textured matte black plastic at the edges and around the perimeter of the main face of the product ensures scratches and fingerprint marks do not show up easily. In the middle, textured lines that mixes an array of glossy and non-glossy strips forming a square with rounded corners give the My Passport a little bit of visual flare without losing its business vibe. Western Digital's logo and product name can be found on a strip across the center next to a label indicating the SSID of the external hard drive, along with the encryption key. Between the branding and label are two blue LEDs, one for HDD activity and one for wireless status, and both are labeled accordingly with small icons. The WiFi LED stays off when the HDD is off, blinks blue when starting up, connecting to wireless, or shutting down, stays solid blue when wireless network is connected or active, and goes into fast blinking blue when WiFi Protected Setup is initiated and in progress.
At the top, there are two buttons and two ports. Starting from the left, we can see the Battery/WPS button, USB 2.0 host port, USB 3.0 header, and a power button. To turn the Western Digital My Passport Wireless Pro 2TB on, simply hold down the power button momentarily. To turn it off, push it for approximately three seconds. The Battery/WPS button initiates file transfer from a connected SD card -- more on this later -- when an SD card is present. When the drive is off, it will show battery charge status with the four blue LEDs at the top left corner of the drive. It also controls wireless functions such as connecting to a router using WPS, or for other devices to connect to the My Passport when it is connected to another wireless network. The USB 2.0 header can be used to charge your mobile devices such as your phone, or read connected USB drives. The USB 3.0 header is used to connect to your PC directly to charge the My Passport Wireless Pro and/or act as a regular USB hard drive. A 2.4A AC adapter is included if a computer is not available for charging the internal 6,400mAh battery.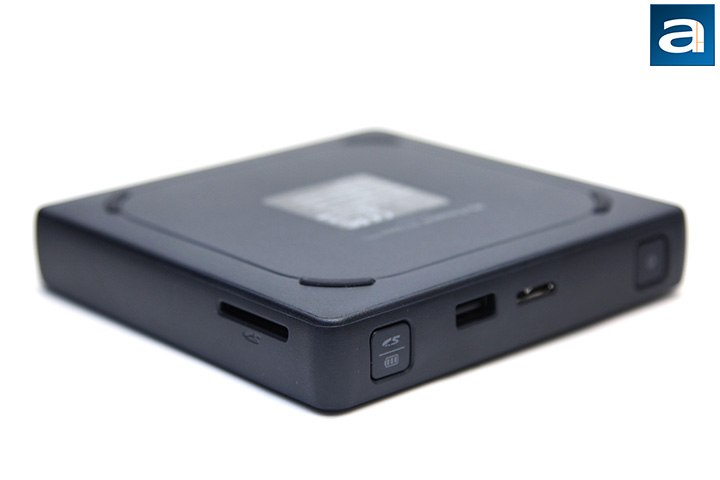 Let us flip the Western Digital My Passport Wireless Pro 2TB around as we take a closer look at the product from another 3/4 angle view. The bottom design is a virtual reciprocal of the top; while not exactly identical, it is shaped accordingly to create a high degree of symmetry. Our photo above shows a standard label nice and center denoting the usual information under the "My Passport Wireless Pro" branding, such as its regulatory certifications, MAC address, serial number, and the fact it is made in Thailand. Moving on, four rubber standoffs are placed at the four corners of the square with rounded corners. The standoffs are quite subtle, but grip pretty well on most surfaces. Unlike the top, the entire bottom is all textured matte black plastic, but not many people look here anyway, haha. In our photo above, you can see the ports and buttons as discussed in the previous paragraph, as well as an SD 3.0 card slot on the side.
I did not disassemble the drive to take a look at its internal components, but a quick check using AIDA64 Engineer reveals a Western Digital Blue WD20NPVZ residing inside. The Western Digital Blue WD20NPVZ is a 2TB 5200RPM SATA 6.0Gb/s laptop hard drive with 8MB cache. It is 15mm thick, which I assume is because it is made with four 500GB per platters. This is fairly high density, and should translate to pretty decent speed in the benchmarks -- we will find out soon. The hard drive is exFAT formatted from the factory for maximum compatibility. Finally, a built in 802.11ac WiFi adapter keeps you on the cutting edge of wireless performance.
---
Page Index
1.
Introduction, Packaging, Specifications
2. Physical Look - Hardware
3.
Configuration and User Interface; Test System
4.
Benchmark: AIDA64 Disk Benchmark
5.
Benchmark: ATTO Disk Benchmark
6.
Benchmark: Crystal Disk Mark 3.0
7.
Benchmark: HD Tach 3.0.1.0
8.
Benchmark: HD Tune Pro 4.60
9.
Wireless Performance and Conclusion