By: Ben Joubert
September 23, 2022
I have always been really intrigued with the combination of pen-like hardware with a tablet. Back in my first year of university, every student either had an Apple MacBook or a Microsoft Surface. Everyone with a Surface had the accompanying stylus as well, and since we were taking many mathematics courses, they all easily and quickly wrote out equations on their laptop. This made me quite jealous to be honest, particularly since I felt fairly outdated with my pen and paper, which I used for my entire undergraduate degree. I enjoyed using a pen and paper, since I felt there was a difference between writing something out as opposed to just typing it up. After a few years, I finally bought a laptop that came with a stylus. Now, it was not a high-end device, so I did not want to set my expectations too high. I set everything up and then tried to use the stylus in a class. After seeing people use this feature for so long, I was extremely excited and sitting ready to take notes on my laptop with a stylus. Unfortunately, there was nothing good about my experience. My stylus was not very good and the computer did not distinguish well between the stylus touching the screen and my palm. I quickly switched back to pen and paper, threw the stylus in my bag, and forgot about it for years. It became a feature that was there but I rarely used. This is how I feel about manufacturers constantly increasing the advertised sensitivity for their mice. Yes, it is a big number, but do you really use it? Today, we have the Corsair Sabre RGB Pro Wireless, which has their advertised Marksman 26K sensor boasting up to 26,000 DPI. Such high numbers are almost too much, but read on to find out if this mouse has what it takes to be great gaming mouse.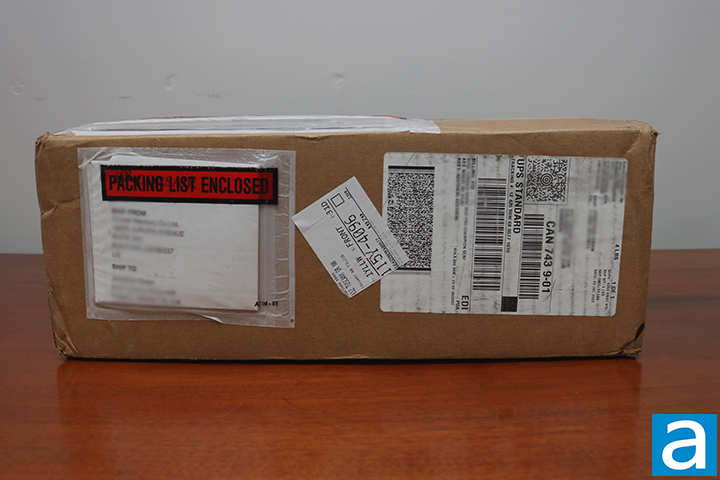 The Corsair Sabre RGB Pro Wireless arrived alongside the HS80 RGB Wireless in a medium-sized brown corrugated box. Looking around the shipping package, there was little damage to the outside of the box to suggest any damage to the internals. It was shipped via UPS Standard all the way from California to Calgary, Alberta. Inside the box we found some air pockets to prevent the products from bouncing around inside. Overall, everything arrived safely and in good condition.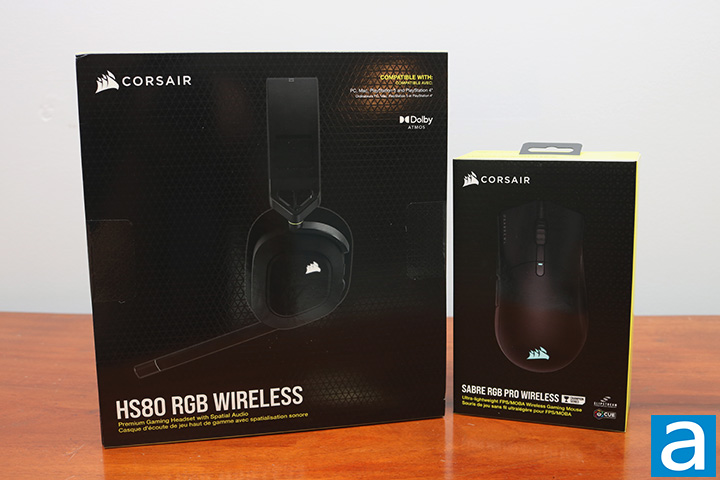 The Corsair Sabre RGB Pro Wireless' packaging looks almost identical to the Sabre RGB Pro. The front of the retail packaging is black with white lettering. Below the white lettering, we find a greenish-yellow text description of the mouse, which calls it an ultra-lightweight FPS and MOBA mouse. Other features highlighted on the front is Corsair's Slipstream technology, which promises a speedy wireless connection as well as Corsair's iCUE software that provides all the control needed for the Sabre RGB Pro Wireless. The sides of the retail packaging have the same greenish-yellow color, while the back of the box has the same black color as the front. On the back is a bit more detail on the specifications.
Below you can find a list of the specifications, as obtained from the manufacturer's website:
Mouse Warranty: Two years
Prog Buttons: 7
DPI: 26,000 DPI
Sensor: MARKSMAN 26K
Sensor Type: Optical
Mouse Backlighting: 1 Zone RGB
On Board Memory: Yes
On-board Memory Profiles: 3
Mouse button Type: Omron
Mouse Button Durability: 50M L/R Click
Connectivity: Wireless
Grip Type: Palm, Claw
Weight Tuning: No
Hand Size: Medium
Game Genre: FPS, Battle Royale
Weight: 79g (w/out cable)
Cable: 1.8m Drag-Reducing Paracord
Software Supported: iCUE
Report Rate Selectable: 2000Hz/1000Hz/500Hz/250Hz/125Hz
Battery Life:
- 2.4GHz SLIPSTREAM: Up to 60hrs continuous use
- BLUETOOTH: Up to 90hrs continuous use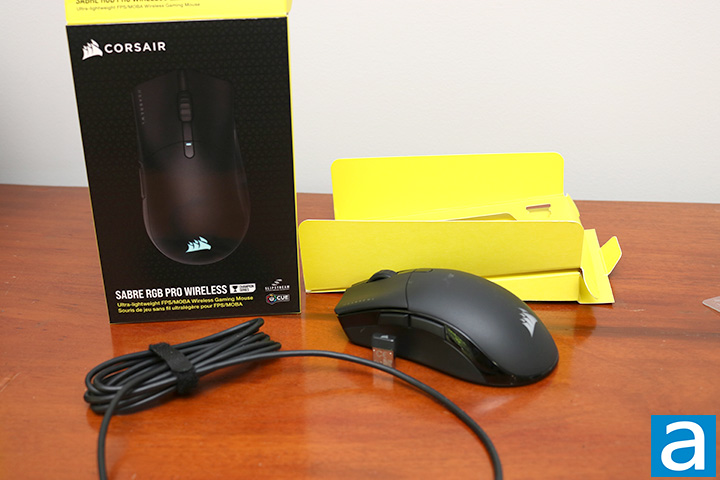 Inside the retail packaging, we find a cardboard box, which slides outward with a plastic shell on the front. The mouse is found sandwiched between the box and the plastic shell. The USB receiver is also located in the plastic shell on the front. On the back of the cardboard box is a small slot, which contains the quick start guide and cable. The way the Corsair Sabre RGB Pro Wireless is packaged prevents anything inside from moving around during transport. Overall, the packaging is done well, keeping everything safe in its place.
---
Page Index
1. Introduction, Packaging, Specifications
2.
Physical Look - Hardware
3.
Subjective Performance Tests
4.
Conclusion