By: Jonathan Kwan
October 20, 2023
"Hey, do you know where the shuttle bus to Southwest Airlines is?" a man approached me as I was walking out of the rental car center at 6:50am after I returned my car at the Dallas/Fort Worth International Airport. At that point, my heart sank. For those who are not familiar with DFW, Southwest Airlines, due to the Wright Amendment, only flies out of Dallas Love Field airport until its expiry in 2025. Maybe there was something I did not know, so I asked to see his boarding pass. Sure enough, it says "DAL" at the top, and his flight was set to depart at 7:35am. I did not want to break the news to him, but it had to be done: DAL and DFW are two completely different airports, and he was at the wrong one. I could not imagine showing up to a flight at one airport only to find out it was at another airport 20 miles away. Apparently, this happens more often than it should to non-locals due to their similarities in name. In a similar fashion, the Creative Live! Cam Sync 4K we are reviewing today is only two characters different in name than the Live! Cam Sync V3 I reviewed a few months ago, but they are totally different inside and out. The outside features a different design, and the 4K model, as its name suggests, support 4K video thanks to the Sony Starvis IMX415 1/2.8" 8MP CMOS sensor. But how do all these translate to real-world usage? Read on to find out!
Our review unit of the Creative Live! Cam Sync V3 came in a large brown corrugated cardboard box from a logistics firm in Lachine, Quebec, Canada. Lachine is a borough within the city of Montreal right next to the airport. Everything arrived in excellent condition to us here in Calgary, Alberta, Canada via Kerry Express for our review today. Also inside the box is the Creative Outlier Pro to be reviewed by my colleague Jonah Chow.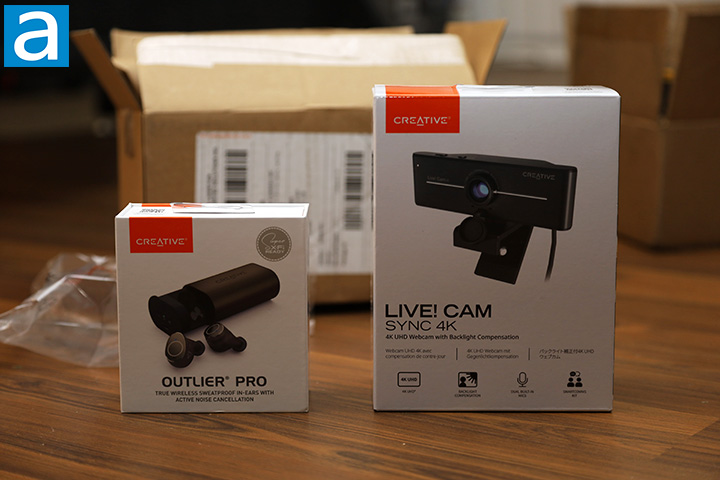 Creative sent us a retail package of the Live! Cam Sync 4K for our review today. The medium-sized retail box will fit anywhere in a retail store. The box art consists of a primarily white background with a strap of orange at the top where Creative's logo is located. Prominently shown in front is the webcam in three-quarter view. The Live! Cam Sync 4K branding can be found under the photo, followed by the product description of "2K UHD webcam with backlight compensation". Four icons for highlighting the webcam's 4K UHD video capture capability, backlight compensation, dual built-in mics, and SmartComms Kit is at the bottom right corner. More feature highlights can be found at the back, with a content and compatibility list on the side of the box.
Before we move on, let us take a look at the features and specifications of the Creative Live! Cam Sync 4K, as obtained from the manufacturer's website:
Imaging
- Sony Starvis IMX415 1/2.8" 8 Megapixel CMOS sensor
- Sonix SN9C2809EJG USB 2.0 Video PC Camera Controller
- Video resolution and frame rates:
--- MJPEG: 2160p 25 fps / 1440p 25 fps / 1200p 25 fps / 1080p 40 fps / 720p 40 fps / 600p 40 fps / 480p 40 fps
--- YUY2: 1200p 5 fps / 1080p 5 fps / 720p 10 fps / 600p 20 fps / 480p 30 fps / 240p 30 fps
- Image capture resolution: 3840 x 2160, 2560 x 1440, 1920 x 1080, 1600 x 1200, 1280 x 720, 800 x 600, 640 x 480, 320 x 240
- Image capture format: YUY2 / MJPEG
- FOV: 95° diagonal
- Lens system with aperture size of F2.2
- Focus range: 500 mm / 0.5m to infinity. 600 mm / 0.6m for optimum focus
- Flicker control: 50 Hz / 60 Hz
Microphone
- Omni-directional Integrated Dual Digital MEMS Microphone array
Interface
- LED Indicator: White
- USB 2.0
- Button: Tact button
- Plug-and-play UVC (USB video device class) compliant
- Cable length: 1.8m / 5.9 ft
- USB-A connector
- Tripod mounting capable: Yes
Operating Temperature
- 0—40°C
Dimensions (L x W x H)
- 106 x 57.5 x 53.2 mm / 4.17 x 2.26 x 2.09 inches
Weight
- 103.0g (3.6 oz)
Product Color
- Webcam: Black
- Privacy Lens Cover: Black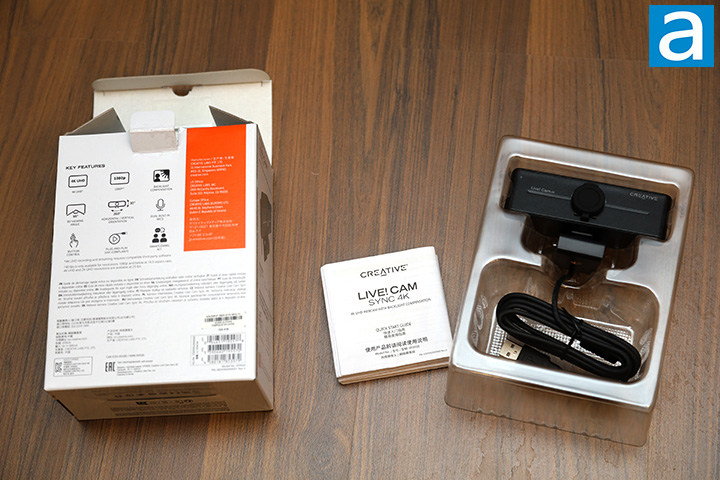 Opening a flap at the top of the box reveals a plastic tray for the internal contents. Out of the box, you will receive the Creative Live! Cam Sync 4K itself, a multi-language manual, and a SmartComms Kit getting started guide. This is not a whole lot of stuff, but you do not need much to get a webcam running.
---
Page Index
1. Introduction, Packaging, Specifications
2.
Physical Look - Hardware
3.
Software, Sample Videos, Analysis
4.
Conclusion