By: Jadon Lee
October 2, 2020
Despite not being able to spend much time with people in the current season, I found myself getting a lot closer to my fellow co-workers unconsciously. As most of us are fundamentally busy people, we like to have our small moments of fun together. I would not say that our job is necessarily boring, but there are several moments where there is no work for us to do. On those rare occasions, we are able to spend our time talking and laughing. I am slowly learning to take these small moments for what they are and savor them in memory. With what feels like so little time and so much to do, it is nice to take a small win like this. Although I could take my inability to do more of the things I want to do as a loss, I want to try and be optimistic and believe there is a point to this lull in pace. Just like how I want to savor these pleasing moments, I also want to be able to savor the soothing sound of music. Today, Turtle Beach has sent over their Elite Atlas Pro gaming headset alongside the Atlas Edge for us to try out. As someone who is merely just entering the audio community, I have a lot to learn about good sounding audio. After hearing so much about Turtle Beach as a younger child, I am very excited to be able to try out the Elite Atlas Pro as well as the Atlas Edge. Will the Turtle Beach Elite Atlas Pro with Atlas Edge expose me to another level of excellent audio? Keep reading to find out!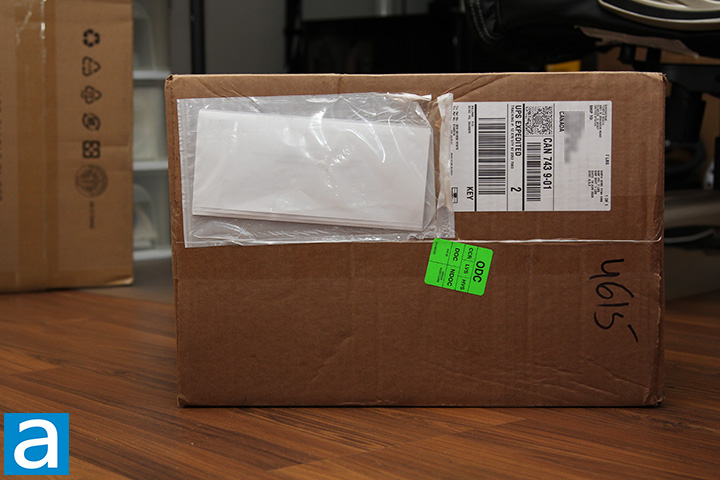 Today's review unit of the Turtle Beach Elite Atlas Pro arrived from Turtle Beach's warehouse in Elwood, Illinois. The package traveled using UPS Expedited service. The box arrived in excellent condition with no marks to be too concerned about. The inflated bags inside the box protected the retail boxes inside very well. Turtle Beach also sent us their Atlas Edge to be used with the Elite Atlas Pro, which I will take a deeper look into later into this review.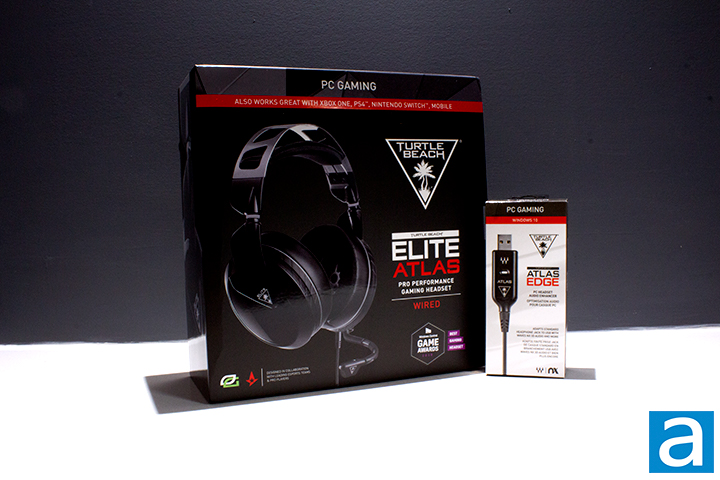 The Turtle Beach Elite Atlas Pro came in a nice clean black box. The front of the box features an image of the Elite Atlas Pro with its name on the right of it. Turtle Beach places its logo right above the name. Below the name shows their award from Windows Central for being the best gaming headset in 2018. Below the headset talks about how this headset was designed in collaboration with leading esports teams and pro players. The back of the box talks about general features about the Elite Atlas Pro. This box uses a sliding design to pull out the box holding the headset from its cover.
Before we continue, here are some specifications pulled from Turtle Beach's site:
Specifications
Audio Connection: PC Gaming: 3.5mm or Pink/Green PC Splitter Cable (included)
Speaker Frequency Response: 12Hz – 20kHz
Speaker Size: 50mm Nanoclear speakers with Neodymium Magnets
Microphone: Unidirectional Gaming Microphone
Headband Material: Athletic Fabric, Leather with Memory Foam Cushioning
Ear Cushion: Over-Ear (Closed, Athletic Fabric, Leather with Memory Foam Cushioning)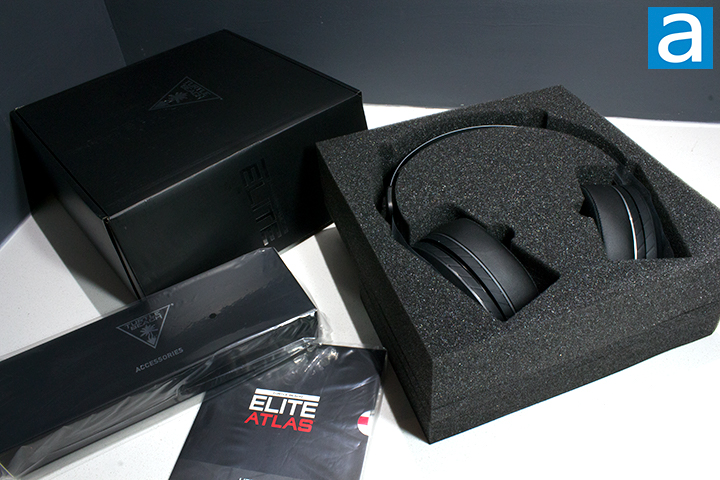 Out of the box, we find the headset itself alongside some other fun accessories. The headset was very well packaged in foam, leaving no room for the headset to move around. Underneath the foam, we find a box holding all the accessories required to use the Turtle Beach Elite Atlas Pro as well as the user manual. First, we have the 3.5mm cable used to connect to both the headset and your device. Next, we have the splitter cable that will allow you to plug the headset into the computer. Fortunately, Turtle Beach also send over their Atlas Edge. After unpacking the Atlas Edge, we find this accessory packed tightly in plastic alongside a user manual. The use of plastic to the package was not an issue due to the relatively small size of the product. The Atlas Edge can be used to adapt headsets from a 3.5mm jack to USB. This also enables access to Turtle Beach Control Studio, which I will go into more depth later into this review.
---
Page Index
1. Introduction, Packaging, Specifications
2.
Physical Look - Hardware and Software
3.
Subjective Audio Analysis
4.
Conclusion