By: Jonathan Kwan
August 2, 2019
"You were in my dream last night," my friend said. Given it was the first thing she said after not seeing me for a few days, I got a little curious and asked, "What did I do in your dream?" To which she said, "You were questioning my life choices." I could not help but laugh. More often than not, we dream about things that connect to our perceptions of reality, and in this particular case, even I have to admit I frequently question her life choices in real life. Maybe this is why we often hear the phrase "perception is reality". Of course, regardless of whether these perceptions are accurate or not, they are often developed through a lens of which we see the world. For example, when we think of Mercedes-Benz, most people in North America would probably imagine an expensive luxury car, even though a good chunk of the company's lineup are actually not actually that high end. When it comes to computer audio, Audioengine has consistently projected an image of distinction in my head. The HD6 simply shattered my expectations of excellence, while the HD3 and A2+ were real winners in size to performance. The B2 portable speaker was pretty good in terms of sound quality, except for the fact it is not actually portable. Not to be left out of the market, Audioengine decided to build a true portable speaker from the ground up to challenge the masses in performance and portability. Will the 512 continue to reinforce the perception of Audioengine's brilliance, or will it fall short of what we expect? Read on to find out!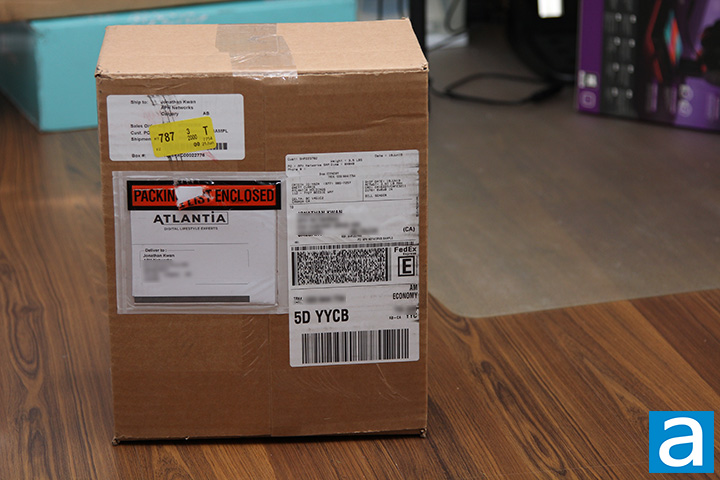 Our review unit of the Audioengine 512 did not arrive from California, USA like majority of the products we review here at APH Networks. Instead, it came from Delta, BC, Canada, which is a city in the Greater Vancouver Area that borders Point Roberts, Washington. Audioengine's Canadian distributor, Atlantia, provided us with the sample for review, just like it has been in the past. Using a medium-sized brown corrugated box and traveling via FedEx Ground, everything arrived in excellent condition to us one province over to the east in Calgary, Alberta for our evaluation today.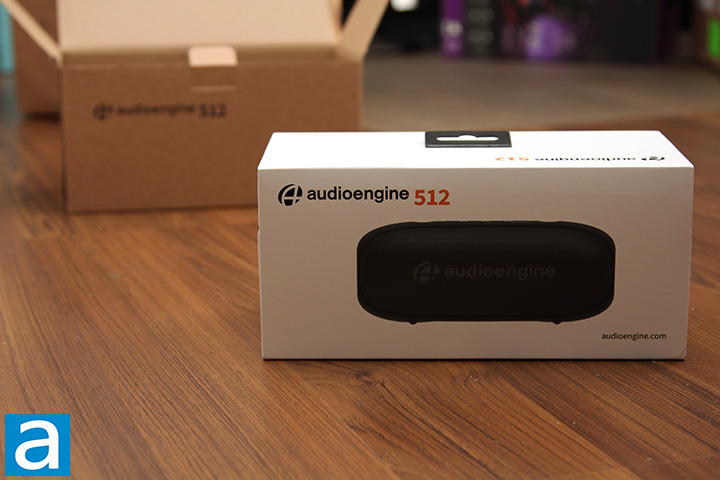 I was quite excited to see what Audioengine had done with the 512, and upon arrival here at APH Networks, I got straight to work. As always, our Audioengine 512 arrived in its retail box. The retail box art comes from an updated template compared to what we have seen in the past. As you can see in our photo above, Audioengine kept the packaging simple. All you will get is the branding with model in the top left corner, a photo of the speakers in the middle, and the company's website URL bottom. Feature highlights can be found on the opposite side.
Before we move on, let us take a look at the specifications of the Audioengine 512, as obtained from the manufacturer's website:
General specifications
Type: Portable Bluetooth speaker
Amplifier type: Class D
Power output: 20W RMS total (10W RMS per channel), AES
Drivers: 2" woofers, 3″ x 1.75″ passive radiator
Inputs: Bluetooth, 3.5mm stereo mini-jack analog
Analog input impedance: 10K ohms unbalanced
Battery life: Up to 12 Hours
Battery charge time: 5 hours to 100%
Frequency response: 60Hz-20kHz
SNR: 90db (typical A-weighted)
THD+N: <0.5% @ 50%
Input voltages: 5.2V DC, USB power
Protection: Output current limiting, thermal over-temperature, power on/off transient protection
Bluetooth specifications
Bluetooth receiver type: Bluetooth 5.0 audio
Supported Bluetooth codecs: SBC
Supported Bluetooth profiles: A2DP, AVRCP
Wireless operation range: Up to 100ft (30m) outdoors, 30ft (10m) typical/average indoors
Input bit depth: 16-bit
Input data rate: Determined by Bluetooth
Wireless latency: ~30 milliseconds (ms)
Weights and measures
Product dimensions: 3"(H) x 7.75"(W) x 3"(D)
Shipping weight: 2.5lbs (4.6kg)
Shipping box dims: 4.625" (H) x 9.75" (W) x 4.75" (D)
Materials and construction
High impact polycarbonate cabinet with perforated metal grills
2″ woofers with advanced voice coils
3″ x 1.75″ passive radiator
Included accessories
Micro-USB charging cable, 2.67 feet (~0.81 meters)
Quickstart guide
Environmental requirements
Operating temperature: 32° to 95° F
Non-operating temperature: -4° to 113° F
Relative humidity: 5% to 95% non-condensing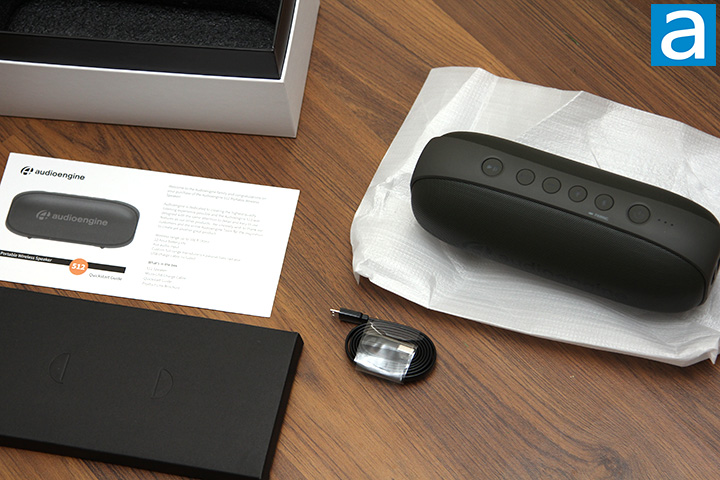 Out of the box, you will receive everything you need to get started, which is not a lot. In addition to the Audioengine 512 Bluetooth speaker itself, you will get a Micro-USB charging cable and quick start guide. That is it. Everything was wrapped securely with foam to prevent damage.
---
Page Index
1. Introduction, Packaging, Specifications
2.
Physical Look - Hardware
3.
Subjective Audio Analysis
4.
Conclusion