By: Aaron Lai
December 4, 2020
In my Crucial P2 500GB review, I talked about how General Motors was incompetently selling car parts due to their ridiculous form of modularity. However, I also mentioned I did end up purchasing this part as there were no other alternatives. As I have mentioned, the one dealership quoted me a price of $150 plus whatever it would cost for them to install the part. It was quite clear the attendant saw the shock on my face and he recommended I look elsewhere. While I did not necessarily want to encourage GM's behavior by purchasing their parts, I also wanted to buy an OEM part for quality purposes rather than some knock-off. I started by looking for the part online and found another dealership offering the exact same part for sixty dollars less. This was my second point of outrage in this whole debacle, as I did not understand why one dealership would sell the same part charge for so much more, especially when both were available in the same city. Later that day, I ended up driving down to the other dealer and purchased the part. As expected, the installation process took about five minutes of me climbing into my trunk to release the old lights and mount my new ones. Even though everything was resolved, the whole situation was a frustrating one. In my mind, the real reason for any delta in pricing between similar products should be a result of getting a better good or service. Today's review unit of the Crucial P5 500GB may look very similar to the last Crucial SSD I reviewed, especially when we consider its capacity. However, what sort of differences should we expect between the two drives that makes one better than the other? Let us read on to find out!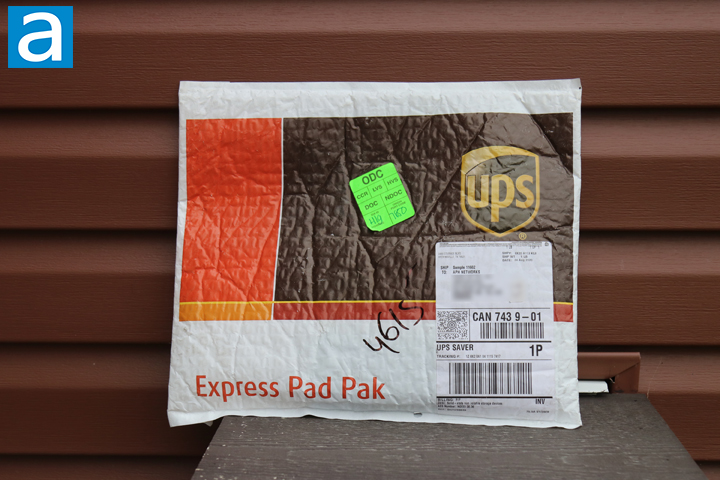 Today's review unit of the Crucial P5 500GB arrived from Brownsville, Texas. Traveling with UPS and their Worldwide Saver service, this bubble envelope arrived in great condition with no holes or scratches to be concerned about. This floppy envelope does not generally show wear or tear from shipping so this is not too surprising. We received this shipment at our APH Networks offices in Calgary, Alberta. In addition to our P5, we also received the Crucial P2 500GB, which I reviewed last month.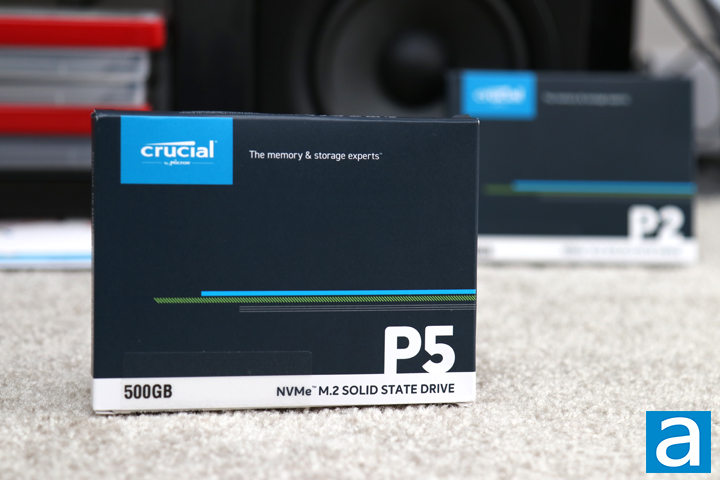 Unsurprisingly, Crucial has not changed up much with their packaging. Even comparing with the previous Crucial P1, this box looks practically the same with only change being the model number. As such, the front shows off a navy-blue shell with some white accents. The top has Crucial's logo, which is a Micron Technology brand. Next to the lighter blue logo, we have a tagline of "The memory & storage experts". Otherwise, the product name is found at the bottom with a description of "NVMe M.2 Solid State Drive" and capacity of 500GB.
Before we continue on, I have grabbed the specifications from the manufacturer's website for your perusal:
Brand - Crucial
SSD series - P5
Warranty - Manufacturer's 5 Year Limited
Form factor - m2_2280
Sequential Read - 3400 MB/s
Capacity - 500GB
Sequential Write - 3000 MB/s
Interface - PCIe G3 1x4 / NVMe
Specs - 500GB M.2 SSD • PCIe NVMe Gen 3 • 3400 MB/s Read, 3000 MB/s Write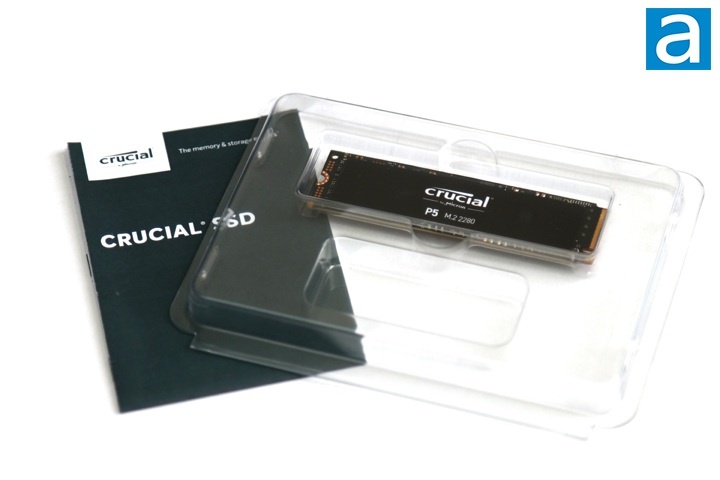 Out of the box, we have the Crucial P5 500GB in a plastic clamshell case. There is one piece of documentation regarding the Crucial P5, but otherwise there is nothing else included in the box. The documentation does cover warranty information, which is a 5-year limited warranty. This is typical for a drive at this price point, but I am happy to see it nonetheless.
---
Page Index
1. Introduction, Packaging, Specifications
2.
A Closer Look, Test System
3.
Benchmark: AIDA64 Disk Benchmark
4.
Benchmark: ATTO Disk Benchmark
5.
Benchmark: Crystal Disk Mark 6.0
6.
Benchmark: HD Tach 3.0.1.0
7.
Benchmark: HD Tune Pro 5.70
8.
Benchmark: PassMark PerformanceTest 10
9.
Benchmark: PCMark 7
10.
Benchmark: PCMark 8
11.
Conclusion