By: Aaron Lai
August 23, 2019
When I complained about shoes back in 2014, I did not really fathom why anyone would spend lots of money on them in the first place. However, more recently, it seems like my opinion has been shifting. In the more recent years, I have been trying to find a good pair of shoes that fit and are comfortable. My friend raved about a lineup of shoes he had, especially when it came to comfort. As I asked around, whether co-workers or acquaintances, they all seemed to hold these shoes in high opinion. The lineup in question were the Adidas Ultraboost. At first, I thought it was just a popular pair of shoes. However, even after their hype may have passed on, my friends all continued to praise the shoes for its comfort. As such, I recently purchased two pairs when they were on sale. While I waited for them to be shipped to me, I wondered if I had made the right purchasing choice. Part of me was drawn to the shoes for its comfort, but I could not deny they also were pretty good looking too. However, as attractive to the eyes as they might be, I still think shoes need to perform functionally for them to be worth my money. Similarly, today we have a memory kit from Gigabyte. Memory modules have also been getting the rainbow light treatment in the recent year or two, and these AORUS branded sticks of RAM are meant to dazzle with its looks. However, can the Gigabyte AORUS RGB Memory DDR4-3200 2x8GB set perform, or are they all show but no go? Let us read on to find out!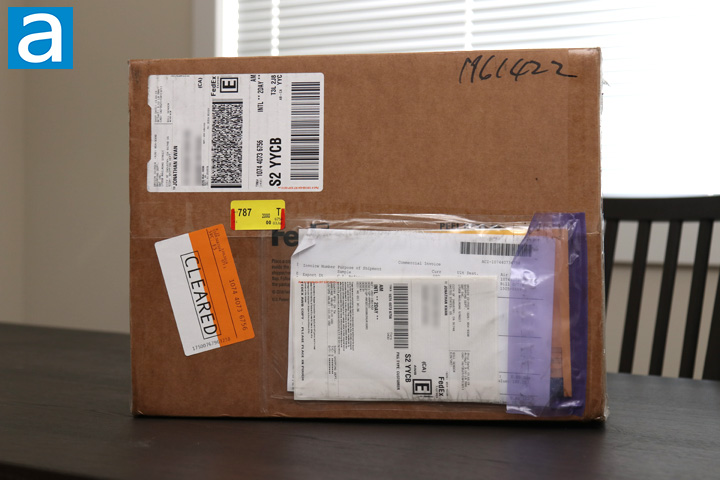 Today's review unit of the Gigabyte AORUS RGB Memory DDR4-3200 2x8GB kit arrived from Gigabyte's offices in City of Industry, California, USA. Traveling via FedEx and their International 2Day service, this box arrived in excellent condition with no real issues to be found with the exterior. You might be wondering why they shipped such a large box for such a small box of RAM, but this is because they also included their AORUS AMP500 mousing surface. This will be reviewed by my colleague Hai Wang soon. Otherwise, Gigabyte also included some packing material to prevent damage to the products inside.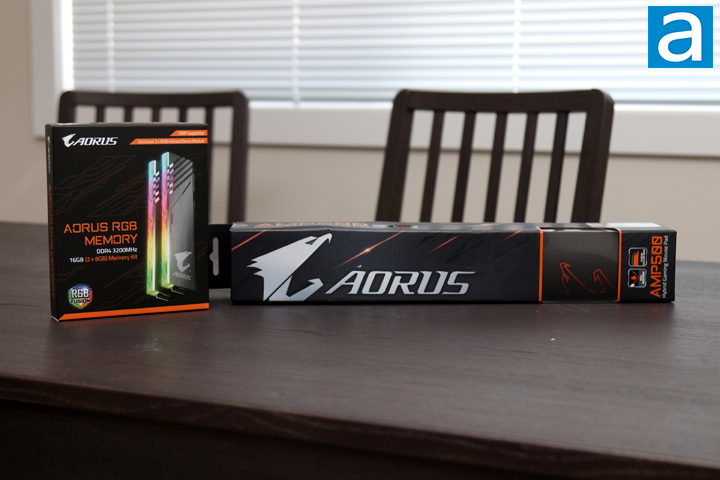 As you can see between the two products, the Gigabyte AORUS RGB Memory DDR4-3200 2x8GB RAM kit follows a similar design when it comes to the retail packaging. Gigabyte and their black and orange color palette for their AORUS sub-brand is well established, so it is to no one's surprise these colors are used here. As for the memory kit, you can see the AORUS branding at the top left side with the product name found underneath. The middle shows off the two sticks of memory, illuminated with the rainbow lighting. At the bottom, we can see the RGB Fusion branding, which refers to the fact you can use Gigabyte's software to change and synchronize the memory lighting with other RGB Fusion enabled products. Otherwise, at the top right corner, we have two features highlighted, including the XMP support and a mention of "Exclusive 2x RGB Infused Demo Module". We will see what this means soon.
Before we move on, here are the specifications from the manufacturer's website for your viewing pleasure:
Memory Type: DDR4
Capacity: 16GB kit (2x8GB)
Multi-Channel Kit: Dual Channel Kit
SPD Latency: 19-19-19-43 for Intel 300s, 20-19-19-43 for AMD Ryzen
SPD Speed: 2666MHz
SPD Voltage: 1.2V
Speed Rating: PC4-25600 (3200MHz)
Tested Latency: 16-18-18-38
Tested Speed: 3200MHz
Tested Voltage: 1.35v
Heatspreader Color: Silver
LED lighting: Yes
RGB Fusion: Yes
Package Memory Pin: 288
Performance Profile: XMP 2.0
Feature: Bundle 2*AORUS RGB Infused Demo Module (GC-RGB Module)
Warranty: Limited Lifetime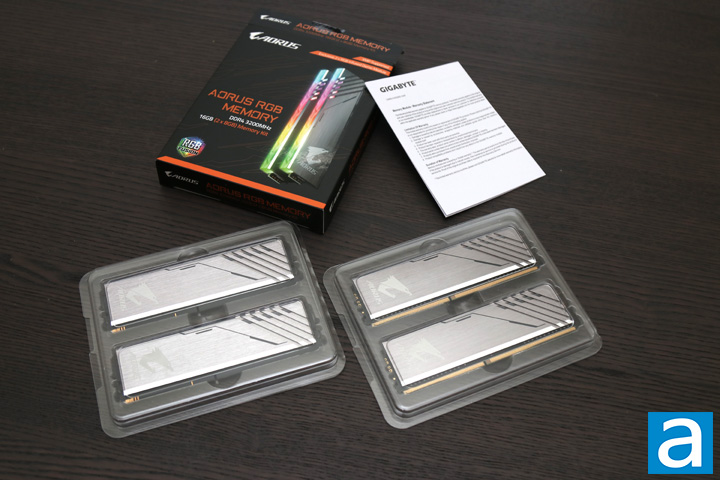 If you read the title then scrolled down, you might be wondering why we seemingly have four sticks of memory instead of the specified two modules. This is because this unit comes with two modules that are just RGB lighting kits that Gigabyte call their "Demo module". Moving on, Gigabyte has packaged these modules in two separate plastic trays to protect all four sticks. In addition, we have some documentation included, which goes over the warranty information and coverage. As with many memory kits, Gigabyte covers their AORUS RGB Memory for its lifetime, which is great to see.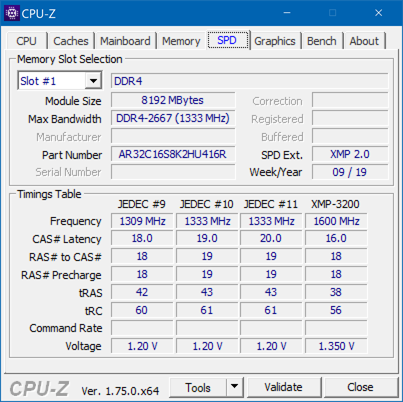 A screenshot of the memory tab in CPU-Z with Gigabyte's AORUS RGB Memory DDR4-3200 2x8GB installed. The SPD timings in CPU-Z reads standard JEDEC specifications programmed into the memory, as well as Intel XMP data for running the memory at various speeds. Using the latest BIOS revision, our Gigabyte GA-Z170N-Gaming 5 had no issues detecting and working with the Gigabyte RAM out of the box. The AORUS RGB Memory DDR4-3200 2x8GB retails for approximately $170 USD at press time.
---
Page Index
1. Introduction, Packaging, Specifications
2.
A Closer Look, Test System
3.
Benchmark: AIDA64 CPU
4.
Benchmark: AIDA64 FPU
5.
Benchmark: AIDA64 Memory
6.
Benchmark: PCMark 10
7.
Benchmark: 3DMark
8.
Benchmark: PassMark PerformanceTest 9.0
9.
Benchmark: SuperPI 1M, Cinebench R20
10.
Overclocking and Conclusion