By: Jonathan Kwan
December 23, 2006
Whether you realize it or not, Secure Digital (SD) flash memory cards are extremely popular. With implementation into majority of today's consumer electronics such as digital cameras, PDAs, and more, virtually every flash memory manufacturer produces or markets SD cards. Being that, even though many modern computers have SD card readers, it's not necessarily true that every single computer has one. Let's say you were on vacation and you filled up your memory card in your digital camera. A computer happens to be lying around, but there's nothing you can do because you don't have a digital camera cable, and coincidentally no card reader as well. Now if only you could fit that SD card into the computer's USB port...
With the OCZ Secure Digital Dual memory card, now you can. Let's check this baby out.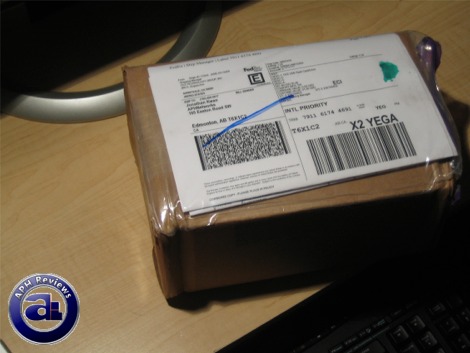 Our review unit came in a box from California using FedEx International Priority; as usual, from OCZ. Inside the box is the OCZ Roadster which we've already taken a look at several weeks back. Unfortunately, our OCZ Secure Digital/USB Flash drive 2GB (We'll call it OCZ SD Dual for short) was dead on arrival. They quickly sent me a new one using FedEx International Priority pacakged in a nice FedEx box, and that card works flawlessly to this date. I have the photos of the replacement box if anyone's interested, but that includes the 700MB of photos that I lost after my 1GB OCZ 133x SD Card died without warning. You won't believe how often I back up my photos now.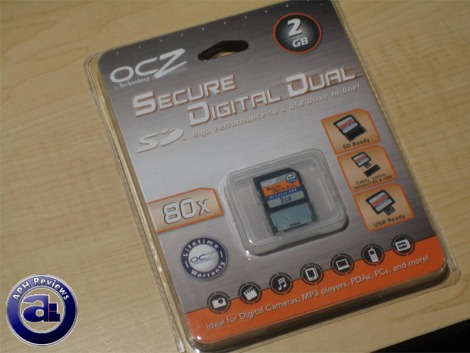 The OCZ SD Dual comes in variants of 133x and 80x; of which each comes in capacity of either 1GB or 2GB. The one we are taking a look at is the 80x version of the 2GB variant -- which strikes a balance between capacity, performance, and cost. As usual from OCZ flash media, it comes in a blister pack with a plastic box containing the actual product. Much unlike OCZ products, however, there's more emphasis on white and grey than orange in the color scheme. Otherwise, for all those who already own an OCZ flash product or have owned one previously, the size, shape, and packaging style is all the same.
There's nothing more than the clear plastic case and the OCZ SD Dual itself, but there's nothing we can complain about here.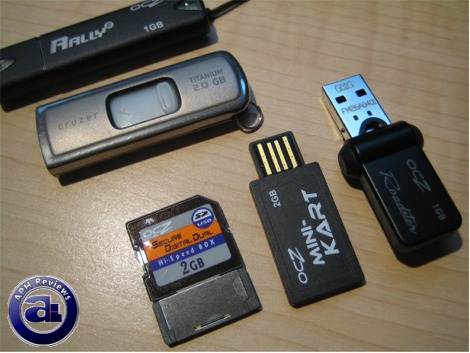 A physical size comparison of the drives. At the top left, in order, is the OCZ Rally2, SanDisk Cruzer Titanium U3, and then in the bottom row from the left: OCZ SD Dual, OCZ Mini-Kart, and OCZ Roadster. Yes, we do have quite a few OCZ flash drives -- but who doesn't want them? (No one raises their hand)
While the drives in the top left corner of the photo above are performance USB flash devices, ones located at the bottom row all belong to the small drive niche. The Roadster might the thickest of them all, but when folded in, it's not that much longer than a USB header itself.
The most comparable to the SD Dual is OCZ's Mini-Kart. The maximum capacities of both cards are 2GB, and they are shaped just slightly different. If you are still confused about what's with the 'OCZ SD Dual', there are ways to put it logically. It's a Secure Digital card, but also a USB flash drive. Therefore, to meet the basic minimum of an SD card, it must be at least the same dimensions of an SD card and also must possess same connectors as an SD Card. Well, the OCZ SD Dual meets this requirement without a doubt -- but in order to be a USB flash drive, it must have an integrated USB connector. This is implemented onto the OCZ SD Dual as well; the thin metal cap can be removed to reveal a set of pins to fit in a normal USB port not too dissimilar to the way OCZ implemented it into the OCZ Mini-Kart.
If you happen to have an SD Card lying around, you can compare that to the size of the OCZ SD Dual; they have exactly the same dimensions! It's very impressive, considering the fact that it houses features of both an SD Card and a USB flash drive at the size of just a typical SD card.
This makes the possibilities endless. You can load your photos into virtually every modern computer (And I've yet to see someone who has a computer without a USB port). You don't have to purchase both a USB thumb drive and SD cards for overlapping purposes. The price is justified, and you don't even need a card reader for your computer. It's... just, extremely convenient and I use it in my Canon camera too. Before I installed a card reader into my new computer, plugging it into the USB port proves to be very convenient.
---
The Tests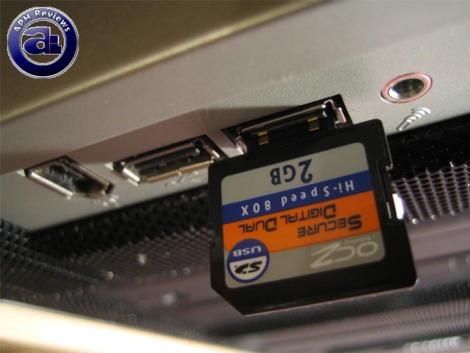 You know what would have been excellent? If an activity LED was on the drive when USB connection is activated. Can't complain too much here though, as it would be quite difficult to integrate an LED into such a small physical volume; if there was an LED, that would be a big one.
Like I promised last time on my OCZ Roadster review, all tests are now conducted on my updated test system. With a new test system, I re-ran all the tests on all the reviewed flash drives to more accurately represent the results and maintain precision.
I'll use the photo of it plugged into my previous computer anyway. Oh, the memories...
Well, anyway, tests were conducted on the following computer:
Intel Core 2 Duo E6300 @ 2.8GHz (400*7, 1:1 with RAM)
Scythe Andy Samurai HS/F
Asus P5W64-WS Professional (i975X + ICH7R)
OCZ Special Ops Edition Urban Elite PC6400 2x1GB (4-4-3-12)
Seagate 7200.10 320GB 16MB Cache (NTFS)
BFG GeForce 7600GT OC 256MB
Creative X-Fi XtremeMusic
NEC 18X DVD+/-Writer
Thermaltake Aguila
Tagan TurboJet 1100W
Microsoft Windows XP Professional SP2
For reference purposes, we've used the following USB mass storage devices in our benchmarks:
- OCZ Mini-Kart 2GB
- OCZ Rally2 1GB
- SanDisk Cruzer Titanium U3 2GB
- OCZ Roadster 1GB
- OCZ SD Dual 80x 2GB
In our benchmarks, we used our standard test folder to calculate performance of the drives. Our test folder contains thirty additional folders inside. Inside the folders are 515 files; consisting of EXE, INI, DAT, BIN, DLL, ZIP, JPG, AVI and more. The total combined file size is 399 MB (418,666,235 bytes).
We also used a single 399 MB file (418,666,235 bytes) by adding the 515 files and 30 folders listed above to an uncompressed ZIP file for single file performance. Each test was ran at least twice to ensure accuracy.
Write means copying from the test file from our test system to the device.
Copy means to copy the file from the reference device to our test system.
Move means to move the file from the reference device to our test system.
The first series of tests are 515 files of write/copy/move. The total combined file size is 399 MB and contains a variety of different files, as mentioned earlier.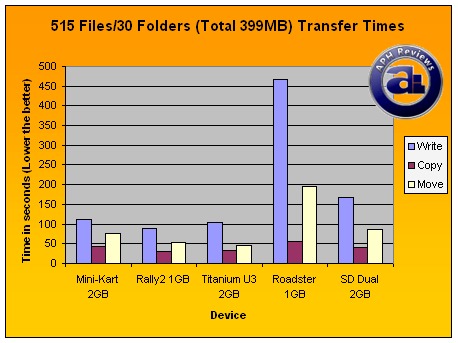 Time in seconds - Lower the better.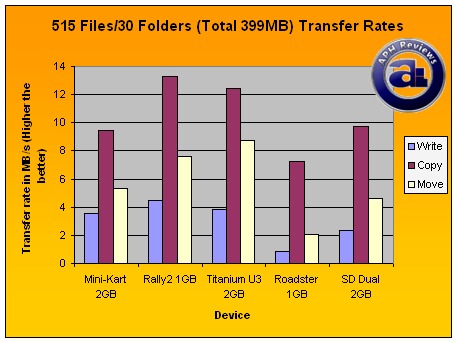 Transfer rates in MB/s - Higher the better.
In our proprietary multifile write tests, the OCZ Rally2 led the pack at write performance of 88.42 seconds (4.51MB/s). The SanDisk Cruzer Titanium U3 follows this at 104.10 seconds (3.84MB/s). In the small drive arena, it seems that the OCZ Mini-Kart 2GB performed the best, completing the test at 112.17 seconds (3.56MB/s). The SD Dual did not do that poorly either; finishing off at 167.43 seconds (2.38MB/s). Worst is OCZ Roadster at 467.81 seconds; quite unacceptable because 0.85MB/s on multifile write would be quite a significant thing to many.
In our read tests, the OCZ Rally2 again led the pack -- completing the transfer in only 30.03 seconds (13.29MB/s). SanDisk's Cruzer Titanium U3 closely follows this at 32.07 seconds (12.44MB/s). The OCZ Mini-Kart finished off in 42.37 seconds (9.42MB/s), which is very good for such a small drive. Interestingly, the OCZ SD Dual did better at 40.97 seconds (9.74MB/s). Biting the dust is the OCZ Roadster once more at 54.83 seconds (7.28MB/s).
Usually, the move tests are slower than the copy tests as write performance of the drive is a contributing factor. Again as demonstrated here, but this time SanDisk's Titanium U3 completed the test at an impressive 45.54 seconds (8.76MB/s). The Rally2 followed at a relatively close distance of 52.38 seconds (7.62MB/s). The Mini-Kart and SD Dual finished the multifile move test at 75.03 seconds (5.32MB/s) and 86.02 seconds (4.64MB/s), respectively. OCZ Roadster definitely took its time -- 195.07 seconds is quite a long time with move speed at 2.05MB/s.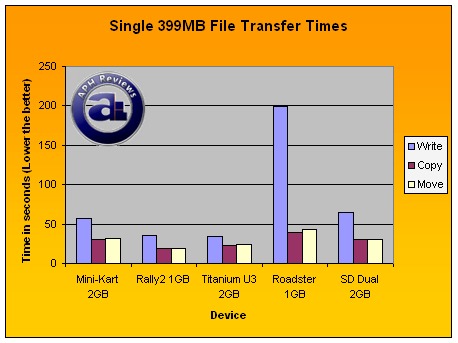 Time in seconds - Lower the better.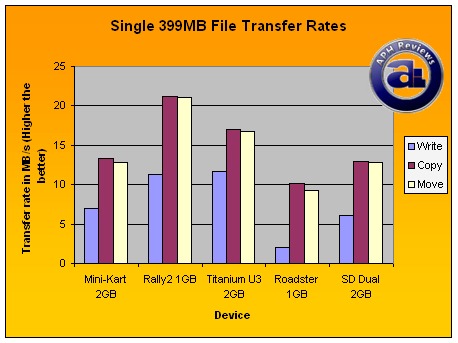 Transfer rates in MB/s - Higher the better.
The APH proprietary single file write test obtained results in similar order as before. This time, the Titanium U3 finished a hair faster than the Rally2 at 34.20 seconds (11.67MB/s) and 35.43 seconds (11.26MB/s), respectively. The Mini-Kart took around 20 seconds longer at 56.80 seconds (7.02MB/s), while OCZ's SD Dual followed at 65.23 seconds (6.12MB/s). Again, the Roadster did the worst at 198.71 seconds (2.01MB/s).
In our single file copy tests, the OCZ Rally2 was literally unbelievably fast; completing in 18.88 seconds (21.23MB/s). The next closest was SanDisk's Cruzer Titanium U3 at 23.44 seconds (17.02MB/s). The Mini-Kart and SD Dual were both pretty close together at 30.01 seconds (13.30MB/s) and 30.83 seconds (12.94MB/s), respectively. The OCZ Roadster again finished last -- the 39.55 seconds score means 10.09MB/s.
In the move tests, the OCZ Rally2 again did the best; the 18.98 seconds (21.02MB/s) score is actually very impressive. The Cruzer Titanium U3 was a few seconds late at 23.81 seconds (16.76MB/s). The statistical tie exists between the Mini-Kart and SD Dual once more at 31.17 seconds (12.80MB/s) and 31.03 seconds (12.86B/s), respectively. Surprise surprise, the OCZ Roadster was again dead last at 42.86 seconds (9.31MB/s).
HDTach Tests
We've used HDTach RW 3.0.1.0 to run a Full Bench on each drive and then graphed it.
Graph 1: OCZ SD Dual 2GB vs Cruzer Titanium U3 2GB
OCZ's done it right this time! No more ridiculous latencies on a flash drive; and very consistent read. On our Asus P5W64-WS Professional motherboard with ICH7R powered USB ports, these new results obtained are quite nice and should be very accurate in terms of modern computers. Excellent performance for drive at this size. Most importantly, no more 50ms+ latencies.
Graph 2: OCZ SD Dual 2GB vs OCZ Mini-Kart 2GB
Interestingly, the results of HDTach with OCZ's Mini-Kart 2GB is significantly different from our real-world APH proprietary file copy tests. While the Mini-Kart 2GB is the top performing ultra-small drive in our tests, it is in the bottom with HDTach. We are not entirely sure what's happening here, but it's been confirmed with over 4 separate computers.
Graph 3: OCZ SD Dual 2GB vs OCZ Rally2 1GB
The Rally2 is the fastest drive we've tested so far -- but it definitely does not have the best random access time. The result in performance is nearly twice as fast as the OCZ SD Dual as represented by the blue red line.
Graph 4: OCZ SD Dual 2GB vs OCZ Roadster 1GB
The OCZ Roadster 1GB couldn't even touch the OCZ SD Dual 2GB. It's pretty interesting how it had a big drop in the middle; and we've tried it on 3 different computers with no difference in results. Again, at 7.5ms random access latency, the OCZ SD Dual is quite an improvement over previous drives we've seen -- including the Rally2, Mini-Kart and Roadster.
---
After taking looks at OCZ flash drives in the last few months, we actually complained quite a bit -- especially in the latency area. We are happy to say that OCZ's really got it right with the SD Dual 2GB this time. Our 80x variant demonstrated decent read/write performance that's consistent throughout every area of the disk. Latency at 7.5ms tested is much, much better than previous units we've tested at a typical 50ms+ random access. Given it's incredible size (Yes, we said it with the Mini-Kart as well), flexibility, convenience, and decent performance for its type of drive, it's a must have. It doubles as a USB thumb drive, but you'll have no problems using it with your camera as well -- or heck, even both.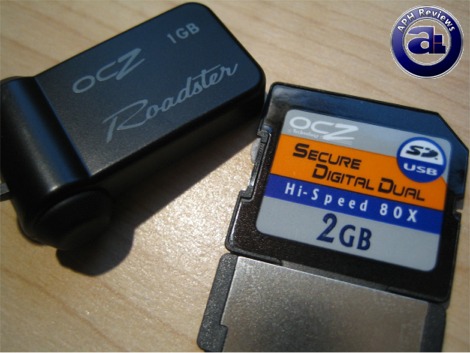 Special thanks to Andy over at OCZ for making this review possible.

Rating: 8/10 | APH Recommended
- The rating 8/10 means "Definitely a very good product with drawbacks that aren't likely going to matter to the end user.".
- More information of ratings and the "APH Recommended" award in our Review Focus.
You know how often we give out 8/10's? Pretty much never. Today is a good day, because the OCZ Secure Digital Dual is the kind of product that well deserves it!