By: Jonathan Kwan
November 25, 2008
Oh, what a difference two years make. When we reviewed the OCZ Special Ops Urban Elite PC2-6400 2x1GB in December 2006, DDR2 was just gaining momentum, costs as much as performance DDR3 costs now, and the revolutionary first wave of Core 2 Duos 6-series for desktops and 7-series for mobile were still fresh in the hands of die-hard enthusiasts. I was lucky enough to be an owner of a then-amazing Core 2 Duo T7400 based laptop, and a significantly overclocked E6300, in which I still have to this day. In those days, I was enjoying a relatively care-free life in high school, compared to my current uber intense engineering schedule. It's kind of funny how I'm still the Editor-in-Chief at APH Network despite all this -- I guess this provides me with some sort of relief and entertainment. Heck, I lived in another city towards the end of 2006. Do I miss the days? To be honest, I sort of do. As I run the last stretch and my university first term pulls to an end with less than two weeks before finals, and daily prayers of, "Dear God, I need a miracle", and piling up tons of review products before I actually write about them, here's one that separates itself from the rest: the OCZ Special Ops PC3-10666 2x2GB. While the OCZ Special Ops is a pair of value gaming DDR3 RAM, being 'value-oriented' does not mean it has to 'look' value-oriented. With a cool looking heatsink following the tradition of the original, comes with OCZ's excellent warranty program, and a retail price of approximately $130 USD for 2x2GB at press time, it's definitely something would not miss your search. Let's pop open the package and see how the OCZ Special Ops PC3-10666 2x2GB dual channel kit steps up.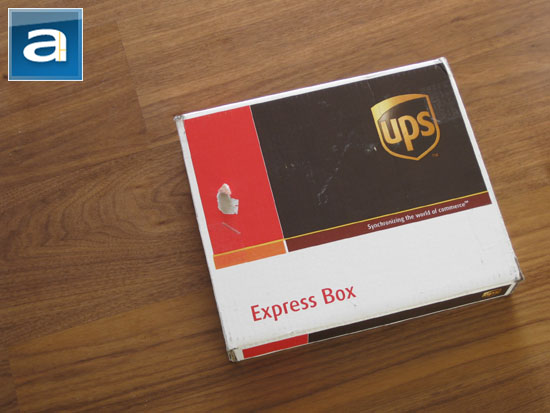 Our review unit of OCZ's Special Ops DDR3 RAM came in a UPS medium-sized Express Box. The branded corrugated cardboard box is filled with bubble wrap to ensure that the dual channel memory kit arrives in absolute mint condition -- something that we've been grown to (and spoiled by) from OCZ. As expected, everything arrived safely and quickly, and we're ready to publish our review after, like, a month and a half of receiving. (Sorry! Engineering school is murdering me. Inserts sad face here.)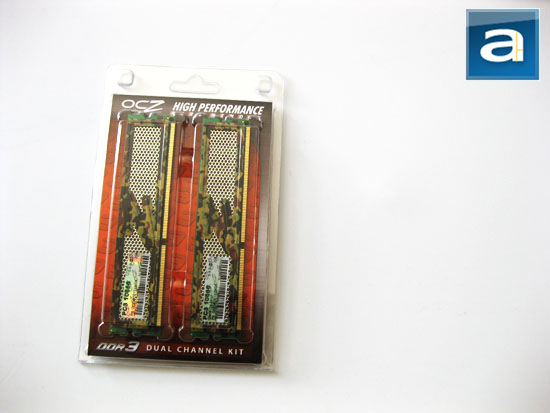 With nothing out of expectations, our OCZ Special Ops Edition DDR3 RAM came in retail packaging. Our particular unit is the 4GB (2x2GB) dual channel kit, operating at default latencies of 9-9-9-20. The packaging itself is quite standard and used in many OCZ memory products; the differentiating features are the specification and warranty seal seal placed on each module, shown through the window. The clamshell package is simple and held closed together at the top by two friction buttons; no blister pack techniques were used in this case -- which is, as usual, truly excellent in my opinion. These modules are placed vertically in relative to each other, with a brown and orange gradient background composed of an interesting "3" (For DDR3, as one would assume) pattern.
Before we continue on, let's take a look at the specifications of this product, as obtained from OCZ's website:
Specifications:
- 1333MHz DDR3
- CL 9-9-9-20 (CAS-TRCD-TRP-TRAS)
- Available in 1GB and 2GB modules and optimized kits
- Unbuffered
- Camo Motif XTC Heatspreader*
- Lifetime Warranty
- 1.7 Volts
- 240 Pin DIMM
Special Features
- 1.75V EVP**
* XTC (Xtreme Thermal Convection) heatspreaders optimize the thermal management of memory modules by promoting greater airflow by means of micro-convection throughout what is usually the dead air space inside conventional heatspreader designs. In this manner, build-up of heat is avoided and thermal dissipation of the memory components is offloaded more efficiently through the honeycomb design. At the same time, mechanical stability is maintained.
**OCZ EVP (Extended Voltage Protection) is a feature that allows performance enthusiasts to use a VDIMM of 1.75V without invalidating their OCZ Lifetime Warranty.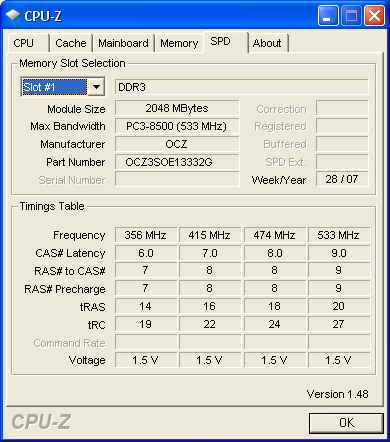 A screenshot of the memory tab in CPU-Z with the OCZ Special Ops PC3-10666 2x2GB memory kit installed. The SPD timings table only read JEDEC based 1.5V specs programmed into the memory, which didn't really take into account the 9-9-9-20 latencies DDR3-1333 @ 1.70V. The Gigabyte X48T-DQ6 motherboard we've used for testing had no problems automatically recognizing the non-JEDEC preset latencies and speed in the BIOS, however. Please do keep in mind that this set of OCZ SOE 4GB DDR3 RAM kit is a set of value gaming part, and not necessarily cutting edge high performance/overclocking inclined, as demonstrated by its relatively low market price and lax default timings.
---
Page Index
1. Introduction, Packaging, Specifications
2.
A Closer Look, Installation, Test System
3.
Benchmark: 3DMark06
4.
Benchmark: PCMark05
5.
Benchmark: EVEREST CPU
6.
Benchmark: EVEREST FPU
7.
Benchmark: EVEREST Memory
8.
Benchmark: SuperPI, Cinebench R10
9.
Overclocking Results and Conclusion