Page 9 - Overclocking Results and Conclusion
I'm interested to see how much latency I could reduce from the OCZ Special Ops PC3-10666 2x2GB set right out of the box. At 1.75V, the maximum voltage covered under warranty by OCZ, I was able to achieve 8-8-8-20 Orthos stable. Sure, that's not really the kind of latency you would be truly proud of to show off, but in my personal opinion that's not bad at all -- considering the price you're paying for 4GB of decent performing DDR3. This is shown apparently in our benchmark results in the past few pages.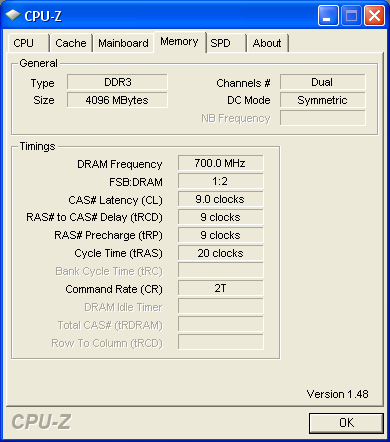 At 1.75V, I reset the latencies back to its stock 9-9-9-20 setting, and see how far I could go from there. As OCZ reminded me that these are value gaming parts, and not necessarily designed for overclocking, I decided to give it a try anyways -- it's always fun to see what kind of potential we are looking at. While operating at DDR3-1333 is more than enough to run 1:1, or even greater in many cases, there may be some cases where extra bandwidth is desired by the user. Regardless, I was able to squeeze out an extra 33MHz actual clock/66MHz effective; coming in at DDR3-1400 effective. That's a 4.95% overclock from stock, with default latencies and warranty inclusive voltage.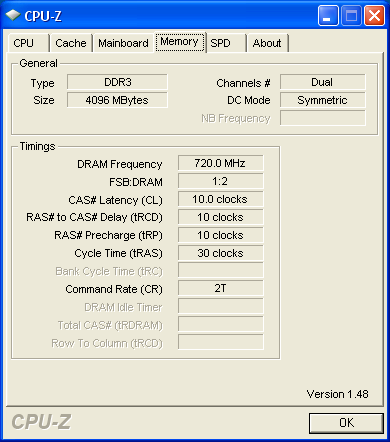 Here's our "go nuts" overclocking test. We removed all potential bottlenecks from our system than ever before; bumping voltage to all related components, raised the memory voltage itself to 1.90V (That spec is out of warranty, mind you), loosening memory latencies by a notch, and then focused on raising the memory frequency. At 10-10-10-30 1.90V, we were able to achieve an extra 20MHz from 9-9-9-20 1.75V. That's a 6.53% overclock. Objectively, it's definitely not exactly impressive, but then again, keep in mind that these are not overclocking memory, rather being a value gaming component.
-----------------------------------------
I know I've said this almost a dozen times in this review, but I got to say that again: The OCZ Special Ops PC3-10666 2x2GB RAM is a value gaming part, and aren't necessarily designed for overclocking or cutting edge performance. Here's the thing though, is that, with the OCZ SOE RAM, just because it has a "value" term associated with it, does not mean it sucks. It comes in the same OCZ packaging with every other OCZ memory product, backed by OCZ's excellent warranty and hassle-free service (Being the time I've went 'undercover' to see how it goes -- twice with different identities and addresses -- all went well), and cool looks with the Urban Camo Motif XTC heatspreader. Performance-wise, it did not overclock much to even consider it so, but it's never meant to be. Users will still be pleasantly surprised that the latencies can be somewhat lowered -- at least mine runs perfectly at 8-8-8-20. In terms of benchmarking, all of the performance differences compared to its more expensive counterparts are all within the 10% range. I doubt that the difference will be noticed significant in real life usage. The real difference is what comes to your credit card bill at the end of the month. The OCZ Special Ops PC3-10666 2x2GB are priced very competitively in the DDR3 market at press time. If you're looking for a no-frills pair of DDR3 RAM at a great price with 4GB capacity, the OCZ Special Ops PC3-10666 2x2GB is a very decent choice. Plus, it looks cool in a windowed case!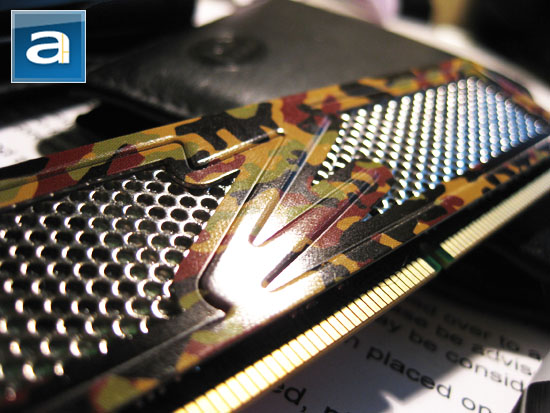 Special thanks to Andy over at OCZ for making this review possible.

APH:Renewal Award
Starting from April 30, 2007, Number Ratings has been dropped for motherboards, RAM, and graphics cards. This is to ensure the most appropriate ratings reflected without the limits of using numbers. Everything else will continue using the Number Rating System.
More information in our Review Focus.
Cool looking memory headspreaders, and great price for a pair of DDR3 4GB, all adds to the bill.
---
Page Index
1.
Introduction, Packaging, Specifications
2.
A Closer Look, Installation, Test System
3.
Benchmark: 3DMark06
4.
Benchmark: PCMark05
5.
Benchmark: EVEREST CPU
6.
Benchmark: EVEREST FPU
7.
Benchmark: EVEREST Memory
8.
Benchmark: SuperPI, Cinebench R10
9. Overclocking Results and Conclusion